Tighter Security, what does this mean to the Photographer?
Well, yesterday folks tried to blow up 9 or more planes, as I am sure you are aware. Immediately security was heightened. No hand carry at all from England out. No Liquids on US flights. This is said to be indefinite.
So what does this mean to photographers? Well, having lived in Kashmir for 12+ years I am well accustomed to this type of security. We haven't been able to have hand carries since 1990. We also cannot have batteries in any of our equipment checked or otherwise. At least we have been able to carry our laptops on and recently been able to actually use them (with the batteries). But, if things keep moving in this direction, and I'm sure it will, we need to start thinking now about checking our cameras and computers and how to do it safely.
This is a very unpleasant idea. Two years ago I ordered a Canon 20D and had it "hand carried" over to meet me in England by a friend. My friend put it in their checked bag. The bag never showed up. She did not have insurance and all I got $100 from British Airways for the camera and $500 from American Express (buyers protection) that was it. So now it looks as if we are going to have to check our cameras and our computers involuntarily. OK here are a few thoughts.
We need a strong checkable bag like the Lowepro Omni Trekker Extreme. or one of it's cousins. Something that will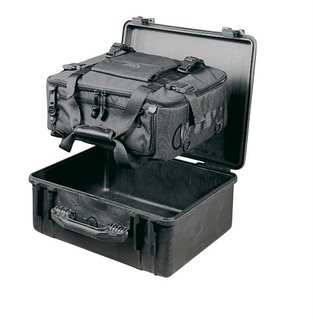 protect and still be useful once we arrive on-site. This bag comes with a Pelican hard case and a shoulder bag inside. I think Lowepro will also need to make a version that supports laptops. Then, we are going to need travel insurance. I know most pros use it, but many others of you go without it. But trust me, not any more! Are you willing to make a bet with several thousand dollars worth of camera equipment that your camera will arrive safe and sound? Not me.
One other thought I had; Luggage weight allotment for checked bags will need to be adjusted by airline. You can't carry the same amount in your checked bags and then check your hand carry and expect it to be the same weight. Kind of a no-brainer. So Airline Industry, listen up! We feel your pain, we understand your pain and I think most of us agree to these measures, but we don't need to be penalized for checking our hand carry. A little more luggage weight will be like the sugar to help the medicine go down.
FaceBook Comments
comments