New Exhibit
This week I have started in earnest putting together the images for my first exhibit here in Temple, Texas at the Cultural Activities Center. I designed a poster for the exhibit. I think it is pretty strong. The show will be focused on the images from the Catchlight book. If fact I hope to have some on hand there. It would be nice to sell some of the framed images at the show as well. I haven't put a price on them yet, still feeling out the market here.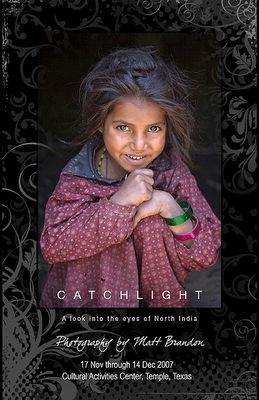 The exhibit runs from from Nov. 17th till Dec. 14th, this year. If you are in Texas, please drop by.
Just finished a video tutorial for Lexar on self-publishing. Now that I have one book out, I am an expert. Go figure. The video should be up this week or next on the Lexar site. Check it out.
Finding work in Central Texas for my kind of photography has not been that easy. But it is trickling in. I have a new shoot booked with the fine folks of NeighborWorks Waco on Oct 27th. I keep thinking Compassion International will call me, but they must have lost my number. Oh well.
FaceBook Comments
comments