Review: ThinkTank's Modular Belt System
I have gone through many camera bags. I have used and abused several Lowepro bags and a ThinkTank Photo bag or two. I have finally come to the conclusion there is no one perfect bag. You don't know how hard that is to say. It has been my quest to find that all elusive perfect bag. For trekking with a camera, the Lowepro Vertex 200 AW II is really close. But for international travel and shooting in urban environments I have yet to find the perfect bag. I guess it is because of all the different settings I find myself in, from airports and airplanes to hot and humid crowded streets. But I certainly have found a winning combination for now. It is a combination of a carryon and a modular belt system.
I have for the past year or so used the Lowepro Stealth Reporter 200 when I shoot in urban environments. I like the size and ease of access to the gear. But a couple of things I don't like is that it doesn't provide enough pockets and storage space to use as a carryon, and it is a little too big to stick in my suitcase. Plus, as I get older, all the weight of gear hanging off my shoulder all day gets really old. So what I have come up with is a bit of a jury rig for sure, but it seems to work.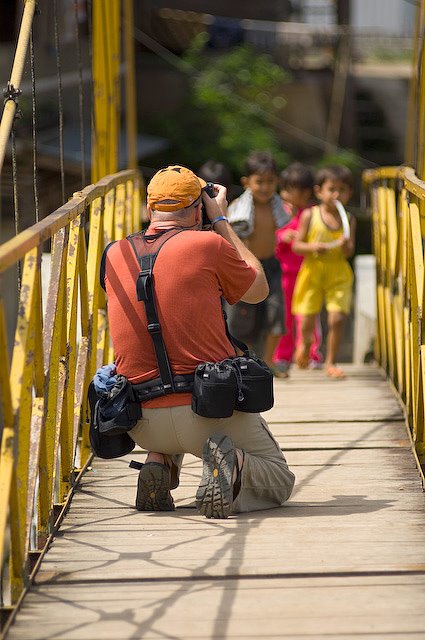 I now carry or rather pull, a North Face Doubletrack 21" convertible pack. This bag is carry-on-legal and comes with a zip off backpack for easy-to-access essentials like my noise reduction headphones, journal, pens, passport and reading material. In the main compartment of the Doubletrack I pack my lens, camera body, passport drives, cables and card readers as well as my 17" MacBook Pro. Here is the cool part that I have to pat myself on my back about: I pack all this gear in ThinkTank's Modular Pro modules and the computer goes into the ThinkTank's Artificial Intelligence 17. This has two advantages over standard gear wraps. Where gear wraps may save a few inches of space they do only one thing, protect the gear. But the modules protect the gear and serve as a carry system once I arrive on site. Not only do the modules carry each lens and the body, I also pack the Pro Speed Belt and Pixel Racing Harness. So I arrive ready to shoot even if my checked bags get lost in Dubai.
This last trip to Sumatra, Indonesia was the first time I shot using the modular system. I have to confess, it took a little getting used to, but after an hour or so shooting in 98º heat and the same humidity, I loved it. I am convinced that this system has saved my back and has kept me cooler than any vest could do. I have always liked the feel of vests and found them helpful, but I have yet to find one that was not uncomfortably hot to wear.
On this trip, I used only one body, but took my standard work horse set of lens; 70-200/2.8, 24-70/2.8, 85/1.8 (I love this lens!) and my 17-40/4. I used each of these equally. The first day I shot with just the Pro Speed Belt. But soon found with all the sweating I was doing and the weight of the lens, the belt began to slip down my waste and I found my self always pulling it back up to above my hips where it felt comfortable. But, once I attached the Pixel Racing Harness all was fine. The weight was distributed very comfortably between my hips and my shoulders. I could even loosen up the belt again after having tightened it before. Breathing is enjoyable and the harness allowed me to do it once more.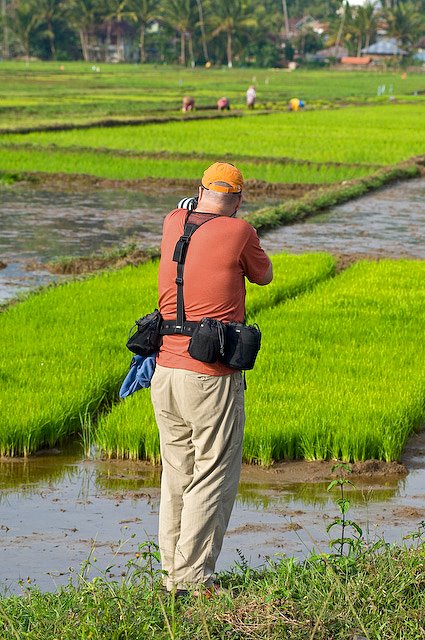 Here is a little trick I learned on this trip. In high humidity I sweat…a lot. It won't take long before I have sweat burning in my eyes and if I have sunscreen on, it is very painful and can really impede shooting. The Pixel Racing Harness has D rings on the shoulder straps and two little stretchy spandex type pockets. I used one of the small pockets to put my phone/gps in. This assured that the gps got great reception while I was shooting. I wanted this as I was planning to geotag my images from this trip. The D ring came in very handy. I had bought a small MSR microfiber towel for travel in Indonesia. Usually I take a keffiyeh, a middle eastern scarf along and throw it over my neck. It doubles as a rag to wipe the sweat and as a "do-rag" to protect from the sun. But at times it gets in the way. On this trip I took the microfiber towel and clipped it to the D ring on the harness and then stuffed the remainder of the towel in the module designed for a water bottle. It worked perfectly. This is a small thing, but really helpful, as the towel is very absorbent and stuffing it into the water bottle module kept it out of the way while I was shooting and with it being microfiber, at night I would wash it out and it would be dry by morning.
The way I had the belt configured was with four modules. On the left was the water bottle module called R U Thirsty? and the Lens Changer 75 for my 70-200. On the right I had the Lens Changer 50: For my 24-70 with hood attached and the Lens Drop In. One aspect I was not thrilled with, but it was only a minor irritant, was that once I put the harness on, the back of the belt became wasted space. I am not flexible enough to twist around and reach and use any module on the small of my back and with the harness on I could not spin the belt around to the front like I could before. So this left me with only four modules and one of those I was using to store my towel. And when it came time to change lenses, I felt like I needed an extra hand. I would liked to have had one more module as a place to put the lens I was removing in order to free up my hands to grab the other lens as needed. Maybe not an issue for others, but for me it was an
irritant for sure. Having just looked at ThinkTanks website, I think they may have resolved this issue with their new Belly Dancer harness. This looks complicated but efficient. It is nothing more than a harness attached backwards (see image) thus giving you more space in the front where the buckle once was. Brilliant! Also they have a new set of modules they call their Skin Set, lighter weight and no padding. It remains to be seen if they will work as a way to pack the lens in my carryon.
Over all I was very happy with the ThinkTank Pro Modular system. It functioned well, saved my back and kept me from overheating. The only downside was that once I attached the harness, I lost some usable space on the belt. But this seems to be resolved in the new system using the Belly Dancer harness
In closing this review, I want to thank Brian and the folks at ThinkTank for their participation in this year's Lumen Dei Workshop in India.
How I pack the The North Face Doubletrack 21″ :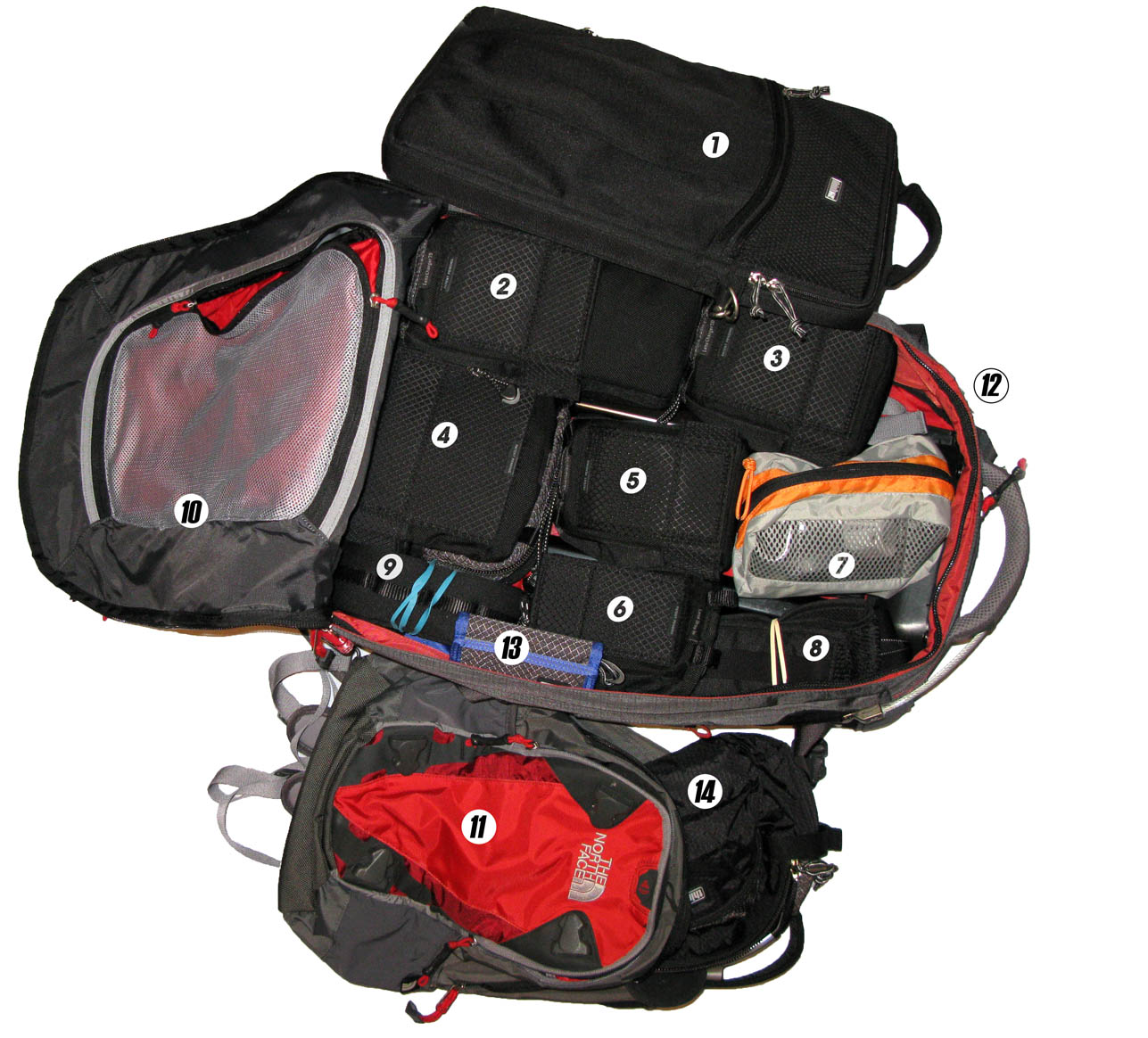 ThinkTank's Artificial Intelligence 17; 17" MacBook Pro
ThinkTank's Lens Changer 75; 70-200/2.8
ThinkTank's Lens Changer 50; 24-70/2.8
ThinkTank's Speed Changer; 5D Body
ThinkTank's Lens Changer 25; 17-40/4
ThinkTank's Lens Drop In; 85/1.8
LowePro Cable bag
Compartment for a change of clothing
The North Face Doubletrack Zip off Daypack
ThinkTank's Pixel Pocket Rocket -Flash Card Storage
ThinkTank's Bum Bag; Sony Noise Canceling Headphones
FaceBook Comments
comments