Sumatra Sample Gallery Posted
As is common on trips like this, I am up at 4 am – my mind spinning. I have some great news, besides the fact that I arrived home safe and into the arms of my loving family; I was able to retrieve the data from my corrupt Lightroom files. I had given up any hope of getting usable data from the offending files. I had started redoing all my work on the long flight from Tokyo to San Francisco. With a combination of lack of sleep and the notion of redoing many hours of work in front of me I began feeling depressed. I made one last effort of opening the data from inside the application itself and by a miracle it opened. So I quickly made a new backup and all seems well – by the grace of God!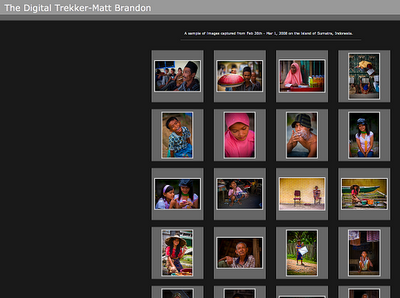 I made a small galley with a sampling of the best of the images HERE. I hope you enjoy them.
One other note of business. David Duchemin and I are getting many inquiries into the Lumen Dei One Day course coming up on April 5th. Many folks have sent in their $99 to hold their seat. We are limited to 25 participants and we have had many more inquiries, so send in that check soon to reserve your spot! With one month to go, seats are going fast!
FaceBook Comments
comments