On The Road
I will update this entry as we go throughout the trip – if I can.
SFO: 5:48 am
Just found out that United for a limited time s offering all Red Carpet members 24 hrs free Wifi. This is if you are a Red Carpet member, traveling Business or First or international. Apparently it is good all over the US at least.
Our check in was at 3:30 am today, it is now 5:49 am and it all went pretty painless considering we ended up traveling with 10 bags!! We only had to pay for one extra bag. In theory we had them checked all the way through to Penang. Lets see.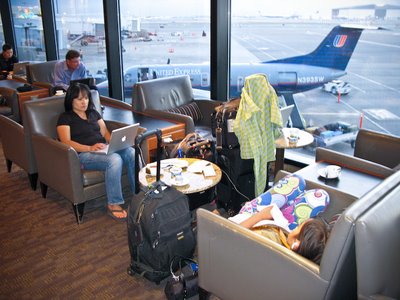 The Red Carpet Club in SFO.
Monterey 7:10 am
We were the only people on our small aircraft. Never had that happen before. Everyone seems surprised we are flying to LAX via Monterey. I think it is because it was the only routing that United had we could uses the rewards miles we are flying on. Just heard on the lobby TV that George Carlin died.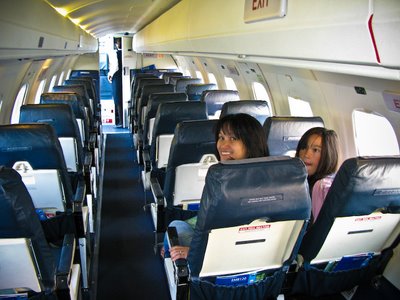 Alou & Jess in our "private"
Embraer
190
LAX 10:40 am


We arrived into LAX to be greeted with many delays and cancellations. It doesn't seem to effect us. Apparently there is bad weather on the East coast. Everyone around us seems to be angry and in a hurry.

We realized into the trip that United did not give us Economy Plus seating on the LAX-HKG-SIN legs. But, after some waiting in a line (a long line) we finally got our
Economy Plus seats. So we are happy. Everything else seems to be going well so far.

11:35 am

We will be boarding soon. Just shot this fun image of Jessie on SKYPE with her bff Emma.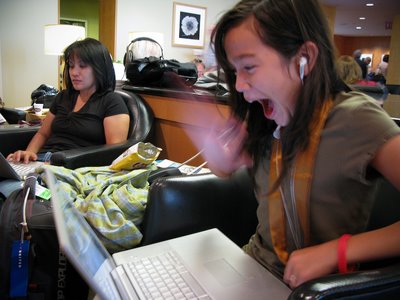 HKG 6:46 pm

(3:

47 am PDT)
Uneventful flight. Arrived with littler or no trouble. We were able to spread out to some degree as the flight was not full. We had some turbulace coming into HKG left over winds from the typhoon from the Philippines. Once we arrived here in Hong Kong they told us there is a typhoon with "3" strength winds now and by tonight it is expected to be a "force 8" winds. Not sure what all that means, but it don't sound good and it sound bumpy!
Singapore 7:25 am
We had an uneventful flight from Hong Kong to Singapore. After arriving we got our boarding passes for the Penang floght. We were confronted with some startling news. Singapore Airline does not consider the Penang flight a code share. So they were going to make us pay for extra liggage and extra wieght! Ouch! This could have proved costly. But after explaining several times that we had checked with United on three differant occations and they assured us that our luggage was fine all the way through to Penang and after talking with a Duty Manager all charges were waved! Thabnk you Jesus! We then we got a room at a hotel in the airport and sleept well. This morning we got up… got to go our flight is leavinng….later
Penang 11:35 am
Made it to Penang. Great weather! Not too hot. Arrived at our hotel the Sri Sayang only to find out that with all the emailing back and forth with them they forgot to tell us one small thing…no check-in till 2 pm! So we are sitting in the lobby grocery store waiting till 2 pm to get our rooms. I must say, this hotel doesn't look to inviting. My wife seems to be having some sort of cold or allergies. We will keep you posted. But all-in-all it was an easy trip.
I will post some more photos after I find my USB connector. I lost it on the flight from HKG, thus no more images.
FaceBook Comments
comments