Think Tank Airport Backpacks get Security Upgrade.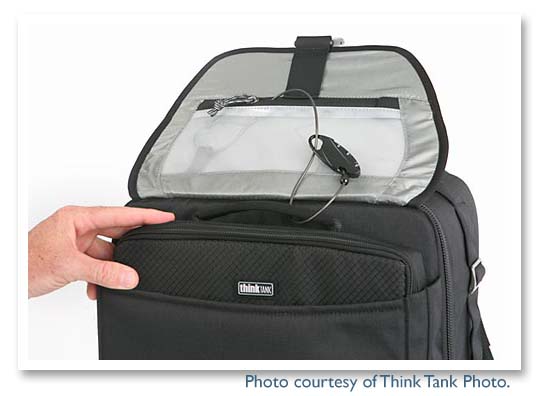 I received an email from Brian Erwin of Think Tank Photo, he informed me that the Airport line of backpacks have reached a version 2.0. The Airport Backpack line include the Airport Addicted ™, Airport Acceleration ™, Airport Antidote ™ and Airport Ultralight™ all are now V2.0. By the way, all these bags meet International carry on size requirements. So what Think Tank did to upgrade them is simple, but effective and very handy. They have added a metal security cable like you find of the Airport Security on each bag. So now photographers can lock the backpack to an immovable object or secure their laptop case to the backpack if they keep it on the outside of the bag itself. The Airport roller bags have this as well as a cable built into the back of the bag. But the small backpacks up till now did not have anyway to secure them to an object. It is a small thing but a nice addition that keeps making the bags better and better.
One small hint; when you do run that cable lock through the Artificial Intelligence laptop case, make sure the zippers are hidden below and not showing. This seems like a no-brainer, but one that I have caught myself not doing. It really is no security at all to leave the zipper out for people just to unzip the case and slip out the computer from the case. I am really paranoid on this, so I will run the cable through the zipper pull cords (see below).
Now what I wish is that the Artificial Intelligence had mettle cable pulls rather than cloth cords or at least standard mettle pulls. It is a minor nit, but one that really got under my skin with Lowepro. Most of their bags had cords on all their zippers. Thankfully Think Tank does not do that on most of their bags main compartments.
FaceBook Comments
comments