India – AAR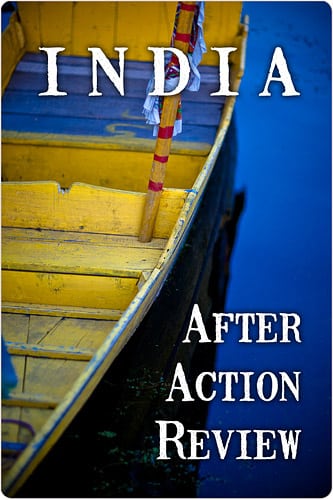 I think it will be a good idea if I do an After Action Review on any travel or photo related trip. It will help you see how important and helpful an AAR can be and it might even shed a little light on some blind spots in your routine as well. So here is the first:
So what did I expect to happen?
I expected to arrive into Delhi and my bags meet me and then continue on to the next locations of Srinagar, Kashmir. I expected to be met by a new field director of an NGO in India. He had never been to India and asked if I would show him around North India. I wanted to use any free time I had to grab a few images along the way.
What actually happened?
I departed Penang on time. I made my connection in KL with no problem. I arrived into Delhi after an hour delay circling above the city due to traffic issues at the airport, only to hear my name over the load speaker. I was informed that my bag was still in KL. After restating to make sure I understood that my bag was lost, I was told I was wrong. My bag was not "lost", but simply "miss-handled." Ok, well that made it all ok. The fact was, my bag was not where it was suppose to be. By the way, everyone else waited over an hour for their bags to arrive on the baggage carousel. If they waited any longer my bag might have showed up with the rest! Malaysia Airlines (aka MAS) told me they would send my bag on by Jet Airways when it arrived the next night. When I told them I traveled to Srinagar the next morning they told me that that was not a good thing. I am sorry I had to mess up their plans with my bag.
The bag arrived the next night, instead of putting it on Jet Airways the following morning to Srinagar as they said they would, they sent it by a courier service. Go figure! It took my bag four days to reach me.  By the end of the four days I started to stink.
What went well?
Upon checking in Penang, I realized I did not have assigned seats for the flights. Standing at the counter talking with the MAS attendant I opened Travel Tracker on my iPhone. Went to my flight and then looked up my seating choices.  Plus the expense tracker function of the software is a great help for keeping track of expenses incurred during the trip. I can email the client my costs with a photo of the receipt that I took with my iPhone all from the same phone. Very cool.
My associate  was waiting for me in arrivals as planned.
The weather was amazing.  Delhi has experienced the coolest (first two weeks of) April in years and Kashmir was cool and clear.
Most of my gear functioned well. My plug adapters all fit the plug in India. The power was good where I was. This is often an issue in India as they practice a thing called "load shedding" where they turn off the power for hours at a time in different parts of the city to save energy.
I used my new Think Tank bag the "Change Up". This works almost like, dare I say, a"Man Purse". I was able to keep many of the most frequently needed items in it and sling the whole bag over my shoulder without any issues of weight. Inside it I kept my tickets, my passport, my iPhone, earplugs and eye mask  as well as a book to read. It will be traveling with me again without question.
What went less well and why?

Malaysia Airlines loosing my bag. Ah! Sorry, miss-handling my bags. Why? They screwed up.
MAS did not give me any money with which to buy clothes.   Why?  They said they only give the "$60" after the trip is over.  Still have not received it.
MAS using a courier service instead of flying my bag up with a code share partner like Jet Airways, took an extra day. Why? I have no idea!
The courier service did not want to deliver the bag to us. We had to drive out to meet them in town. At least they drove half way to meet me at a coffee shop. 😉
I got lulled into thinking my bags would never get lost. I have not had a lost bag in years. With all the traveling I do, maybe I thought lost bags were a thing of the past. Well, I know better now. So, where I messed up was not traveling with an extra shirt and underwear, toothpaste, tooth brush and some deodorant in my carry on.
My 5D MK II kept draining it's battery. I began to think that my 5D MK II had a battery bug. I would put two batteries in the grip and the next day they were completely drained. Normally I can get 4 to five days or longer out of two batteries. Why? I had a setting called "Auto Power Off" set to "Never". This is a new setting for the MK II. This is not the display setting, this is the whole power of the camera.  So, somewhere along the line I must have messed with it and reset it to never. So watch it!
What will I do different.
Honestly? Not a lot I can do differently. I fly MAS because it is cheap and convenient and my client pays the tickets. My choice is to fly Star Alliance any time I have a choice. But the big thing that I will change is getting back into the habit of carrying on an extra light weight nylon shirt, some light weight underwear as well as some other essentials.
So that is a quick AAR of my last trip to India. An AAR is an easy and helpful tool to run after every trip. It makes your next trip a lot easier to doing these simple steps. Give it a try and tell me how it works for you.
FaceBook Comments
comments