Up To Speed.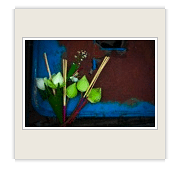 I am on my way home. At this moment I am sitting at the Cafe Ritazza in terminal E at Suvarnabhumi International Airport. Nice to have full speed internet again. A hardy thanks goes out to Gavin for getting me to the right gate for free WiFi.
I promised I would post images from the trip once I got a little speed again. So here they are. You can fined two small galleries below. One full gallery of  "My Angkor" images and another of some assorted street images.
Just a reminder, the "My Angkor" gallery is not Angkor Wat, that is in Cambodia, Chiang Mai is in Thailand. All those images were taken at a very small terracotta factory across from a lovely hotel I was staying at. It just goes to show you, can find amazing cultural images in some of the most unlikely places. One of the things I try to do when I shoot in an exotic location, like Thailand, is try to look for the unique and not the common. Shooting iconic images is always harder, so why not try to find something else that says the same thing.  Find an image that will say "Thailand" or "Asia" on it's own and that is not in everybodies portfolio. I don't generally shoot things that can be found in the West. The idea is to communicate the location and the culture. So sometimes you have to look under rocks or in this case under old terracotta.
FaceBook Comments
comments