Review: Sony's PCM-D50 Digital Audio Recorder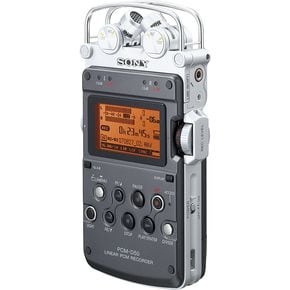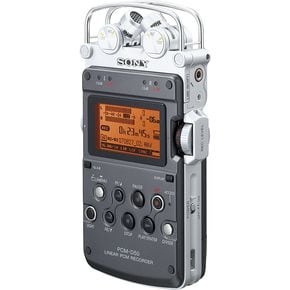 I have had more and more positive feedback on my Depth of Field interview series and as such I became motivated to ramp up the quality. One of the best ways to do this, beside limiting my "ahhhs" and "ummms" was to up upgrade the sound quality of the field interviews. So a few weeks back I ordered the Sony PCM-D50 field audio recorder and I must say, next to my 5D Mk II, this is the best buy I have made in a long time.
I am not going to do an in-depth review here. If you need that, you can check out these quality reviews HERE and HERE. What I will do is show you in some simple audio highlights how well this recorder works on the field.
The PCM-D50 is not a small recorder. It is about the size of a portable hard drive. You can see from the image how it fits into the hand; it's not small.
It comes with 4 GB of built-in flash memory. This lasted me two weeks of Lumen Dei and over 40 samples and three hour-long interviews. If you need more you can add additional memory in the form of Sony Memory Sticks. Why not non-proprietary CF cards? Ask Sony!
The D50, unlike other recorders it is not made of plastic. It is made of metal and seems to hold up well. I was climbing a stone wall in Ladakh to capture photos and sound of some Yaks threshing barley and scraped it on the stones, I can hardly see a scratch. Had it been a plastic case it would have been gouged. The interface is very easy to use compared to even my wife's simple Sony.
The D50 operates very intuitively: push Record and the unit goes into Record Standby. Then press Play or Pause to begin the recording. There is a display button that shows you how long you have been recording or how much time you have left. Another feature I really like, and this may sound like a silly thing to some of you, but I love the analog volume for both the record levels and the monitor levels. This is a small thing but I feel it gives me a much finer control over the volume of both, over a digital button I push and hold.
One of the best features is the condenser microphones that are built in. These accurately capture the the sound around the unit. I am not using this to record music in a studio. I am using this recorder to grab audio from the world around me and field based interviews in crazy places and environments. The D50 handled anything I could throw at it. The mics record clear and very accurate sound. There are two mics that can be positionned to either a Y or X recording direction. In the X configuration the mics record a crossed stereo signal. The right mic records data to the left and vise versa. In the Y configuration the right records the right data and the left the left. This configuration give the listener the feel of being in a room between two people talking. You can here it in the short test clip I did with David DuChemin. By the way, this clip was recorded in a room with concrete walls and floor. I think you will be amazed at the quality in such a hollow room.
(Note:The quality of this audio is directly linked to the fidelity of the speakers you are listening through. If you have low quality speakers, try listening with decent headphones.)
The mics are so sensitive that any handling or the least bit of wind will give you noise. As such a wind screen is a must when using it close to the mouth or outside or even if you are moving it back and forth between the interviewer and interviewee. Below are two samples from the streets of Old Delhi.  In the first sample you will hear the noise associated with a slight breeze. In the second sample I put on a wind screen and (I think) turned on the Low Cut Filter. The difference is huge.
Delhi Street with out wind screen
Speaking of the wind screen. Sony sells the AD-PCM1 Windscreen for around $45, this is robbery. But don't do like me and cut corners. I bought the Mini Windjammer for $35, but it doesn't stay on. So my advice is endure the pain or better yet, buy the recorder at B&H and they throw in the Sony AD-PCM1 for free!
Along with the Low Cut Filter there is the Limiter option. Unlike other recorders, where once the limiter is turned on, you hear a clear drop in the sound when the signal peaks, the D50 shows no sign of this. The recorder simultaneously reserves audio for the digital limiter, which is 12dB lower than audio processed in the normal circuit. This compensates for clipping that happens during digital processing if audio is over-input. So you get a very smooth limiter effect, Most of the time you can not tell it is even on.
The PCM-D50 includes a 5 second pre-record buffer. How would you use this? Well, say you want to record something you know is about to happen, like the call to prayer. You know it will be any minute, but never sure when. Set this feature on and once you hear the call begin, hit record and you will have it all recorded, from 5 seconds before you pressed the button. Very cool and very handy for field sound recording.
As you can see, I am very impressed. The size is no big deal to me, as it feels good in the hand and cannot be lost in a camera bag. I only see two drawbacks with the D50. One: it does not record MP3s. It only records in WAV. For some folks this means an extra step in recording podcast. Two: even though it comes with 4 GB built in, any extra flash memory has to be the proprietary Sony Memory sticks. This bites! I have a ton of 1, 2 and 4 Gb CF card that would work perfectly for gathering sound files, but now I need to buy Sony Memory Sticks if I want more space. This is not a deal breaker by any means, but it is an irritant.
Over all, this is an amazing recorder with pro features. It comes with a hefty price tag between $450 at B&H (with a free Sony Wind Screen), and up to $500 on Amazon.com.  But if you want high quality sound, this unit is well worth the price tag.
FaceBook Comments
comments