Exposed: Risking the Winnowing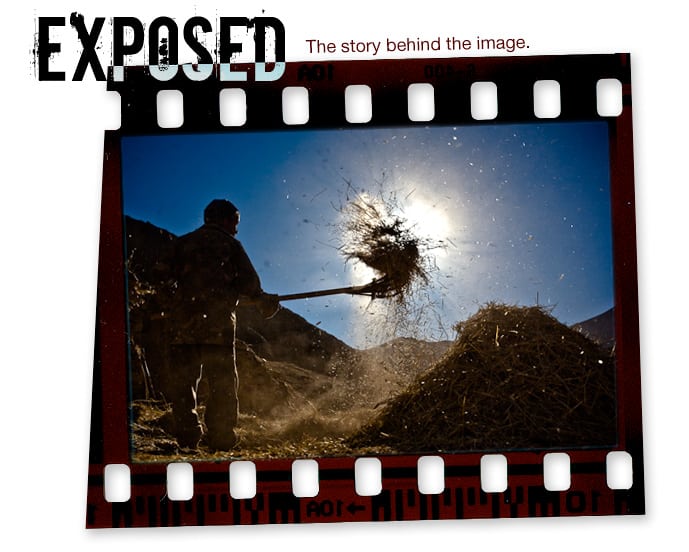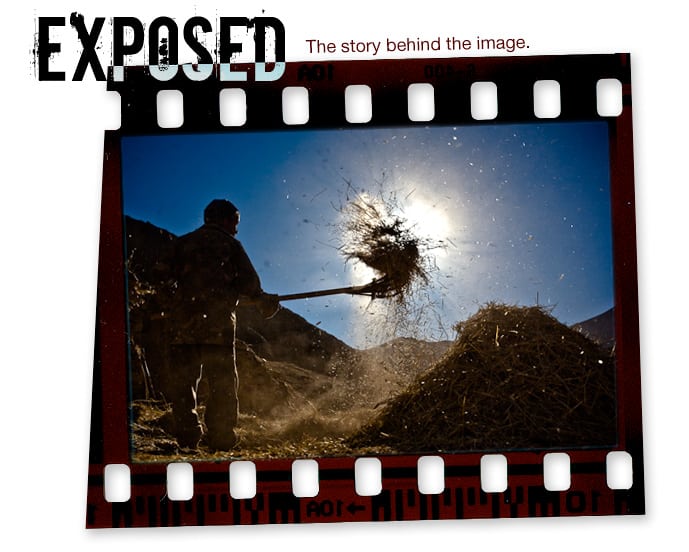 This was not an easy photo for me. My first inclination is not to shoot directly into the sun. The day before, I shot some similar images but with the sun behind me. They came out flat and lifeless. I had been watching Amy Vitale shoot for the past week and there were several times I thought to myself, "That will never come out", because she was shooting in direct light or some of the harshest light you can imagine. Yet every time, her images were spectacular. It dawned on me that I was limiting myself, I was playing it safe. One of my biggest struggles is getting out of my safety zone. Stepping out of the box that I make for myself. I'm sure I'm not alone with that, I bet you have your own boxes that you've drawn around yourself, your photography and your techniques. Not to say I've never shot into the sun. I mean, everyone shoots sunsets, silhouettes and such. But this was none of the above. This was midmorning at around eight o'clock. The sun had been up for at least two hours, maybe longer.
When I arrived at the scene, David duChemin and another photographer were already shooting it. I knew it would not be a unique shot. I also knew that David's would be incredible, and of course I was right, check out his images HERE. But does that mean that I don't shoot it? Maybe, sometimes. But this time I thought I could make this different than theirs, my image.
So, after watching this man winnow for a while, I was able to observe the particles of chaff in the air and the sun glinting off of them. I knew that's what I wanted. I shot several images standing, but I could not seem to get what I wanted. The angle of the sun just wasn't right. So I laid down.
You might not know, that when a farmer is winnowing he uses the wind. We were downwind and as a result, became covered completely with barley dust and dirt. Barley chaff went down my shirt, up my sleeve, in my ear, in my mouth and everywhere on my camera. Maybe you are thinking, "Were you afraid of the dust and grime that would get on your camera?" The fact is, my camera is a tool, it's designed to be abused to a certain extent. If it can't take dust in the field, or a certain amount of rain then it's a pretty poor excuse for a professional camera. I was certainly aware of the dust, and as soon as I left, I borrowed a friend's brush to dust off the camera. I certainly didn't change lenses at that moment.
So there I am, lying down, dust flying, trying to time my shutter to the apex of the man's toss and lined up the tossed barley with the sun. I think I shot something like 15 to 20 shots. A few are okay, but I think this one was what I was looking for.
Maybe, the moral of this story is don't be afraid to risk. I risked my gear and I risk making an image that everybody else was making. But my gear survived and I think I got an image that is uniquely mine. Go out and risk a little today.
FaceBook Comments
comments