Iraq: Gear Preview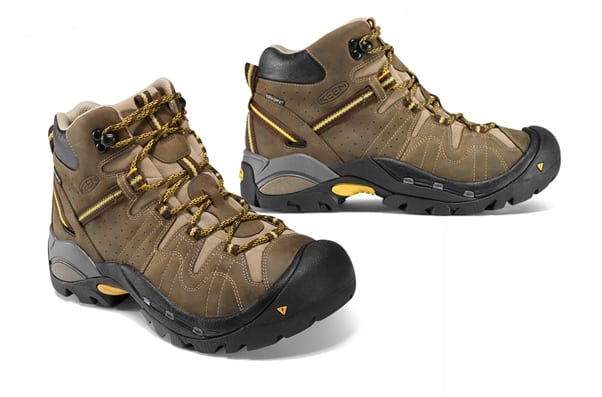 I am taking a few pieces of new gear with me to Iraq when I leave this Friday. Some of it was provided by partners in the work and some by my hard earned bucks.
The first out of the doc is a new pair of light weight hiking boots provided by Keen Footwear. Keen is a partner in my work. They believe in my talent and my take on photography. They are renowned for giving back to the community. So it should come as no surprise when I told Keen about my trip to Iraq they wanted to partner with me and my friends at Knowledge Stewardship.  They quickly sent me, and everyone on my team a pair of the Klamath Mid hiking boots.  These boots are amazing, like all Keen they fit snug but have a large toe box to give your little doggies and plenty of room to move. The KEEN.DRY waterproof membrane keeps the water out, keeping our feet dry. A cork and EVA heel insert cushions our steps on the uneven Iraqi terrain. This is just what the doctor (pediatrist?) ordered. On top of all that, they are a great looking boot. Thank you Keen for believing in what we are about in Iraq.
If you recall from my post back in August 2009 "Teaching Others to Fish", the idea of this trip is to help small NGOs (Non-Government Organizations) tell their own stories without the aid of a professional photographer. I will be helping them define their vision and help them see what the story is and how to tell it through photography. Once or twice a day I will be meeting with the students, who are NGO staff for a structured class time. During this time we will be going over what makes a good photograph and what makes a good essay. I'll be showing examples both of my own work as well as some of the masters of photography and photo essays. We will be critiquing and analyzing those images, as well as images on what they shoot throughout the day. To do this we will need a video projector. I knew one of these NGOs had a projector but we would need more than one because of other classes going on at the same time. My Knowledge Stewardship Int'l cohorts will be addressing issues like After Action Review and Reflective Practice. So to keep from having to fight over the one projector, I invested in a very small light weight video projector. It's called the 3M Mpro 120 pico.
It is small, really small, it fits in my shirt pocket. For me this is perfect as space is an issue. Traveling with-in Asia I only get 20kg of baggage, not much when you add up all the gear I carry. The MPro 120 can run up to four hours on a single charge. It has a tripod mount, in fact it even came with a pocket tripod, albeit a pretty cheesy and useless one. I tossed it and will be using my Gorilla pod. What I was really concerned about was the brightness, at only 12 lumen I did not expect much. But the fact is, it is pretty bright. It is a very short through projector, meaning I can use it in a small cramped hotel room and shine a 50″ image on the wall. You can see from the images below, I took these in my office; how bright it is and how short the distance between the projector and the wall was, only about four feet.
The features look something like this:
Product Features

VGA image and 100% color gamut gives the user one of the highest quality images of any portable projector currently available
Two integrated, half-watt stereo speakers help transform the MPro120 into a self-contained presentation device for entertainment or business application
Projects eight to 50-inch still or moving image stored on a video capable pass-through device(e.g.MPR3 player, laptop computer, ect.)
Uses Liquid Crystal on Silicon(LCOS) technology for superb image quality and minimization of component size.
LED light source with 20,000 hour life means the unit is environmentally friendly and there is no need for a replacement bulb

Technical Details

Brand Name: 3M
Model: 78-9236-7713-8
Hardware Platform: PC
Display: LCOS projector
Minimum Image Size: 6 inches
Maximum Image Size: 3.2 feet
Minimum Screen Distance: 1 feet
Maximum Screen Distance: 6 feet
Display Resolution Maximum: 640 x 480
Audio Output Type: None
Width: 2 inches
Depth: 4.5 inches
Height: 0.9 inches

Weight: 5.6 Ounces
So as you can see, it is a very cool little tool and one that I hope will prove itself useful in the field.
If you are a regular reader of this blog you know I use a Sony PCM D50 field recorder. It is one very tough and accurate field recorder. One thing that I like is the two microphones that can be used in an X pattern or a Y pattern. These little condenser microphones are very sensitive, almost to a fault. If you are recording an interview and holding the unit handling the noise is really noticeable. So I bought a Electro-Voice RE 50b microphone. This microphone is use world over and is favorite interview microphone. It is a specially shock-isolated, omnidirectional, dynamic microphone created for hand-held broadcast and sound reinforcement use. This microphone is so tough! How tough you ask? Well, I am glad you asked. If you need to drive a nail and you forgot your hammer or need a small defensive weapon, this will work well for either needs. Besides being tough, the sound is clear and crisp and isolates the voice well and completely eliminates any handling noise. Being a Dynamic microphone I can use it with my D50 without any preamp. So it was a natural choice for adding more versatility to field recording.
As I said above, I leave on Friday. I hope to keep you posted. There will be internet where I'm going. But I just don't know how much free time I will have. I will be spending two days in Istanbul on the way out. I have never been there so I hope to shot the Blue Mosque, the Ayasofya and more. But I am open to suggestions for shot lists. Tell me what you know, where to go and what to avoid?
FaceBook Comments
comments