Think Tank Announces the Retrospective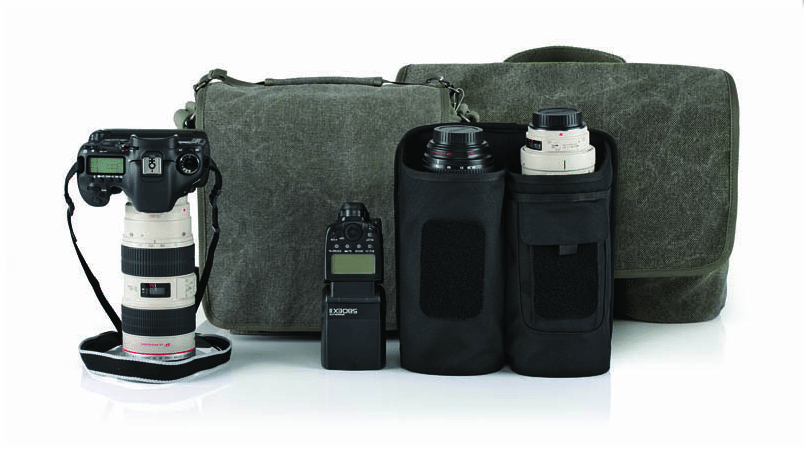 Think Tank Photo has announced several new product lately. One of which rates a 12 on scale of 1-to-10 for it's cool factor. I am speaking about the new Retrospective series camera bags. As the name implies, it sports a very retro look and feel. I have only seen the press release photo, but from what I can tell it looks very cool. It comes in a Black Poly Spun Canvas or a stonewashed Pinestone Cotton Canvas. I personally really like the look of the Pinestone from the photo and I have always loved the feel of the old cotton canvas bags. I can't say anything about its functionality, as I've never actually touched one or looked inside of one. But, given it is made by Think Tank, my bet is it will not suffer in that area. Hardly anyone has outside of Think Tank has set eyes on this set of bags, as the bags have not been released yet. But they should be released soon.
There are two types of bags in this series. The Retrospective camera shoulder bags, designed for a camera and lens. This bag is capable of carting around a pro size DSLR and can accommodates up to a 70-200 f2.8 lens (lens hood reversed). It has a front pocket capable of carrying a body without the lens attached. There are three sizes in this bag: Retrospective 10, Retrospective 20 and the Retrospective 30 selling selling for $149, $159 and $179 respectively.[1. all prices in USD] Then there is the Retrospective lens changer shoulder bags, and this model comes in two sizes. The Retrospective Lens Changer 2 will carry two lenses and will sell for around US$99 and the Retrospective Lens Changer 3, as the name implies, will carry three lenses and will be US$119.
This series is designed to pay homage to the days when bags where visually simple but highly functional. Here is what Doug Murdoch, Think Tank Photo's president and lead designer had to say about the bags:
"As camera bag designers and frontline photojournalists, we honor the role of reportage and its influence on photojournalism. We understand that photography is more than an assignment or a paycheck, but a way of life and an art form. To quote Cartier-Bresson: 'To photograph is to hold one's breath, when all faculties converge to capture fleeting reality. It's at that precise moment that mastering an image becomes a great physical and intellectual joy.'"Doug Murdoch, Think Tank Photo
FaceBook Comments
comments