Culture Stress: Can't Win for Losing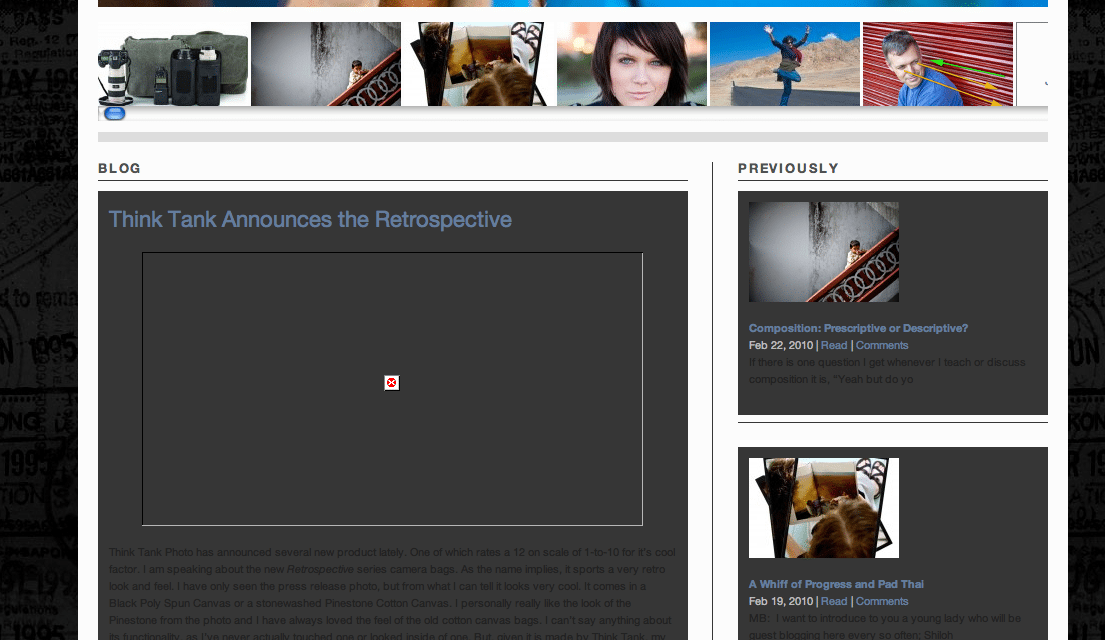 The interview I had planned for today would be better as a Depth of Field podcast. So, left with a blank piece of paper, or screen as the case may be, I found myself musing about last week's guest post from author Shiloh Lane. She ruffled a lot of feathers and, quite frankly, I was surprised by the amount of flak she took (but I don't want to go back down that road). It reminded me that there is a big difference between traveling abroad and living abroad.
Travel photographers are often based out of their home culture. Receiving an assignment, they have to book tickets quickly, get visas, pack bags, and then, head out. After a week or two in the host culture, they head back home to the safety of the familiar. They are there long enough to see the beauty of the host culture, experience a little frustration, and remain in awe of the differences. Living overseas is quite a different story. Culture stress, or as it used to be called culture shock, is an extremely difficult stage of living abroad, and, if truth be known, we never fully get through it.
Belonger, Insider
Experts in the field of culture stress and culture acclimation tell us that the road to making a second culture home can take up to two full years before you feel that sense of belonging, depending on both the expatriated visitor and willingness of the host culture to open itself to you. Not all cultures are the same, as if you didn't know. Some are very open and accepting of foreigners, while others are very closed and may never fully accept you as a "belonger." Often, cultures that place a high value on "sameness" and on identity make it very difficult for an outsider to ever become a belonger. Notice, I'm not using the word "insider." As an outsider, a foreigner, it is very rare that you can become an insider in another culture. Really, the best an outsider can hope for is to be accepted as someone who belongs there.
This lines up both with my own feelings and experiences and with the extensive reading I did over many years as I tried to figure out how I could ever become an insider, or a belonger, in Kashmir. After 13 years, I came to realize that it wasn't going to happen – but I did become accepted as their "resident outsider." That was better than always remaining a visitor who knew nothing!
Language and more
When living in a place extremely different from your home, your first tendency is to view things that are different as "wrong." Travelers who make quick visits abroad experience this. When you live in a place day after day, these thoughts are magnified 1000 times over! Constant stress comes from a lack of identity and control in this new place. You can't seem to communicate. You can't get the simplest tasks done. You feel that your whole day is spent simply surviving. Why? Because you don't know how to communicate! What? Is it really just a problem with language? Yes and no. The words are important, but there is more. There are all kinds of nuances such as the way people use their hands to talk or point, the way they stand or sit, the way they look (or don't look) into other people's eyes, and even how quickly they ask or answer a question. You may have the words down perfectly, but without understanding the nuances, you will never completely communicate like a local. Even after years and years, you may never reach that proficiency.
Kashmiri is a very difficult language to learn; it has a gazillion pronouns and other grammatical nuances. On the other hand, Bahasa Malay, the language spoken in Malaysia, is said to be one of the easiest to learn. My wife has been slowly learning Bahasa Malay. She sounds pretty good, but she is finding that there are little things that make even this "easy language" not so easy. In Malaysia, you often hear the particle "lah" used both in Bahasa and in the English that Malays speak. What does "lah" mean? It depends, and that makes it complicated. Sometimes, it is used to mean same as the English "of course." Other times, it is used simply to elicit familiarity. I can't go into all of the details, and that is sort of the point: most non-native speakers don't know how to use it. We sound silly trying even when we are speaking Bahasa Malay. Can you imagine the frustration you must feel spending years learning a language, cultural nuances, proper dress and etiquette, and then a little word like "lah" trips you up in a way that seems to scream to everyone around you, "I am a foreigner!"
You can't win for losing.
Sometimes, "you can't win for losing". For instance, a local once told me that in Malaysia, you never put a fork in your mouth. Most Malay eat with a fork and a spoon only. They use the two utensils to tear the meat apart and then use the spoon to scoop up the rice and meat and put it all in the mouth. That is the "rule," and yet, sitting in street side eateries, I see locals putting both spoon and fork in their mouths when they eat. So much for that rule!
Honeymoon. Experts say, and I've seen this firsthand, that the first six months to a year in a new culture is often called the "honeymoon stage." It's a stage when things may be difficult and even confusing, but the culture is still new and exciting. You are happy to be there, and the host culture can do no wrong. The average traveler functions in this stage when visiting a new country or culture for a short period of time. When I am on photo assignments, everything is new and wonderful. I leave the country and return home with all of my wonderful memories of the place and people I just visited. I think this is a natural buffer for the next really hard phase.
Frustration. The next stage is a harder and more dangerous. It usually starts six months to a year after entering a country and can take over a year to get through. You often experience frustration, anger, and even hate for the host culture. As nasty as it sounds, this is normal. What is dangerous is the possibility that your nasty attitude creates all kinds of enemies and infects everyone around you with negative thoughts and feelings about where you are living. And, it is dangerous in another way, as well; if you leave the host culture now, you leave with all the bitter feelings and negative thoughts. And, realistically, if you leave during that phase, you may never return.
This stage was very difficult for me.  I lived in the stage for almost one year in India. I can remember being so frustrated with a rickshaw driver that I almost put my foot through his floorboard in anger. One time, and I'm just being honest, I was so frustrated with everyone trying to push their way onto a bus while I was trying to get off that I just shoved hard with both arms and sent everyone flying. Being about a head or two taller than most Indians, I had the advantage of leverage.
Another time my wife and I had driven 10 hours from Srinagar over the mountains to the city of Jammu to catch a 12-hour train to Delhi. I was tired, I had been sick, and the weather was very hot. The train pulled up and people were clamoring to get on it even before it came to a standstill. I couldn't believe what I was seeing! People were shouting and pushing and elbowing their way into the bogey. I managed to get inside with my suitcase in hand only to realize that my wife was not onboard. I had to force my way all the way through the bogey to the exit in the back to get down and find my wife. While trying to get out, one man shoved me a little too hard. I snapped. I grabbed him by his shirt collar and shoved him against the side of the train. Had I not had my suitcase in my right hand, I might have punched him. Later, I found out that he had shoved me because he was a pickpocket and had stolen my Cross pen from my shirt pocket.
I tell you these stories to illustrate the brutal reality of this phase. I'm not proud of how I acted but that is the reality of that time in my life many years ago. I soon worked my way through this phase of culture adaptation and found a more balanced view of the culture and was living in.
Observe. There are ways to make adaptation easier. The first and the best way is to learn the host language. Learning a language gives you an insight into what is happening around you. You realize that your paranoia of everyone talking about you is just that: paranoia. They are really talking about the price of bread or the latest movie.  Once you get to a conversational level in the language, your frustrations quickly diminish. You calm down and you can start observing culture. And when you start observing culture you can start understanding the "why's" of the people you're living with, and once you start understanding the "why's," you can start feeling at home.
Laugh at yourself. The last thing I would say to anyone entering into a new culture is, "don't take yourself too seriously!" Learn to laugh at yourself and your mistakes. Develop a thick skin because your host culture is going to point a finger at you and laugh. (By the way, that's a cultural difference. In my home culture it's rare to find someone who will point a finger at you and to talk about you within earshot. But that is not the case in many other cultures!) Learn to laugh at your language mistakes because you'll be making plenty of them.
I remember when I was learning Hindi, I always confused the word sharāb with the word peshāb.  (I can hear my Hindi speaking friends laughing now!) Sharāb is the word for wine and peshāb for pee or piss. One day, an old beggar man came up to me asking for money. I could tell he had been drinking. I tried to ignore him but he would not go away. Finally, he wore me down and I gave him a few rupees. As I handed over the coins, I looked squarely into his bloodshot eyes and told him in my best Hindi, "Peshāb mut ḵẖarīd na!" or "Don't use this to buy alcohol!"… or so I thought. What I really said was, "Don't use this to buy piss!" At the time, I did not understand why he gave me such a strange look.
Get off your high horse and learn to laugh at your self. Adapting to culture takes time. Most of the time you never arrive where you want to be, but you can enjoy the adventure and find a home while doing it.
FaceBook Comments
comments