mRelease Review: A iPhone/Touch Model Release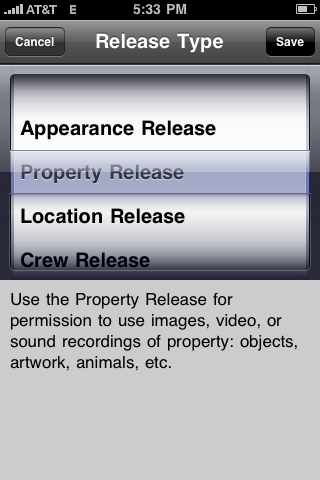 It was a fun week and one in which I spent the majority on the beach. Ya can't beat that! But unfortunately it wasn't much fun on the blog with me swimming with the sharks… literally. But the trip did serve to allow me to test drive a few applications. One that I am very impresses with is called, mRelease. It is a very cool iPhone image release application. There are two of these that I am familiar with, one of them Gavin Gough uses called Easy Release.
This little app came in handy this week. While sitting on the veranda of my bungalow overlooking the beach, I saw a young woman laying a rock sunbathing. The palm trees were gracefully framing her with a wonderful sailboat in the background. It was a scene made for stock. I took several images, a few of which her face could be seen. And then I thought, "But how do I get her to sign a release?" Then I remembered Gavin's Easy Release. He showed it to me while I was with him in Bangkok last week. I frantically searched for it on my iPhone in the Apps Store. I found it, but I also found its competitor mRelease.  Quite frankly they looked about the same, but mRelease was only $7.99 as opposed to easy release $9.99. I am cheap, so I quickly downloaded it and looked it over.
It's pretty simple to use. You put in your details as the photographer, then the name of the shoot. After that you simply hit the plus button to add a new release. The application asks you for the type of release. The options are, appearance release, property release, location release and crew release. Each option gives a short description of how that release should be used. The next option is the release scope. The application gives you two options, unlimited and production, again with a short description of each. Then, you need to type in the general information of the model. Name, if it's a minor the Guardian's name, e-mail and contact information. At this point you can take a photograph of the model for the release using your iPhone. Once you've done that you're given a preview of the contract. At the bottom is a button that says a "signed release." Push that button and the model can sign it using their finger on the iPhone. You can turn the iPhone sideways for a wider pad to write on.
Once I figured it out, it was easy to walk up to this young lady and asked her if I could get her to sign a model release. She seemed a little surprised to see it on a phone, but signed. In the end, I sent her a copy of the release in a pdf file, and the photo. This is an amazing little app that gives you a lot of options and certainly can cover your backside for a spontaneous shot in the field. It keeps you from carrying several types of releases and saves trees.
I think Easy Release is almost identical. But, one reviewer of Easy Release complained that it was only a model release and it didn't offer other releases. I don't know about that, maybe Gavin can chime in here? But certainly this application offers a lot and it's going to remain on my iPhone.
FaceBook Comments
comments