Review: Easy Release app model release – The Best!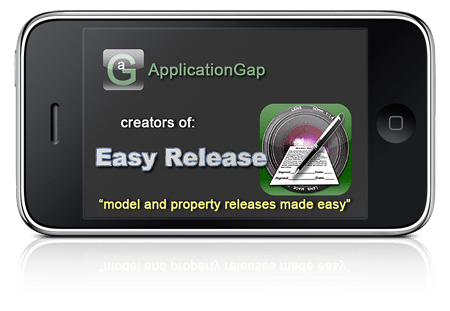 Last week I reviewed an iPod model release application that a lot of people really liked. It was called mRelease. In the comments, there was talk about how it was virtually identical to another model release application called Easy Release. The author of Easy Release wrote in and said that this was not the case and that we should look into it more. He was obviously very passionate about his product. So I contacted him, and he sent me a copy of Easy Release, and I have to tell you, he is right. The differences are night and day.
The first difference is, and I'm not trying to be smart-aleck here, Easy Release is two dollars more than the competitor mRelease. But with that two dollars you get a whole lot more. Yes, on the surface Easy Release does look a lot like mRelease. But Easy Release is much more thought through. That may be because the designer of Easy Release is a photographer and used to work for Getty images. Having worked for Getty is not a small thing when you're building software that's all about image releases. Easy Release gives you all kinds of customizable options. Not the least of which, and one I find helpful is the option of branding the release with my logo, company name, and company contact information. There was much more information required in filling out the release form on Easy Release, which on one hand took more time to complete, but on the other hand, made me feel comfortable that all the legal information was obtained that I might need. Just like mRelease, Easy Release offered the option of taking the models photo with the iPhone in the field and added to the release. But unlike mRelease, Easy Release requires a model's date of birth and thus requiring a Guardian signature if the model is a minor. It also requires my signature as the photographer in the document is well. I think this will give the model a little more sense of security rather than just having a release with their name on it alone.
Another thing I noticed right off when tinkering with a model release, was that even after the model release was signed, I was allowed to make changes. However, once I made any further changes to the release after it was signed, Easy Release required I get a new signature by the model. Again, another sharp detail that makes this application well worth the extra two dollars above the competition.
Now this might not mean much to some of you, but for someone like myself living abroad, or for a photographer traveling abroad, the fact that Easy Release contracts come in 12 different languages makes it extremely useful for me. I could very easily take a photo of a Chinese person who might speak English, but would be uncomfortable signing a legal document written in English. But, Easy Release offers the release in Chinese simplified or Taiwanese scripts, allowing the model to read and feel at easy with the release they are signing and with me.
Easy Release has thought through the possibility that you might use the same model on a different shoot and need a new release. It stores the models information as well as even the witnesses information. By the way, the mRelease doesn't even offer an option for a witness and more stock agencies will not even consider a release without a witness.
It's a simple, easy to use application that can be a huge help shooting in the field. It allows you to rest easy knowing the model release that was just signed on your iPhone, or iPod Touch is the same one used by Getty and others. mRelease is a good attempt at this but falls short. But, maybe the next version will be much better. If you'd like to see a comparison chart between Easy Release and mRelease, click HERE. Right now, Easy Release is well worth the $10 and stands head and shoulders above any of its competition.
FaceBook Comments
comments