Multimedia: The Last Hat Maker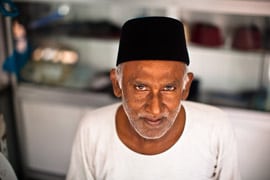 Living in Penang has been fun and compared to Kashmir quite easy. But, the one sad part for me is I feel I'm here just in time to see a lot of the culture that is so rich in Penang disappear. Remember The Last Lantern Maker that I shot pictures of a few months back? I went back to continue the story and he's gone now. His building has been gutted and nothing but a shell remains. Maybe he set up shop somewhere else, but my guess is, he's done.
About the same time I was covering the last lantern maker, I was told of a man who makes traditional Malaysian hats and that he is the last of his breed as well. The hats are traditional Malaysian caps called Songkoks. They're made of stitched paper, satin and velvet. To be sure, there are other Songkok makers in Malaysia, but he's the last one in Penang. When I went by his shop there was a sign was posted saying he was "Out of Station" in India. His name is Haja Mohidin and he is a Mamak or Muslim Tamil and has been doing this trade since the early 60s. Last Wednesday I was with a friend walking in old Georgetown and noticed that his shop is open. We stopped and fortunately I had my camera with me, however I only had my 50 f1.2 with me. I suppose if you are only going to have one lens on your camera and walk into a 12′ x 12′ shop to photograph a Malaysian hat maker, that's the lens to have.
It was the first time I've ever used this lens. I have to say it does have a significant margin of error, not as bad as the 85 f1.2 but there were plenty of unfocused and soft images after I was done. Of course, that may say more about me than it does about the lens I was using. I went back yesterday and recorded some audio and shot a few more pictures of him with my 17 – 40 f4. I ended up only using one of the 17 to 40 images in the essay, the rest of the images are all from the 50 f1.2. I hope you enjoy this short essay on the Last Songkok Maker of Penang.
FaceBook Comments
comments