GIVEAWAY + Review: SoundSlides Plus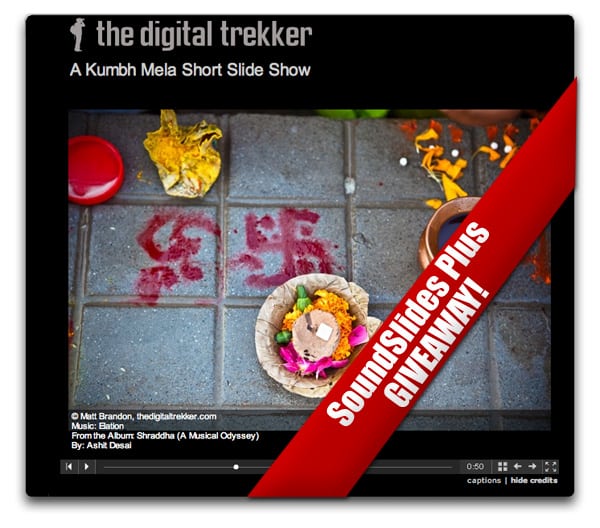 This week we will be looking at what it takes to create a well done and communicative multimedia photo essay. I will be introducing you to some of tools it takes to create these effective presentations. We'll also be taking a look at the type of photos you need in an essay to build the story up and keep the interest of the viewer.
As far as tools go, one of the most effective tools for integrating photos and sound into a slide show is an application called SoundSlides Plus. I have use it on almost all my slide shows. I also give demos of the software out to my workshop and most of the NGOs I coach. SoundSlides is a very intuitive, simple and effective tool for presenting your photo essay or simple slide show to the world. I'm excited to be able to give away a free copy of the full version of SoundSlides Plus to one of my lucky readers. I'll tell you at the end of this post how you can have your chance to win a copy of SoundSlides Plus. But, before that, I want to give you a quick overview of the application.
When you open the application the first thing you see is a request for you to either open an existing project or create a new one (see fig 1). Let me create a new show just for this demonstration. We'll title this demo "New Kumbh Mela" (fig 2). SoundSlides then creates a folder and some essential files that it will need to produce your slide show. Now you're given the option to load your images and sound file (fig 3). Click on the JPG button  and navigate to where your images are held. SoundSlides works only with JPEGs. Once you load all your images is now time to load any audio file you want to use. Simply navigate to where your audio file is held and upload it (fig 4). As far as audio formats go SoundSlides works natively with MP3s.  After loading the JPEGs and audio files, the main window of SoundSlides opens. Here is where you will do all the editing of your shows timing and image placement as well as other things like captioning.
Believe it or not you're about 80% done. Now all you need to do is drag and drop the thumbnails of your images into the positions you want them (fig 5).Once arranged like you want, there is a handy little option found under the tools menu that allows you to spread your images out equally (fig 6). If you don't want your images playing all at the same rate, you can drag the edge of an image in the time line to lengthen or shorten the amount of time it shows (fig 7). At this point,  if you wanted to show your slide show you could. Basically it's done. Easy Peasy, Lemon Squeezy.
Even though your slide show may be technically done, you probably want to tweak it a little more.  There are a few more ways to tidy it up and to make it look a little bit more professional. One option is to add captions to each image. If you have captioned your images prior to importing them there is a good chance that the information is in the metadata of the image file and if it is SoundSlides will read it. So extra work on captioning may not be needed. If you haven't captioned your images before hand, it's not a problem. SoundSlides gives you a window called "Slide Info" here you can add captions to each slide (fig 8).
SoundSlides provides users with some pretty basic slide show templates in a "Template" window (fig 9) or you can create a custom template (fig 10). The template is really just creates the HTML code for the player and web page for your show. In the template window you have options to tweak the color of the background, the text, whether to have captions showing by default, whether to show the scrub bar or not and many other options (fig 11).  The next window to be concerned about is called, "Project Info". Here users are given space to write in the title of the show as well any credits and copyright information (fig 12). Then, the last window is the "Audio" window. This window simply give you the option reload or delete the audio that you have in the program (fig 13). This comes in handy when you realize your audio is too long or too short or you just didn't feel like it was appropriate and you want to change it out for a different audio bed.
Up to this point you have only been able to see your show within the application's main window. But wouldn't you like to preview it on a big screen, the way others will see it? Now comes the fun part. Just hit the test button (fig 14) at the bottom of the page and watch SoundSlides create a web page featuring your slide show (fig 15).  If you like what you see and everything seems to be the way you want it, the next step is for you to publish it. To publish the show all you have to do is hit the export button (fig 16) and SoundSlides will export your slide show to a folder called "publish_to_web". You will find this folder located within the project folder (fig 17). Rename publish_to_web to whatever you want it called in the URL (I called mine "kumbh_short") and then just load it to your server and your done. Click this LINK to see the show I produced for this demo hosted on it's on page. If you are familiar with the shows I  produce here for this blog you know I usually embed them into my blog posts. To do that, SoundSlides has provided a page to create a custom embed code for your work. You can visit that page HERE.
What if you don't want an interactive show like we have created for this demo? What if you want a simple video of your slide show? Well, the good folks at SoundSlides have provided a link HERE for you to upload your show in a zip file. They will then convert it for you for free. You will be emailed a link where you can download a MP4 version of your show.
Like I said, pretty darn easy. Of course being so easy, there are some drawbacks to the application. Things that I hope will be improved in later versions. SoundSlides doesn't handle subtitles very intuitively. It uses something called "lower thirds" and it is very clunky. If you have to make changes to the length of a slide in the middle of the show it can be completely devastating to any slide that falls after the one you're adjusting. The time line gets completely messed up. The workaround on is to put the time line navigator bar (for lack of a better term) over the picture you've just increased or decreased the time of, then go up to the menu bar and choose the option under Tools, " Spread remaining images equally". This is not perfect but it helps.
I've been told by the folks at SoundSlides, that an upgrade is coming out soon and it will have the option for creating embed code right in the player. That will be really nice for sharing your work. I would love to know what other options and changes are coming out in the next version.
Okay time to explain the giveaway. You now know the basics of how to create a SoundSlides multimedia show. So now, I want to hear from you how you would use SoundSlides? I would like you to write in the comments section on this page a very short description of a project or story you might tell using SoundSlides. All entries must be posted by Thursday May 20th, at 12 am Penang, Malaysia time ( GMT +8). I will then announce the winner on Friday's blog post. Tell your friends; Tweet this on the wibiya bar below and tell your FaceBook friends this competition is running. Let's spread the word!
FaceBook Comments
comments