Multimedia: The Camel Market of Cairo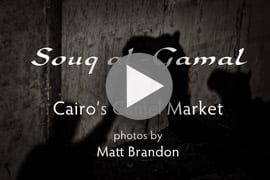 Over this past two weeks of reconnoitering for an Oct 2011, Cairo/Nile photo workshop I was able to see and visit some amazing places. Places, that if I didn't have the job that I have, I might say were once in a lifetime kind of places. Last Friday was once such place. My ever gracious host, Marco Ryan kept telling me that the Cairo Camel Market or the Birqash Souq al-gamel, as it is known in Arabic, is a great opportunity for the the workshop to visit and shoot. I had some reservations. I figured it would be crowded and confusing and wasn't sure it would be worth getting up at 4:30am to photograph. Boy, was I ever mistaken. It was amazing. The sounds and textures were fabulous. I hope that this 4 min slide show will give you a taste of what it was like.
A special thanks goes out to Fathy Salama & Sharkiat, as well as Face Music for allowing me to use the track, Camel Road as background music, it really helped make the show. If you are interested in purchasing the album Camel Road you can find it HERE.
By the way, spaces on the workshop are limited and even without solid dates spaces are selling. If you are interested in having a space saved for you please contact Marco Ryan HERE.
FaceBook Comments
comments