Can a Photograph Bring Peace?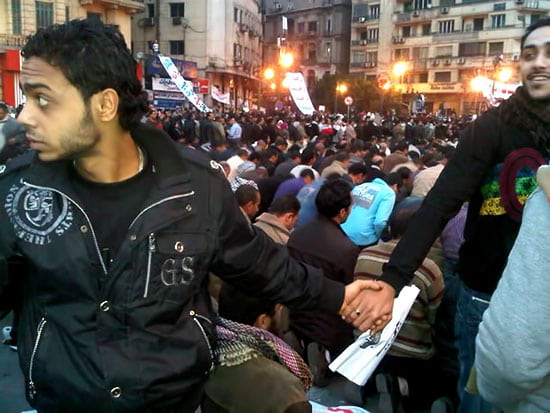 Christians protecting Muslims during their prayers in Tahrir Square, Egypt. Photo by Nevine Zaki
I have had people come up to me or write to me and say something like, "Wow! Visual Peacemaking – that's so cool…what is it?" It's as if there is a ring of truth in the term "visual peacemaking" but they can't quite see how it might work. I've got news for you; I think that's kinda where many of us are so let me help.
Visual Peacemaking is really quite simple in some ways. One of the best examples of it happened this past week in Egypt. Nevine Zaki (@NevineZaki) tweeted a scene she photographed last Wednesday of Christians protecting Muslims during their prayers in Tahrir Square. It is iconic in many ways and a prime example of what we mean when we say visual peacemaking. She could have let that moment slide and only focus on the brutality everyone else was photographing at that moment. But she didn't. She chose to show something out of the ordinary and amazing that drew people together rather than kindling more hatred and violence. She showed the world, visual people pursuing peace. For this aspect of visual peacemaking, her image should be its poster child! more »
FaceBook Comments
comments