Review: Delsey Cross Trip Rolling Duffle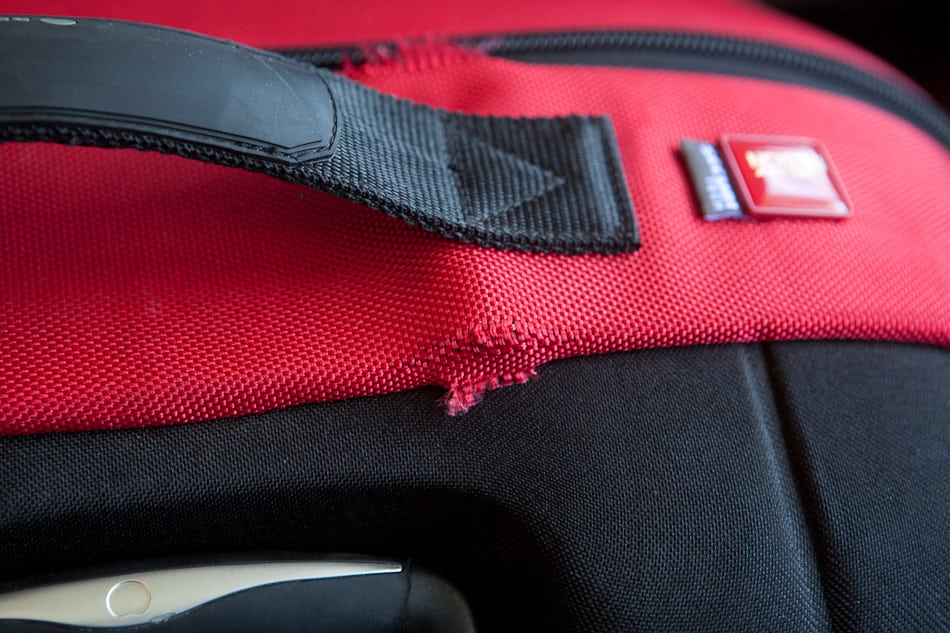 I hope to bring you several  reviews of products that made it on to my packing list for this past trip to Tibet. The first of such reviews is of the Delsey Cross Trip rolling duffel. I had high hopes for this bag. It was spacious, colorful (so I could see it quickly on the luggage belt) and it was a duffel of sort but had wheels. But the most important part was it was a Delsey. I had owned a bright Delsey yellow polypropylene clam shell suitcase for over 15 years. The thing was practically indestructible! Alas, it was not to be. This Delsey was a red lemon.
If you read my past post on how I packed, you know that I had 20 plus kg of luggage in this bag. According to the airport 24kg and some change. But once I arrived I removed my tripod and a few other items. So throughout the trip there was less than 20 kg of luggage in it ant anyone time. Granted, the trip was a rough one, in and out of a jeep everyday and schlepping the bag up and down hotel stairs. But this is not out of the ordinary for any piece of luggage. Yet, within a week into the trip the top handle started to separate from the bag. Plus, by the end of the trip there was the makings of a good size whole in the bottom corner of the bag.
The fact is, the handle that was used the most wasn't even the top handle, it was the side handle. I can only think this is a manufacturer defect. I hope it is not a design flaw, as I cannot get my money back. For my North American readers many (most?) retailers do not readily give you your money back. They will only honor the warranty by giving you a fresh bag. Yippy – another Cross Trip to fail in the middle of a trip.
You might be wondering if other peoples bags failed to perform on this trip. Nope. We had a host of different bags on this trip. Interestingly enough they were all duffels. We had a North Face duffel, a Patagonia duffel, an Eagle Creek, A Tatanka duffel with wheels (that I ended up coveting!) even two nondescript bags of some sort but they all survived. Only my Delsey failed. So, if and when I get this bag replaced, it will be relegated to cushy family trips to America and back, no more adventures and photo workshops.
I can not recommend this bag. In fact, I will go so far as to say, don't by this bag if you are doing anything other than 5 Star touring. I had a great history with Delsey up till now. But this bag ruined that.
FaceBook Comments
comments