Wallpaper: June 2011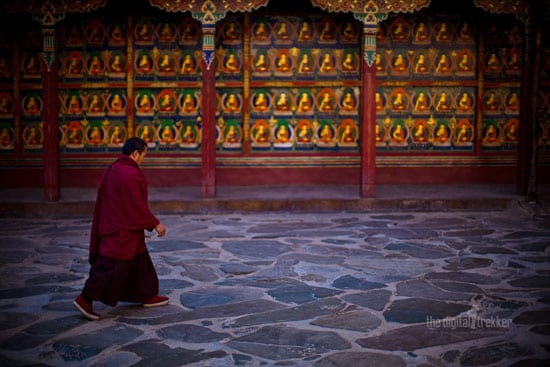 I think you will enjoy this wallpaper this month. It is one of my favorites. This was shot in Shigatse, Tibet's second largest city at a monastery called Tashilhunpo. These workshops are really a joy to run and I as you can see below our participants really feel they get their money's worth.
Adventure of a lifetime…another notch in the bucket list! Matt, Brian, and Jamin were knowledgeable, approachable, and perpetually concerned about everyone's well being. This trip was an incredible value in all parameters, I would highly recommend entrusting your hard-earned vacation dollars with this trio. ~ Jim M.

This trip was everything and more. Learning so much about photography, mechanically (in all situations of lighting and fast paced street moments) and humanly (connecting with the locals) in such an incredible landscape and culture, such as Tibet will be hard to top… A true trip of a lifetime, which will always leave me feeling warm and rewarded. Thanks is not enough! ~ Simon S.
Brian, Matt, and Jamin provided us with a such an amazing, perhaps "once-in-a-lifetime" experience that will not soon be forgotten. Bottom line: I wouldn't go to Tibet with any other folks, folks. The expertise on the area, the choice of accommodations and food, the willingness to help when needed, and the overall friendliness of these gentlemen made the trip. Thank you again, guys, and maybe I'll see you next year! ~ Nicole R.
But more importantly, I believe I learned and improve and I thank you both. I think that it is important to note that all of you saved no effort to make it a great trip and I want to thank you from the bottom of my heart. I believe your approach and attitude positively affected the group in its formation and the overall friendly environment. One "small" request – can you add some greenery to the plateau's desert? All the best and thanks again. ~ Ruti
These are the typical of the responses we received about this workshop. If you would like to join me on a workshop this year, you have one last chance. I will be teaching with three heavy weights Karl Grobl, Gavin Gough and Marco Ryan July 11- 25th at Angkor Wat.  Angkor is one of the most culturally and visually exciting places in the world. I love shooting there. In fact Gavin Gough is at Angkor right now and is posting some amazing images. Check out his posts HERE and HERE.
Let me introduce you to the talented instructors that I will be teaching alongside.
Karl Grobl is a humanitarian photojournalist specializing in the photographic documentation of relief efforts and development work of NGOs worldwide. His images have appeared in publications such as Newsweek, CNN, Geo, Town and Country magazine and The Chronicle of Philanthropy, but the largest majority of his photos appear in the annual reports, newsletters and communications materials of his humanitarian organization clients. Karl's non-NGO work is represented by Zuma Press, the premier international editorial picture agency and wire service. His 2005 Haiti photo-story "City of God" was nominated for a World Press Photo Award.
Gavin Gough is an independent, freelance travel photographer. Originally from England, Gavin is currently based in Bangkok, Thailand, from where he travels extensively, working on assignment, on commission, creating stock images, writing and teaching. He has been commissioned by a variety of NGOs, humanitarian and charitable institutions and has completed commissions for organisations as varied as Sony, Vanity Fair magazine and the Vietnamese Tourist Board.
Marco Ryan is originally form the UK but moved to live and work in Cairo in 2008. He is a lecturer and author on Digital Media and how businesses need to react to the increasing disruption caused by the web and digital media. He is also a passionate photographer. He founded the popular Cairo Photo School and is the joint owner of the Cairo Photo Studio. His love and passion for travel and humanitarian photography has taken him all around the world, and he has a vast network of Professional photographers, editors and enthusiasts that he regularly keeps in touch with through social media and his blog.
The Angkor Photo Workshop is limited to 15 participants and we only have three spots left! This small enrollment provides each and every participant plenty of face time with our 4 instructors during the workshop portion of the trip and with 3 instructors during the "road trip" portion of the tour. This workshop is unprecedented, you will have one-on-one with four of your favorite photographers.  If your interested and would like more information about this workshop you can simply visit this link HERE. You will find all the information you need and email links for even more. Join me, Karl, Gavin and Marco for a great time at Angkor Wat!
FaceBook Comments
comments