Singapore: Just a snap.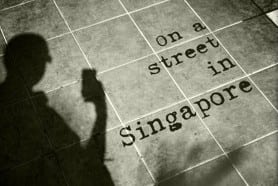 Limitations almost always lead to creativity. I've blogged about this in the past. It seems counterintuitive, but it's true. Whenever we limit our resources we force ourselves to be creative. I can recall in the early 90s my first computer was a Mac SE. I needed to do what today is called a presentation. In those days there was no presentation software or at least I could not afford it. But my Mac did have something called HyperCard. HyperCard was one of the very first hypermedia applications made and came free with my Mac. It was a very simple "stack" of virtual "cards". I pushed it's abilities to create a complex and engaging game that led players through all kinds of questions that I wanted them to address and explore. I used this later at a kiosk and let visitors play it. My budget and technology forced limitations on me and yet I did things that the software was not even designed to do.
The same principle applies to photography. When we limit our camera, the lens or even the subject matter we force ourselves to be creative and explore new options. We force ourselves to see things in new and different ways.
Last week I wrote a post called, A Black Box about how I was trying to encourage my daughter in photography using an iPhone and a simple application called Hipstamatic. I talked in that blog about how we put too much emphasis on gear when photography is done in large part through the eye of the shooter. A few days later I read Chase Jarvis' blog about his new project called "Dasein: an Invitation To Hang" a project about the importance of the "snap shot" in photography. Then, only a day or two later David duChemin talked about the creative freedom a point & shoot can give in his post Point & Shoot, My A**.  Between David, Chase and I, it seems many of us are coming to the same conclusion one way or another. I would say it is a longing for a simpler time, except shooting film and processing it was never simple. This is not an issue of film versus digital. It goes beyond that to something more basic. It goes back to the image itself. The simple visual structure of what makes an interesting photograph. What is visually compelling? Where things like subject, angles and composition are everything. I think we get seduced by technology, I know I do. I love gadgets and I love "messing" with an image for hours in Lightroom. But at the core, isn't it about the moment? Different moments than are time spent in Lightroom. Those second between when you see what you think might be a photograph and when the camera comes to the eye and you move to position yourself for the shot and then of course the… snap! There in that 15 to 20 seconds you have the bulk of the creative process. Limited options forcing you to do something to, dare I say, be creative. It is there where the photographer longs to live. In those moments we find joy.
Last week I took my family to Singapore for the Broadway (can you say Broadway when it is in Singapore?) show The Lion King. I wanted this to be  a family time so I left my 1Ds MK III and 5D MK II and all my lenses at home. I took nothing more than my iPhone and my favorite camera app Hipstamatic. I wanted to practice what I was preaching to Jessie and the world. Singapore is one of my favorite cities in the world. It is alive and vibrant. The city is made up of three main cultures, Chinese, Tamil and Malay with a heavy Colonial influence. So whether walking Arab Street, shopping on Orchard Street or eating at one of the many wonderful cafes I took my phone to share with you what I saw. I put together a slide show and I hope this might inspire some of you to use what you have and get creative.
You can find a html version suitable for iPads and iPhones HERE.
FaceBook Comments
comments