Multimedia: Durian, The Scent of a King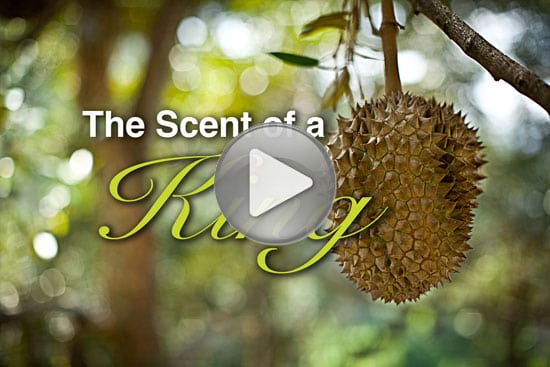 I am convinced that the durian is a misunderstood fruit. As you will learn from watching this slideshow that it is known for its pungent odor and it's rather mushy texture. I have also learned that it is rather subjective whether it is pungent in it's smell or just "heavily scented" or if the texture is mushy or in fact creamy. A comment given to me over and over was, "you'll either love it or you'll hate it". That sure seems to be the case. I really met very few people that didn't have a strong opinion one way or the other, when it came to this unique fruit. The durian is uniquely Asia and so I felt it would be a fun project to focus on. I've never seen any other photographic essays on the durian. For those of you that have never seen or tasted one I hope this will give you at least an idea of what it's about. There are many things in this world that people are fanatic about. This is the only fruit that I know of that actually has people starting clubs around and schedule special tastings.
Durian lovers are in a class by themselves. A special thanks to all the people who appear in this project for their time and their enthusiasm. After 3 days of working on this I have eaten more durian an then I ever have in the past and I have to say, the taste is starting to grow on me.
FaceBook Comments
comments