2012 Workshop Schedule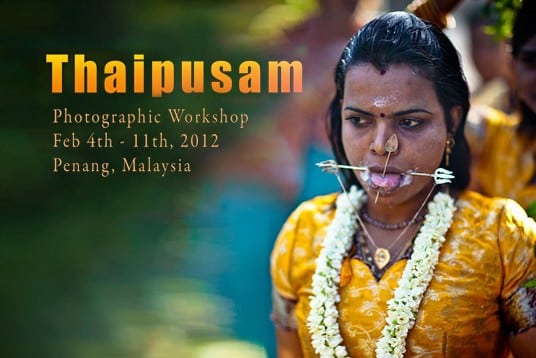 I've received several e-mails asking about next year's workshop schedule. Realizing that my workshop page was not as easy to access as I had imagined (I changed the links location in the menu bar and have now made it more prominent.) I thought I would also highlight the current list of workshops I have running in 2012.  If you have been on one of these workshops and would like to comment, please feel free to do so. For more information on any of these workshops, you can simply click the photo or the linked title to take you to the workshop's page.
Listed by date:
February 4th – 11th, 2012
Join Gavin Gough and I as we photograph this visually startling event. Every year 800,000 Hindu Tamil and Chinese devotees of Muruga, the Hindu God of War, gather in Penang to celebrate Thaipusam. On the day of the festival, devotees will shave their heads and undertake a pilgrimage along a set route while engaging in various acts of devotion, notably carrying various types of kavadi (burdens) and participating in acts of mortification of the flesh by piercing the skin, tongue or cheeks with skewers. You can see some of my images from previous Thaipusam festivals here, here and here.
We will also be photographing the historic Georgetown, Penang. Georgetown is a UNESCO treasure and a sample of Colonial Asia in a time capsule.
April 22nd – May 4th, 2012
The overland route connecting Lhasa, Tibet with Kathmandu, Nepal is one of the most beautiful and and sought-out land routes in all of Asia. We had so much positive feedback from this trip in 2011 that we decided to run it again!  Tibet resident photographer Brian Hirschy and I will be co-leading this trip. Covering a distance of 600 miles, this workshop will take us from the ancient Tibetan capital of Lhasa to pristine high altitude lakes, winding ancient rivers, beautiful farming valleys, Everest Base Camp and over the Himalaya Mountain passes to the ancient Nepali city of Bhaktapur. We will be visiting the most famous monasteries and temples in all of Tibet while spending 13 days immersed in the unique Himalayan culture. Join us on the Roof of the World to get up close and personal with Himalayan culture and the adventure of a lifetime! See previous posts on this years workshop here.
July 16th – 30th, 2012
The Angkor Photo Workshop is limited to 16 participants. Don't let the numbers fool you! With 4 instructor through out the workshop each and every participant will get plenty of face time with each instructor. This workshop is unprecedented, you will have one-on-one with four of your favorite photographers, Karl Grobl, Gavin Gough, Marco Ryan and myself as you explore and hone your photography, learn visual storytelling and learn software like Soundslides Plus, Audacity and Lightroom.
This workshop includes a multitude of activities including lectures, one on one instruction, critiques, assignments, and exploration of all things photographic. All done in one of the most visually exciting places on earth, Angkor Wat. But it doesn't stop there, you will also visit Cambodia's vibrant capitol city, Phnom Penh. Read previous posts on this years workshop here, here and the participants work here.
FaceBook Comments
comments