Rickshaw Pullers of Kolkata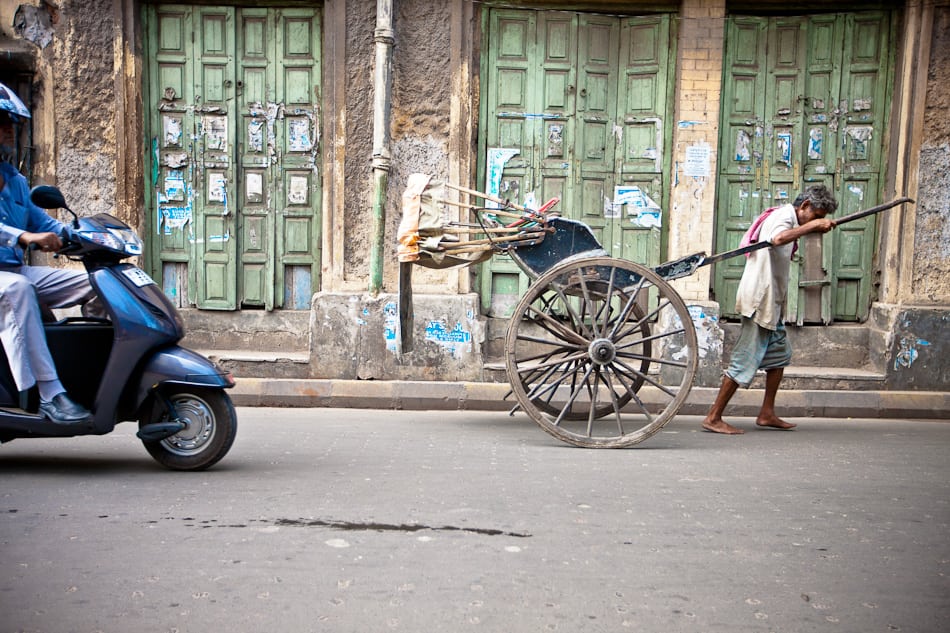 I lived in India for thirteen years. In that time I only ever flew through Calcutta, or Kolkata as it is called today. This week I find myself in this amazing place.  It is significantly different than Delhi and other places I have visited or lived in India. For one thing the taxis are not like you find in Delhi, the old black and green striped Ambassadors. They are still Ambassadors, but a solid bright yellow. Yellow like a slick Italian sports car only old and with more dents in the body than… well, a New Delhi taxi.  The streets are more narrow and crowded than Delhi as well. But the biggest visual difference is the "pull rickshaws". I have heard about them for as long as I have lived in India. People tell me that Calcutta is the last place on earth you can find them. I am not sure that is true, but then I have never checked either.
The pull rickshaws are the classic rickshaw image you think of:  the ones with the driver or puller flanked on each side by long wooden pole-like handles, much like you would see on a horse drawn carriage or chariot. Many of these pullers work barefooted on the fiery hot asphalt roadways, plying their way through dense traffic to get the riders to their destination. It seems inhumane and cruel. In fact, five years ago the local government here made the use of such rickshaws illegal. The pullers union protested and said they are willing to give up this work only if the government provides them with new employment. That has yet to happen and so the pullers continue to work and defy the court order. Interestingly enough, I have seen no young pullers. All seem to be over the age of 45 to 50 years or older, sometimes years older. So, the job might be dying out by itself. These men, and it is only men, often sleep in rented bunks in a crowded bunk houses or on the streets to save what small amount of income they earn. Most of these pullers don't own their rickshaws, they rent them for around 30 rupees a day. They told me their income can vary from nothing one day to 500 rupees on a great day. Most of these men come from families that live in other cities or even states. They came to Calcutta 20 to 30 years ago to make money to send back home to their families. Yet, they never seem to save much. Like everyone else, they have the expenses of food, lodging, doctor bill and medicine. Two or three of the men n the bunk house I visited were not working that day because they had a relapse of Malaria.
I love the strength I see in these men.
Note:  One of the craziest coincidences I have ever seen, happened with this shoot. As I was talking to the men in the bunk house (there are 80 or so just like it in the city), they told me there was a lady photographer who came by and took photos of them.  I checked with Ami Vitale, and it was, in fact, her when she was working on her story for the National Geographic Magazine.  Small, crazy world!
FaceBook Comments
comments