New deal from an old friend: PhotoShelter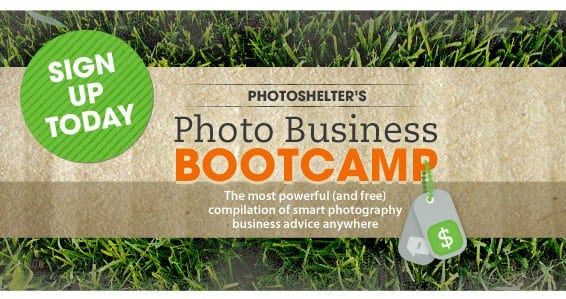 I love PhotoShelter and I think you will too. These folks have a love affair with photographers. Really, they love us and when we do well, they do well. Sort of a symbiotic thing. They provide photographers with valuable services for working photographers like a photo website or and online galleries that can be branded with your current website (see mine here). They provide you with handy image archives that give you and your client access to these images while on the road (I've used that more than once or twice!). They are always producing the best resources for us to be better at our craft and our business. They produce ebooks by the dozens, interviews both in print (see my interview here) and in video. They make handbooks to help you in business and marketing your work. Most of these resources, like today's, are absolutely free… as in take it and run, no cost… FREE!
PhotoShelter just launched a new Photo Business Bootcamp. The Bootcamp is a 5-week free email series for photographers and has 40+ curated interviews and tutorials from the most respected photography and industry experts in the business (ie: Ami Vitale, Brian Smith, & David Burnett). The Bootcamp includes courses on how to find inspiration, grow your photography business, improve your website, master online marketing, and sell your photos.
Registration is free and photographers can sign up directly HERE.  Why are you still here?
FaceBook Comments
comments