A Darkness Visible: Afghanistan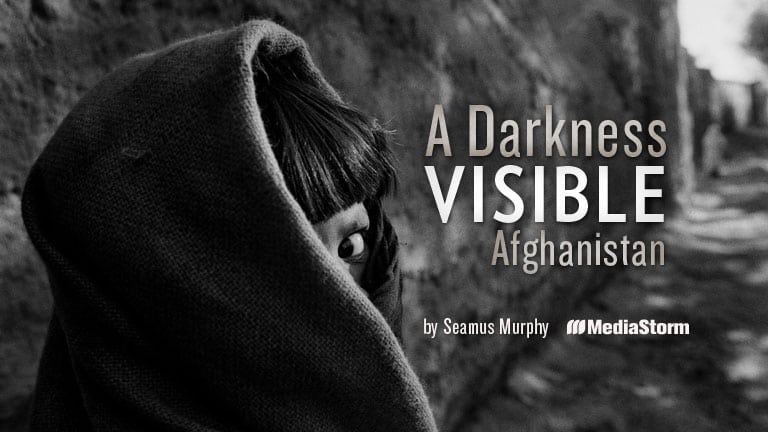 It may seem strange to you, but Afghanistan is one of the places I have always longed to visit. I've talked to several journalists who have worked there and they all say I'm crazy. But there's something about Afghanistan that draws me. Perhaps it is because I lived in Kashmir, India for thirteen years and there seems to be an affinity with the Gujjars shepherds I grew so close to with many of the Pashtun's of Afghanistan. They share much the same culture, they dressed the same, they have certainly shared the same kind of struggles.
Brian Storm and his team at mediastorm.com have done it again. They've knocked another one right out of the ballpark – a home run, to use an American euphemism. Photojournalist Seamus Murphy has put together one of the best, well-rounded and unbiased reports of Afghanistan's recent history that I've ever come across. He chronicles the lives of the family he met in 1994 up till today. The photography is unmatched and the story is heart-wrenching. This is another example of how strong the blend of motion image, still images  and well-crafted audio can be. To me, this is one of the best short documentaries I have ever seen, bar none. I admit, I might be biased as it is a subject that is dear to my heart. Murphy covers it with a heart for this family and through his images and audio he pulls us in. From a photographic stand point, he is amazing. His images are strong and full of emotion. The story line is well thought out and pulls you along. This is a great example of a story arc, a perfect bell curve of tension. If Murphy doesn't received numerous awards for this documentary than there is something seriously wrong with the system.
On a side note, this fourteen year story was funded in part through Kickstarter. The wave of the future?
Based on 14 trips to Afghanistan between 1994 and 2010, A Darkness Visible: Afghanistan is the work of photojournalist Seamus Murphy. His work chronicles a people caught time and again in political turmoil, struggling to find their way. See the project at
http://mediastorm.com/publication/a-darkness-visible-afghanistan
FaceBook Comments
comments