An Easter Parade. The Libut of La Union, Philippines.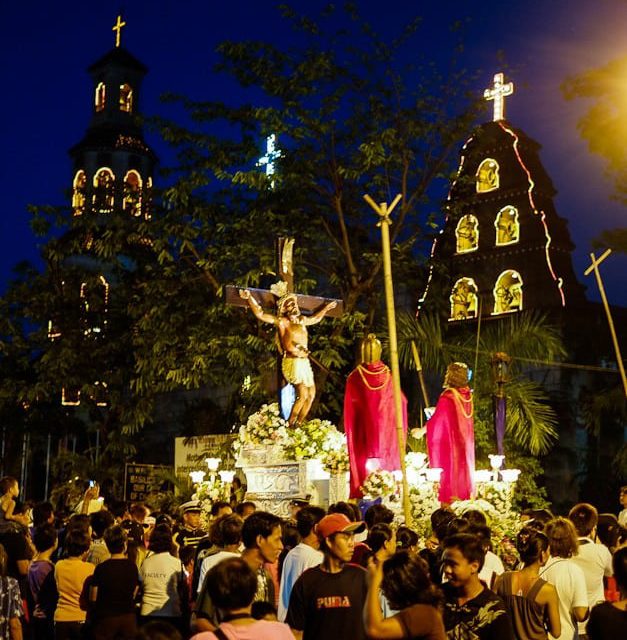 These days I don't take it for granted that people know even the most basic history of any given country. So, maybe you didn't know that the Philippines was colonized and ruled by Spain for around 350 years. That's a long time, (he says with his tongue in his cheek). So you can imagine, after 350 years the language of the Philippine, Tagalog, is deeply influenced by Spanish. Their cities bear names like San Juan, Quezon City, Cagayan de Oro and the like. People have names like Maria Louisa Gonzalez (my wife), their famous beer is named San Miguel. So it should come as no surprise that the country is predominantly Catholic and as such Easter is a big, big deal. After our time in Donsol came to an end we visited our family in San Fabian during Holy Week, the week prior to Easter. For you non-Christians, this week is bookend between Palm Sundays, Jesus' entry into Jerusalem and Easter Sunday, the day he rose from the dead. It is a time of festivals, rituals and prayer by them. On Good Friday, the day we Christians believe Christ was crucified, many communities in the Philippines performed what is called a Libut (lee-beut). The Libut is procession of statues of both Biblical saints and scenes from the "Stations of the Cross" through the streets. It is a time of both religious celebration, devotion and fiesta. Devotees travel many miles behind each statue with candles and often reciting the rosary, "Hail Mary full of grace. Blessed are you among women…."
I am not Roman Catholic. But I must say, I really found the over all reverence by the people of the Philippines and in particular the community of Agoo the capital of the province of La Union, this week resonated with me. It made me feel that Protestantism, at least in the West, has somehow lost something in our traditions and our general view of this holy week. I think any photographer that has any personal faith be it Christian or otherwise, that covers any religious event (though I was not officially covering this event for anyone) will often find themselves in a time of introspection during these events. I am often moved when I cover the Muslim Eid or see the devotion of the devotees of Thaipusam. Don't misunderstand me, I am not saying I subscribe to their faith in anyway or with the practices of these events. I am just saying, it causes me to look at my own faith, my own beliefs and practices. I think this is healthy and makes us stronger people. It also does something else. It humanizes the people we are photographing. We relate to them either by seeing a bit of ourselves in them or envying something of their faith or devotion.
Today is Easter. For me a special, holy day, more so than even Christmas. Happy Easter.
He has Risen!
FaceBook Comments
comments