Kashmir Pt 2: Shrines and Mosques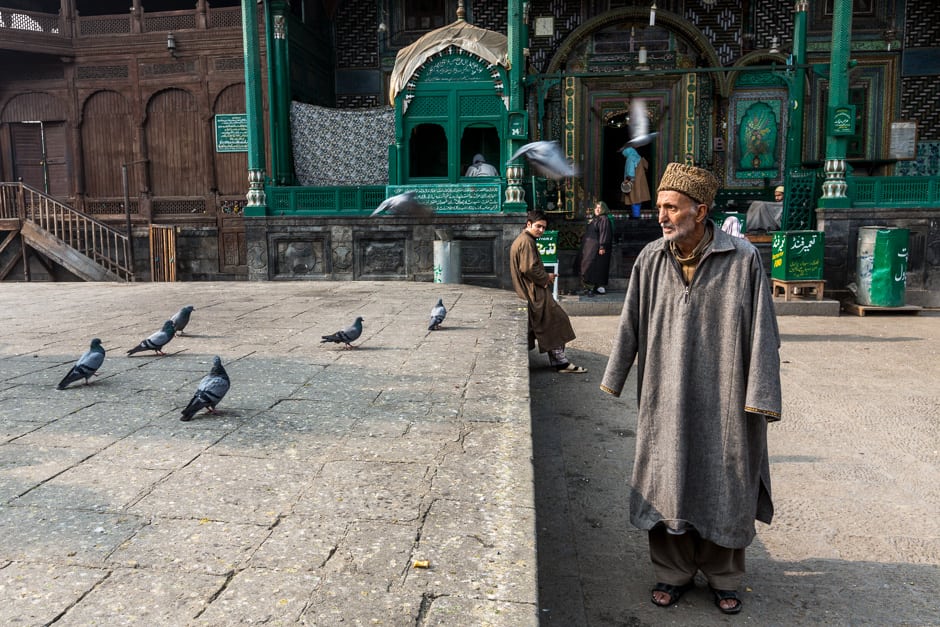 (Click the images to view full size.)
Kashmir is a very spiritual place. There are as many mosques on street corners as there are churches in Waco, Texas, and that's a lot. Islam is the dominant faith in Kashmir, unlike any other place in India. But not orthodox Islam. Islam in Kashmir is heavily influenced by Sufism. Sufis are the more emotional and charismatic Muslims. They reach out to experience God in a whole different way than other Muslims. Their worship is filled with chanting and ecstatic utterances (speaking in tongues). Every night across the Valley you hear the chanting of "Ya Allah, Ya Allah, Ya Allah!" So I wanted to give Jon McCormack, my guest in Kashmir, a taste of this with a whirlwind tour of several mosques and shrines.
I think I need to stop here and loosely explain the difference between a shrine and a mosque. A shrine is a generic term for a building or structure that houses something revered. Often the body of a dead saint or a relic, like a hair of the Prophet or his staff as at the Jamma Masjid in Old Delhi. They can also be called a dargah, mazar or sometimes in south Asia even ziyarats. A shrine will often house a mosque inside it, but it doesn't need to, many shrines do not. A mosque is not generally a shine, though it can me. There is a lot more to this and can get quite complicated fast–so let's just leave it there for now.
On our very first night in Kashmir we visited the Hazratbal Shrine, also referred to in Kashmir simply as "The Dargah" as it is home to a single hair of the Prophet. When we visited Hazratbal it was being renovated and so was covered in scaffolding. Not very photogenic. But we were able to walk the surrounding markets and take plenty of portraits (that will be included in the next to two post). Check back here every day this week as I will be post daily from this trip.
Since this was a quick trip to Kashmir. I only had three days to spend shooting images with Jon–the rest was spent visiting old friends. Jon had only one shot on his shot list that he wanted and I wasn't very hopeful we would achieve it. He had seen Steve McCurry and Ami Vitale's shot in the Srinagar, Jammia Masjid of a sunbeam coming into the mosque and men sitting in the sun to keep warm when they pray. The problem with this was that it is usually shot in late winter or early spring when the sky is clear and the sun strong. In December the sun is almost never out. It is always veiled by soft clouds–making portraits wonderful, but giving the sky a white unattractive look–sans sunbeams. So we prayed, quite literally, and our prayers were answered on Sunday morning for about 30 mins. Jon really nailed his shot.
Next we visited what is affectionately called the "Paper-Mâché Mosque" in Srinagar, also called "Shah-e-Hamdan" or simply, Shah Hamdan. In fact, it too is a shrine, housing relics of Mir Sayyid Ali Hamdani from Iran. He first came to Kashmir back in 1372 (774 AH) and is credited with solidifying Islam in Kashmir, Mainly because he brought with him 400 missionaries that spread throughout the valley and set about converting the Hindus and Buddhists to Islam. This shrine was first build as a mosque. Interestingly the mosque's original name was Khanqah-e-Moula and was built by the Kashmir Sultan Sikandar and dedicated to the memory of Mir Sayyid Ali Hamdani. Hamdani is also credited with bringing the chinar tree, and introducing carpet weaving and paper-mâché to Kashmir. As you can tell, Shah Hamdan is one of my favorite places to photograph in Srinagar.
After Shah-e-Hamdan we drove only a mile or so to Makhdoom Sahib Shrine. This is a odd place. When you enter here you often hear the wails of women sobbing and crying out to Makhdoom Sahib to intercede on their behalf to God for some issue or problem. Here you find people praying in every direction. The qibla (the direction to Mecca) doesn't seem to apply here. The shrine is situated on the hill in the center of Srinagar called Hari Parbat, right under Moghul emperor Akbar's classic fort. Makhdoom Sahib had plenty of stories surrounding him as well. Many locals even believe he was raised from the dead by God. There is a another legend that he cursed his own village after they ran him out for being too religious. He cursed the village water supply and it dried up, it is said that this village has had water issues to this day.  After he left his village he came to Hari Parbat and started a seminary of sorts and later died there. Where he died a spring is said to have come forth. Every visitor dips their hands in the spring and rubs the healing water on their bodies.
The last shrine we visited was the little known Aishmuqam Shrine on the way to Pahalgam. this is one of the hardest places to photograph and I have to give kudos to Jon once again for his amazing photos of this place. The Aishmuqam shrine is the tomb of Shiekh Zain-ud-din, built in the 15th century. Zain-ud-din was one of the chief disciples of Shah Hamdan's disciple Shiekh Noor-ud-din, sort of a spiritual grandchild of Hamdan. Shiekh Zain-ud-din confined himself in a cave and preached about Allah. (Not sure I understand how he got an audience to preach to confining himself to a cave.) After his death, his body was entombed in this same cave in a very small chamber lit with one small light. Quite the challenge to photograph . . . and me without a tripod.
In the next post I will show you both portraits and glimpses of life around the valley of Kashmir.
FaceBook Comments
comments