Does your worldview influence your art?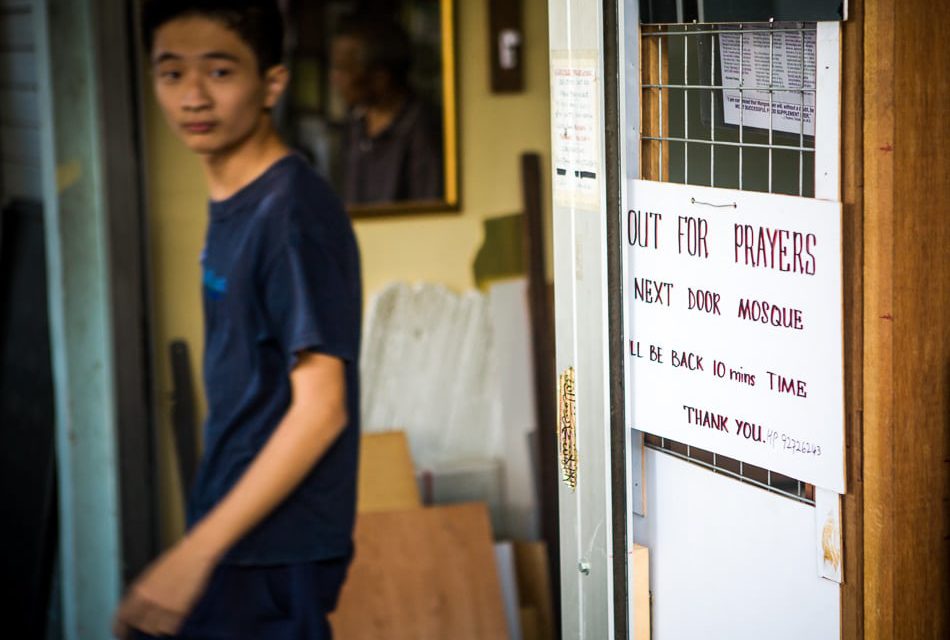 There is a question that pops up every so often about how much does worldview influence our work as photographers? To answer that we need to define worldview. One dictionary puts it like this:
worldview: world·view  (wûrld'vyü)
n. In both senses also called Weltanschauung.
1. The overall perspective from which one sees and interprets the world.
2. A collection of beliefs about life and the universe held by an individual or a group.
I can work with that. Another way to ask the question above can be shaped in this way: do your beliefs about life and the universe influence your art? My response to that: I sure hope so. It's inevitable. Frankly, I think it's either a very bad artist who doesn't let his or her art be influenced by their beliefs or they're just not being honest with themselves in saying otherwise.
I like the term worldview because it conjures up an image of a viewpoint on an overlook on a stretch of highway or a window. Any viewpoint or window gives us a certain and defined vantage point. We see things a certain way. Much like the lens we choose gives us a certain view of a subject. If we use a super-wide and get too close we might get a distorted view. If we use a 50 mm we might think we have a "normal" view. So it is with our worldview, whether we come to it from a deep conviction of faith, Muslim, Christian, Buddhist, Hindu or otherwise or from a humanistic view, it is still a viewpoint–as uncomfortable as that might sound for some people. But it isn't only a religion that makes up our world, it is also our political views, our age, our economic background, our life experiences and more. All these things form our worldview and influence us and thus our art.
So we've established we all have a worldview. The next question is, are we preaching that worldview? Are we being deliberate and thrusting that view on our viewers/readers? I certainly think many people do. I think there is a time and a place to get one's message across. You might label what I'm talking about as social commentary and understand that I think it is important and can be very relevant.  Obviously, not everyone will agree with a commentary, but that's kind of the point, isn't it? But if all we do is preach, then I think our art becomes one-dimensional, flat, repetitive and we lose our audience. Artists represent more than an agenda. Our worldview is made up of more than just our faith or our politics. Good art involves a place much more complex and deep. By forcing a certain agenda we risk creating propaganda. Certainly, there have been some great works of art that fall under the heading of propaganda. I am thinking about the amazing posters made by the North Vietnamese during the 1960s. So I am not saying if you have an agenda you can't make great art, far from it. I am saying you limit your audience to a few proselytes and maybe fail at expressing the whole of who you are. Maybe you are fine with that. If so–good luck with that, personally I want to engage with, and perhaps even influence, all kinds of people; therefore, I want as wide an audience as I can get.
T.S. Eliot who many refer to as the most important English-language poet of the 20th century, and a Nobel Prize winner to boot, was a devout Christian. He certainly wrote poems that were blatantly influenced by his faith, a glaring example being his poem,  "Ash Wednesday." Eliot wrote about how it is impossible to separate our beliefs from our art in his essay, "Religion and Literature" wherein he states, "
I am convinced that we fail to realize how completely, and yet how irrationally, we separate our literary from our religious judgements. If there could be a complete separation, perhaps it might not matter: but the separation is not, and never can be, complete." 11. T.S. Eliot, "Religion and Literature", in Selected Prose of T.S. Eliot ed. Frank Kermode (London: Faber and Faber Ltd.), pp 97-106 (p 100)T.S. Eliot
Although he states that Christians can never separate their faith from their work, he does go on to say that he feels literature, "should be unconsciously, rather than deliberately and defiantly, Christian."22. Ibid. , p 100. This is where the artist flourishes, when their worldview, be it Christian, Muslim, humanistic, happy or sad whatever it is, flows unconsciously through their art. When we force it, we get propaganda and it comes off contrived. When it is unconscious it is a glimpse of who we are as individuals.
How do we see it in a photograph? If I am honest, I would have to say I am not sure–but here is what I think. I think our beliefs and our views influence us by urging us to take a photo of one certain subject over another, or at a certain moment over another. One of the things I have noticed when leading workshops is that you can take ten people with cameras and one subject and all of them will come back with a different view or take on the subject. Granted, some of that is limited or directed by their abilities, but much of that is dictated by how they see the world. Even if we come from the same background, same faith, same country or hold the same political views we each have a unique perspective of the world around us and as such our art should be uniquely ours.
Let me see if I can use the image above to illustrate my point. This is an image that I think was clearly motivated by my worldview. Many people might have walked right by this shop. They might have seen the sign and kept walking. But it resonated with me. It caused me to stop and stare at it. Why? I think it is because prayer is something special for me. I also relate to the shopkeeper that closes his shop for worship. My family owned a bookstore when I was young, and we always closed it on Sundays, our worship day. Here's another example, many years ago when I was visiting the offices of India Picture in New Delhi, the owner Hemant Mehta was commenting to me that many of my images seemed to have a peacefulness about them, a sense of serenity. He wondered how I did that when I lived in such a violent place as Kashmir. My only answer to that was because in my own life I felt a sense of serenity, I felt at peace. On the other hand, if you look at the work of someone like Bruce Gilden, the famous (infamous?) Magnum street photographer, I think you see his worldview of, "I don't really care what people think." When I watch him work or when I view his images I get the impression that he has no compassion for the people he photographs.
I am reading a book called Imagine: A Vision for Christians in the Arts, by Steve Turner. I started reading this book after being challenged by a patron of my work (Yes, there are still patrons in this day and age, though far too few. That's a subject for another post.) to take some time and examine what my work is saying about who I am. He challenged me to explore this topic openly with my readers and thus this post was born.
Denying that our beliefs, no matter how personal they are, have no bearing on our art to me seems a very Western view. Here in the East religion and society are much more intertwined–whether for the good or the bad. In the West, we tend to compartmentalize our lives. In the East, they understand that our faith,  politics, and ethnicity (Ouch! That's even more of a hot topic) all come together to create who we are. Maybe instead of fearing these things, we should accept them as factors of what makes our art uniquely ours. Maybe we should do the opposite of what our parents taught us, we should talk about politics and religion, even in polite company.
FaceBook Comments
comments