And to Think That I Saw It on Ripon Street!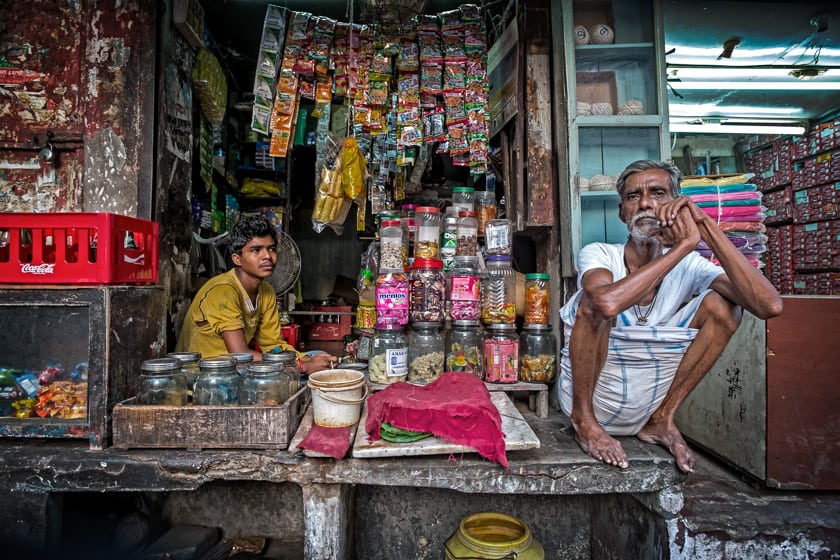 "When I leave home to walk to school,
Dad always says to me,
'Marco, keep your eyelids up
And see what you can see.'"
Dr. Seuss from "And to Think That I Saw It on Mulberry Street"
With apologies to Dr. Seuss, this is exactly what a street photographer must do. And if you are walking the streets of Calcutta you might not need to "turn minnows into whales" for you will have "a story that NO ONE could beat!"
This was my second visit to Calcutta, also known by its newer and more politically correct name Kolkata. I spent all of last week in this city for work and pleasure, though I had very little time to myself. When I did get a few minutes, I spent them with a local friend and we prowled the city's streets photographing. The days were unusually cool, overcast, rainy and gray. In other words, perfect for street photography. The city has a grittiness to it. It seemed less friendly than last time I visited and more like the big city it is. Perhaps because I had so little time to spend with the people who actually live there, which always tends to make one feel more welcome. Because of this emotion I processed these photos with the idea of communicating that same feeling. I processed the Fujifilm RAW .RAF files in Lightroom and then put the "HDRish," grunge effect using onOne Perfect Effects 4. I photographed all images using my Fujifilm X-Pro1. And even though I took my 35 mm f/1.4 with me, most of the time it stayed in my pocket (literally in my back pocket!). For whatever reason–be it close quarters, the intimacy of my subjects, I am not sure why, but my 14 mm seemed to be glued to my camera.
If you click on an image a light-box will appear and you will see the EXIF data below the photo.
**Just a note here to say we still have some places available for my Rajasthan workshop in Feb 2014. Join me and Lightroom guru Piet Van den Eynde for this amazing photographic opportunity. You can find more info HERE.
FaceBook Comments
comments