Goodbye and Back to Hell With You!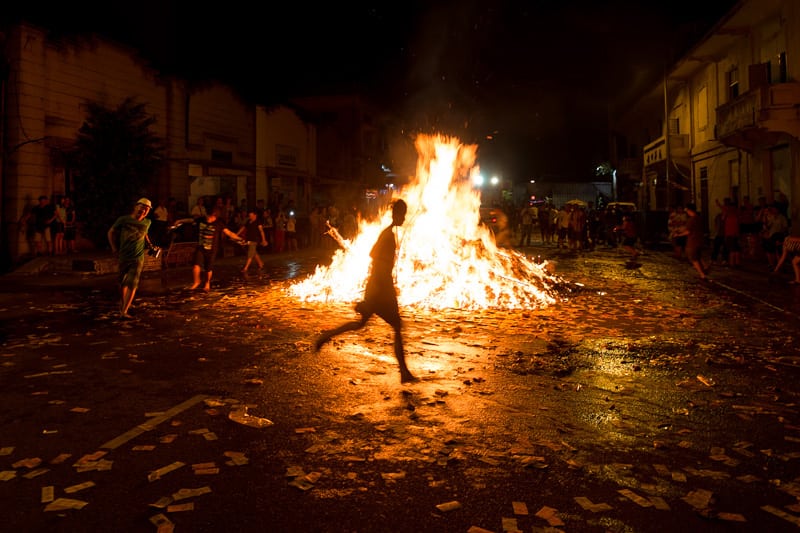 This is the last post in this series. We have been looking at images from the 7th month of the Chinese Lunar calendar locally known as Hungry Ghost. As I stated before, the Chinese Taoist believe that at the first of this month the King of Hell release the dead to roam the earth. Locals appease the spirits by offering them gifts of Hell Bank Notes to spend in hell, other offerings and entertain them with puppet shows and opera performances. On the evening of the 15th all the spirits are to return back to health and then within a few days afterwards the King of Hell himself returns. He's given a send-off in each community. Every community makes a large paper effigy of the King of Hell. The effigy has resided for two weeks in the local temple. After the 15th day when the local community feels it's time they send them back to hell by burning the statue of the king. It's quite spectacular as they surround the statue with paper offerings of every sort and then light it ablaze. It's a wonder the city doesn't catch fire as these send-off can become quite the inferno.
Here are more images from this night. They're hosted on Photoshelter. If you're a photographer and you're needing a platform in which to store high res images or show images to client I can't recommend Photoshelter enough.  Be sure to check them out HERE. It's FREE for the first 14 days, then $14.99 for 1 month, and then $29.99/month thereafter.

The King of Hell – Images by Matt Brandon
FaceBook Comments
comments