Ladakh Photo Trek & Kashmir 4 Day Adventure Announced.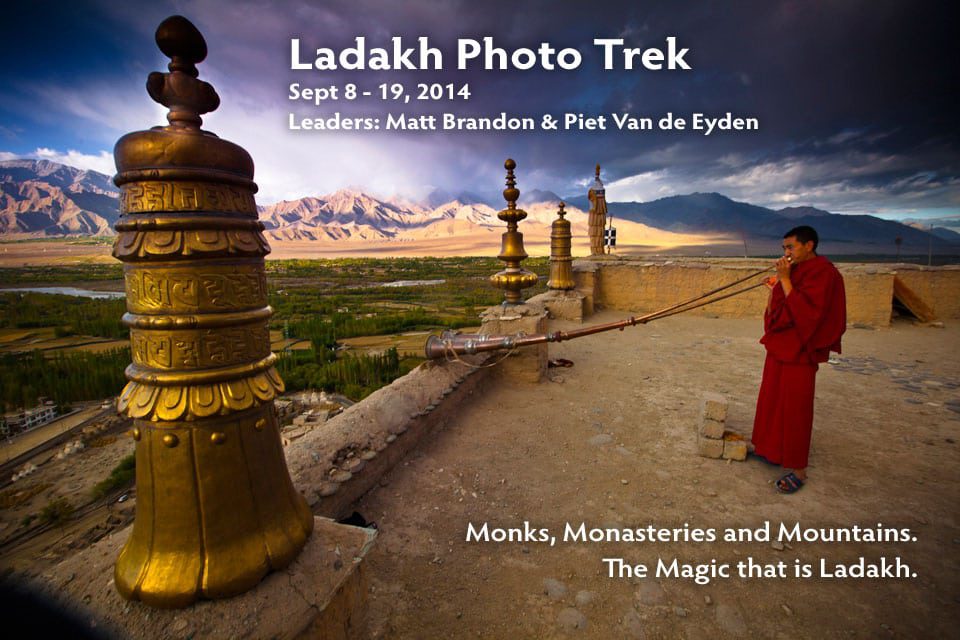 [tab: LADAKH PHOTO TREK]
I am particularly excite to announce this Photo Trek around Ladakh and it's 4 day add-on to Kashmir!
Ladakh, India was closed off to the public for years. During that time the Ladakhi culture and its Tibetan influences were kept isolated and pure. These days anyone can visit Ladakh, but only a few know where to find that bit of culture that has stayed authentic. It has been said by some that Ladakh is more Tibetan than Tibet. Join photographers Matt Brandon & Piet Van den Eynde as they lead you on a photographic trek across this isolated region of India known for its monks, monasteries and mountains. Join us for the magic that is Ladakh.
During September 8 – 19th we will be visiting ancient monasteries that have been left untouched for centuries. We have timed our visit to coincide with the barley harvest. It is during this time when the mountain people of Ladakh thresh and winnow their barley crop in the fields creating spectacular photo opportunities. This is a great time to photograph this unique cycle of life. We will also be camping at Tsokhar lake which is the winter home for the Rupshu nomads. Nomads are hard to photograph because… well, they are nomadic and can be hard to find. But our local guide assures us they can lead us right to them.
This trip might not be for everyone. We will remain at high altitudes for the majority of the time. Ranging from 11,562 ft (3524 m) at Leh to 17,582′ (5,359 m) at Khardung La (pass). We will also be camping for two or three days with the Rupshu nomads. This is not a 5 star hotel trip. This is a trip about adventure and photo opportunity.
To call Ladakh "photogenic" is an understatement. I won't go so far as to say that you can't take a bad photo in Ladakh, but it sure seems like you have to try! 😉 Even still, we have you covered. Matt Brandon with his years of photographic experience will be on hand to look over your shoulder and give you the guidance you might need. We will have teaching times and critiques for those who are wanting it. If you are at a level that doesn't need that kind of help then you are free to roam. The goal is that this adventure will lead you into some amazing locations and unique culture and Matt and his team are always available to coach or get out of the way because this is your adventure.
As with the Rajasthan Photo Trek, Piet Van den Eynde will be joining Matt as a guest instructor in Lightroom and Nik software.  Piet is a Belgian freelance photographer specializing in travel portraiture.  Read more about Piet under the "LEADERS" tab above.
This trip "officially" begins in New Delhi on Sept 8th with an early morning flight to Leh, Ladakh. But you have to arrive into Delhi the night before. Don't fret we will pick you up at the New Delhi airport and take you to a local hotel where you will meet the group and fly out the next morning. If you choose not to participate on the Kashmir Valley add-on the trip will end with your flight back to New Delhi International Airport on Sept. 19th. In Ladakh all participants will be provided with a single occupancy room.
The price for this trip is $4,500 and that includes all in country expenses except your drinks. All you have to do is get to India, we take it from there.
[tab: KASHMIR 4 DAY ADD-ON]
As if this amazing trip wasn't enough we are offering a very rare add-on to this trip. I say rare because up until this year it has been extremely difficult to get into the Kashmir Valley due to political unrest. In fact the last time we took a tour there was in 2007!
From what we hear from our friends in the Kashmir Valley things have calmed down to the point that we want to take you for a visit. Only four days but that is plenty of time to visit some memorable places and shoot some amazing images. We will be staying the four days on a classic Kashmir houseboat in the middle of Dal Lake, Srinagar. Having lived in Kashmir for years, I will be personally leading photo walks around this historic city and many of its Sufi shrines as well as a trip up into the mountains around the outside of Srinagar to visit the nomadic Gujjar people. This is a trip that doesn't happen often so be sure and take advantage of it while you can.
[tab: ITINERARY]
Sept 7 – Arrive New Delhi. Please Note: We are not counting Sept 7 th as a tour day. As all that happens on this day is you arrive and stay the night in a Delhi Airport Hotel. Some people will be arriving late in the night or early the next morning.
Day 01 Sept 8 – Del-Leh flight. On arrival the team will be transferred to your hotel in Leh and will be resting the whole day. This light day is required to acclimatizing to the high atmosphere of 11,562 ft (3524 m). Later that evening we will take a walk to the town of Leh.
Day 2 Sept 9 – Photo walk around the Leh old town. We will spend time below the palace photographing the bazaars and markets. After lunch we will drive up to Leh palace and Shanti Stupa for bird view of whole Leh and surroundings.
Day 3 Sept 10 – We wake up early and wll drive to Thiksey Gompa early morning to catch the gompa puja and will be spending the whole morning photographing the puja. Have Lunch in Thiksey afterwards we drive to Chemray Gompa and photograph this classic monastery.
Day 4 Sept 11 – An early departure to the classic Ladakhi village of Lamayuru while on route we photograph the many villages and towns along the way. We will see villagers harvesting their barley crops all along the way to Lamayruru.
Day 5 Sept 12 – Another early morning as we rise to photograph the Lamayruru gompa puja. Spend the day photographing Lamayruru and the barley harvest.
Day 6 Sept 13 – Today we drive from Lamayuru to Leh. Stopping at some classic monasteries, villages and even an few local cable bridges along the way back to Leh.
Day 7 Sept 14 – In Leh Culture Show where we will get to photograph local dance and costumes all at the Leh Palace and personal day.
Day 8 Sept 15 – We drive from Leh to Rupshu over Tangla La (pass)17,480 ft (5,328 m) by Jeep. Camp in Rupshu where we will camp with the Nomads.
Day 9 Sept 16 – Photographing Nomads In Rupshu.
Day 10 Sept 17 – Drive to Tsokhar lake another 30 kms from Rupshu and visit the winter grounds of the rupshu nomads. Camp in Tsokhar Lake.
Day 11 Sept 18 – Tsokhar To leh, we will drive back to Leh late morning after we see the sunrise at the lake. It will take us like 6 to 7 hours to get back to Leh.
Day 12 Sept 10 – Fly back to Delhi or if you choose the add-on, you will join us to fly to Srinagar.
[tab: LEADERS]
 Matt Brandon is a Malaysia based humanitarian and travel photographer, who collaborates with NGOs to tell their stories and to train their field staff to do the same. Well known as a photographer and international workshop instructor, Matt's images have been used by clients such as Partner Aid International, NeighborWorks, the BBC, Honda Motor Corporation, and Bombadier Transport Corporation, Asian Geographic, KLM Airlines and others. His photographic pursuits have taken him to the countries of Egypt, Tibet, India, Indonesia, Thailand, Maldives, Philippines, Malaysia to name a few. Matt also is known for teaching presenters how to present their message in the most effective and memorable way. This makes Matt a great teacher to any workshop or classroom. Matt is also a key member of the International Guild of Visual Peacemakers, he's on the advisory board for Focus for Humanity and on the design board for Think Tank Photo, a camera bag manufacturer.
For more information on Matt, read his complete profile at PhotoShelter.
Matt's Books:
Visit Amazon.com for Matt's newest book of images from Kashmir titled "Kashmir, Mystery".
Piet Van den Eynde is a Belgian freelance photographer specializing in travel portraiture. He has written two Dutch books on Adobe Lightroom and currently has four English ebooks for CraftandVision.com, such as 'The Power of Black & White in Adobe Lightroom and beyond' and his latest and best-selling 'Dodge & Burn'. He contributes articles to photography magazines and gives trainings worldwide about digital photography, working with small flashes and post-processing. He's an Adobe Photoshop Lightroom Certified Expert.
In 2009, Piet threw his camera, a flash and an umbrella in his bicycle panniers and cycled 5000 miles through Turkey, Iran, India and Indonesia for a photography project called Portraits Of Asia.
Learn more about Piet on his blog More Than Words.
Piet will be teaching off-camera lighting skills as well as some Lightroom post processing throughout the Rajasthan Photo Trek
[tab: TESTIMONIALS]
I had a fabulous trip and a marvellous experience both photographically and socially. You are an amazing teacher, enjoyable company and very warm and personable and honest human being. I learnt more on this photo trip than on any of my previous ten or so photo trips with various group leaders.You gave your time freely and I felt that you were always there to help me with my photo skills rather than compete with me for better photos.It was so refreshing.
-2010 Ladakh Workshop Participant
I look back on the 2010 Ladakh-Photo-Trek as one of the most important experiences for my development as photographer. On the whole tour there was a constant and very personal mentoring from Matt and David, frequent critiques in the evening and everyday novel encounters with the ladakhi scenery, people and their culture. Sometimes we were pushed to our bounderies. The tour was exceptional well organized and carried out. … and it was FUN!
-Michael Ettema, 2010 Ladakh Workshop Participant
"I had a wonderful experience the Ladakh Workshop, the places we visited, the critiques, the discussions and all the informal learning opportunities. Most of all, the people, we had a great group of very talented photographers and it was great to learn from all of them. Matt made us feel like friends from the get go and that made the workshop feel like a trip with good friends where you learn a lot as a bonus. It is a privilege to travel with such knowledgeable photographers and learn not only photo techniques but about cultural awareness, respect and relationships with the subjects we photograph. I highly recommend any workshop with Matt! Looking forward to traveling with you again."
-Matea Michelangeli, 2010 Ladakh Workshop Participant
I had a great time, learned a tonne! I think the workshop is great value, considering the fact that it was a 1:4 teacher : student ratio and often you even get to get the leaders all to yourself. For me, that was the most important reason to sign up (that and the legendary allure of Kashmir…). I don't like the kind of workshops where there's 20 people standing behind the workshop leader…
-2010 Ladakh Workshop Participant
The Ladakh Lumen Dei tour 2010 was an extraordinarily positive and helpful artistic experience. Matt was a good humoured, wise and informative leader whose compassionate and culturally sensitive and approach to photography shone through. At the end of the tour I was able to return home with a rich collection of images. Looking over them the lessons and insights from the trip are clear in the images. I would heartily endorse this team as great photo tour leaders. On every level this trip was money and time well spent.
-2010 Ladakh Workshop Participant
"I joined Matt on the Rajasthan tour in Feb/Mar 2013 – I cannot recommend it highly enough! One of the best (if not THE best) photo tours I have been on. Matt genuinely cares that the participants come away with a great experience, and we did."
-Mike Alexander
"As a first timer on anything like this, I can only say that the bar for any future tours has been set extremely high! Matt's patience, individual attention, knowledge and teaching skills left nothing to be desired. The daily group critiques added to the experience, reinforcing learnings from the assignments, assisting with improvement and helping understand image shortfalls, all these leading to a noticeable improvement in my personal images. Finally the addition of Piet as guest Photographer / Lightroom Guru, and Alou's logistical planning, assistance with all things non photo and keen eye made this a truly unforgettable experience. I look forward to another in the future. Thank you!"
-Eric Bunn
"This workshop was a great mix of education and fun. It's been great to laugh and learn at the same time. You and Pete went beyond just teaching us techniques and photo skills. You shared with us your passion about travel photography. You taught us what to look for, where to look for it and how to make it happen. You pushed us out of our comfort zones by trying out new things and becoming better photographers.
I have come away with priceless memories, great shots and having met some wonderful people from all around the world with whom I'd sign up again for another workshop."
-Melinda Blanchot
"As a first time photo tour participant and reasonably new to photography, the tour surpassed any expectations I had. I was made to feel an important part of the tour, despite not being at the same level of photography as some of the others. That lack of experience worried me before I met you, but your method of guiding allayed any fears I had. I have come away the knowledge and ability of new techniques, not afraid to lie down in dirt to get 'that' special shot and above all learnt patience to wait for that someone or something to walk into my point of view, enabling me to tell the story I want others to see. Once again, thank you and I will be definitely joining you again on another photographic journey in the future."
-Brendan White
FaceBook Comments
comments