Oh Mercy… Its a New Lunar Year!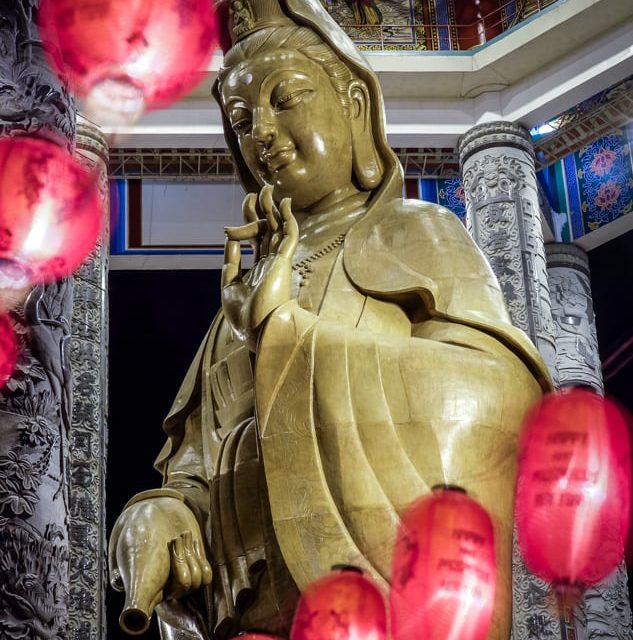 I am not trying to be politically correct here, but it is true that the Chinese are not the only people who celebrate the lunar new year; so do many other cultures. Last night, my friend Ron Jacobs invited me to grab my tripod and go out shooting images of the Lunar New Year's eve celebrations. I was amazed at how few people were out and about. I had heard that folks, at least in Penang, like to stay at home with family. Well, it must be the case as there were very few people out last night.  Our first stop was the Goddess of Mercy temple  in Georgetown. It was busy with worshipers lighting joss sticks. But how many photos can a guy take of people light a joss stick? I have hundreds. Time to move on.
So we drove up the Kek Lok Si temple. Kek Lok Si might also be called Goddess of Mercy temple as it has a huge towering statue of Kuan Yin, the Goddess of Mercy. The whole Kek Lok Si temple compound is lit with red and yellow lanterns and lights. You might remember the image I shot last year on the night they turned on the light to the temple for New Years. (by the way, one of those images was used on the cover of the January 2014 issue of the Penang Expat magazine.) Of the many times I visited this temple, I have never been able to time it so I could enter into the area of the statue of Kuan Yin. Last night it was open and we were able to go right up to the base of the statue. It is huge and frankly, shooting it from beneath was like shooting up someone's nose. Not really flattering. So I wandered back out into the car park and photographed from there. I hope you enjoy and happy new year or Gong Xi Fa Chai!
FaceBook Comments
comments