Good things come to those that wait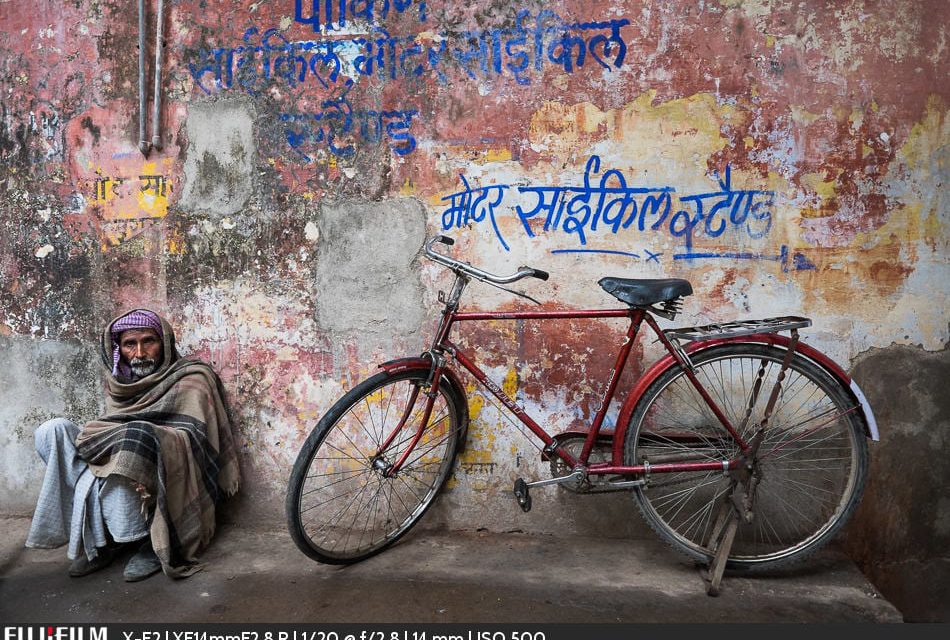 I see the crystal raindrops fall
And the beauty of it all
Is when the sun comes shining through
To make those rainbows in my mind
When I think of you sometime
And I want to spend some time with you…
We have all felt it. You're tired. You're hungry, maybe you're wet and cold. Frankly you just want to quit and go home… pack it in. You could do that or you could hold out just a little longer and see what is around the next bend. Welcome to the last day of the Rajasthan Photo Trek this year.
Our normal hotel was fully booked for a large wedding so we shifted to the Hill Fort at Kesroli. It is owned by the same management company but a much smaller and less fancy facility. The scariest part about being a workshop leader is walking into the unknown. This was just what I was doing. All I knew about this place was what was on the website and from what I was told through a few emails from the staff of the Hill Fort at Kesroli. They assured me there was plenty of things to visit and photograph around their property.
Once we arrived, I learned that the Tiger reserve had no tigers (go figure). Anyway, it was 75 km away. The Hot springs were 65 km away. The closest place we had access to, and with any and with any possibility of photographic interest, was the Alwar City Palace 15 km away (the Alwar Fort or Bala Quila is amazing, but I was told we needed special permission to enter it.). I had to make due.
Off we drove to the Alwar City Palace. Once we got into the city, I started getting worried. Frankly the city looked rather ordinary, and a bit industrial. But then, I saw a huge domed building on the horizon. I told our trusty taxi wallah Parveen to head to it. It turned out to be the tomb of Fateh Jang a general in the court of mughal emperor Shah Jahan. It was, how shall I put it, underwhelming. But what it lacked in visual excitement, it made up for with great light. But the group soon became restless on this, the last day of the Photo Trek. So off to the Alwar Palace.
Once we found the supposed location, we still could not see the palace. What we could see were scores of makeshift law offices – a parking lot filled with scooters, bicycles and small desks and writing tables with little clerks sitting and writing up legal documents for whoever paid them for their service. No palace. "Biya, City Palace kaha hai?" or "Brother, do you  know where the City Palace is?" As the rain started to fall, the old man pointed to a run down office building. (Seriously?) I ran ahead of the now-wet group, frantically praying this would be well worth the effort of the day so far. I entered and went up a flight of stairs. Nothing but law clerks. On to the next flight. Nothing. I asked an advocate walking by wearing a black suit and white collar. He looked a little surprised, and then said to follow him. He took me through his office, by some desks stacked with legal notes and folders, and two more rows of law clerks typing on manual typewriters, right out of the 1970s. This was not going well. But we came out the other side of his office, and there was the palace, to be accurate the courtyard of the palace. It seemed as though the whole courthouse had taken over the palace and I was in it the whole time. What I saw now was less than impressive. I saw cows sleeping and eating in the palace court and scooters and bikes parked everywhere. This seemed more like a parking lot for a barn, than for a palace. I took a quiet snap to show the group, but I knew this was going downhill quickly. Once I returned to the group and showed them the palace grounds, and half of them said they would rather go, as it was raining harder and they would rather spend the last half of their last day in Rajasthan relaxing in the hill fort. I certainly understood. But I was intrigued by this odd place. I asked if the other half would like to stay and explore. They did, and many were rewarded with the images like the ones below.
So what made it so good? For one thing, the light was soft and defused through the clouds like a gigantic soft box. Another thing was the palace was not really a popular tourist destination so the people, many from out of town, had never had a strange tourist offer to have make their photo before. As a result the people we often eager to have their photos made. Even the samosas and aloo tikki tasted better in the light rain.
So it is true, what they say, "good things come to those that wait."
Good things might come to those who wait
Not for those who wait too late
We gotta go for all we know
-Bill Withers, Just The Two Of Us
FaceBook Comments
comments