Rajasthan 2015 Photo Workshop Announced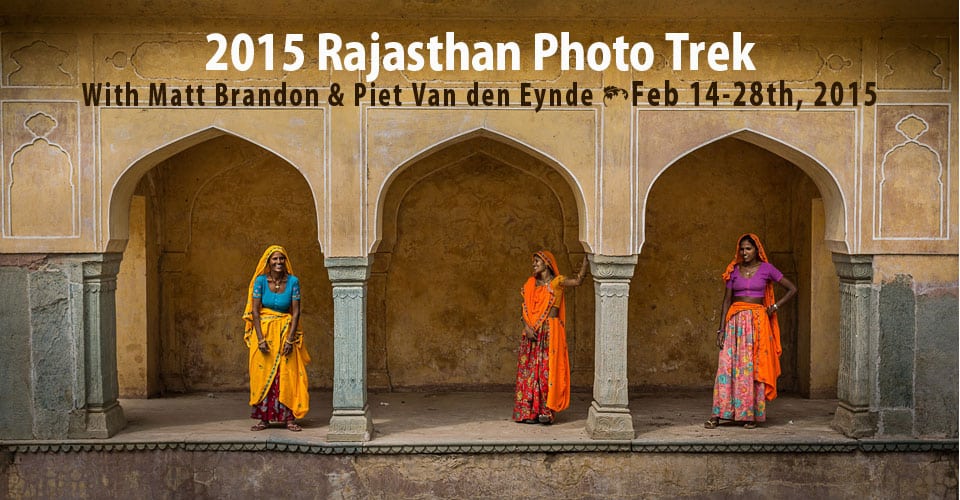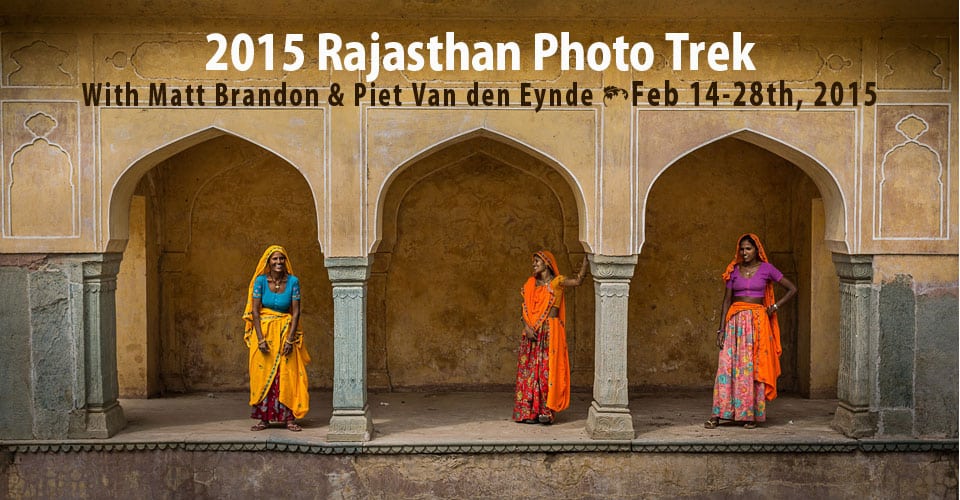 I am thrilled to say that we set our plans into motion for the next Rajasthan Photo Trek (workshop). We have run this workshop for two years now and have been given high marks from all our participants. If you want to make photos in one of the most exotic places on earth with the most colorful dress and exciting locations then Rajasthan is your choice. Join me and photographer and author Piet Van den Eynde as we travel for two weeks across the Indian state of Rajasthan, the Land of Kings.

Our space is limited to nine participants and every year this workshop sells out. With Piet and I guiding you and one extra person who only takes care of logistics, that means we can work in small groups and there's lots of 1:1 time. The previous two editions of this workshop have been run-away successes, but we haven't stopped optimizing and tweaking and we believe that this third edition is going to be our best so far.
What sells this trip is the photographic opportunities, the luxurious and exotic accommodations and of course the fact that the participant to instructor ratio is so high.
This workshop has successfully found the balance between a photo tour and a photo workshop. All assignments are optional, but if you choose to participate you will be given opportunity to work on areas of:
composition
visual interest
visual storytelling (the photo essay)
photographic techniques like:

panning
slow shutter
on-camera flash
off-camera flash

and so much more…
What's also unique is that you have the opportunity for some 1:1 postprocessing time. Piet is a Lightroom Certified Expert and is there to help you with any problems you might have with that software.
We will be traveling through some of the most storybook locations a photographer could hope to visit. There will be an abundance of camels, castles, and color – throughout this trip. We refer to this as a "photographic trek" in that we will be traveling across Rajasthan and stopping all along the way to photograph it's amazing cultures and traditions. We will take time to visit historical locations and our local "fixers" will show us things that few travelers get to see. Throughout the trip we will be staying the nights in ancient forts, castles and historic Rajasthani Havelis. Visit the full description of the photo trek to get a complete picture of what is instore for participants on this trek. You will also see images not just by Piet and I but by our participants.   If you're interested, don't wait too long. Last year's trip sold out way before the official cut-off date.  Continue reading →
FaceBook Comments
comments