Planning your 2015 Photo Workshop schedule.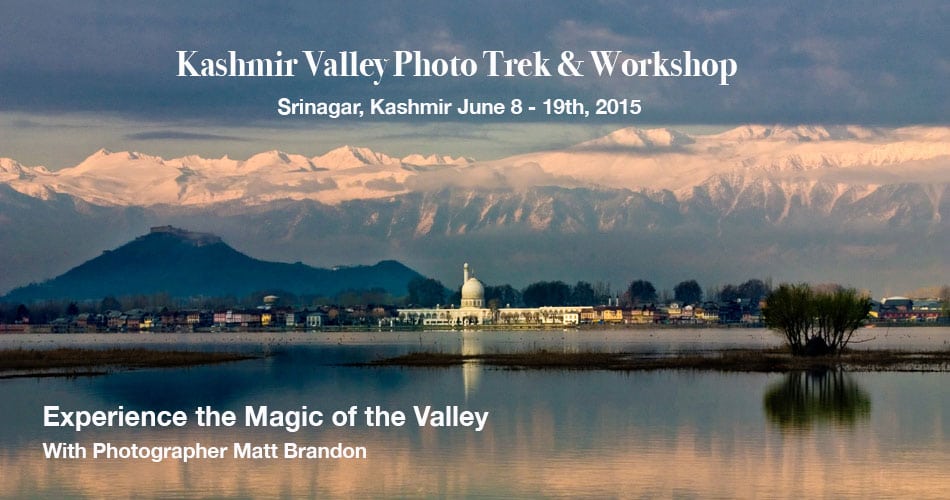 I have two workshops scheduled for 2015 and another workshop still in the planning stage at the time of this writing. So photo workshop schedule make sure you include these. Two completely different places featuring two totally different cultures. The first workshop of this year (that isn't sold out) is the Kashmir Valley Photo Trek.  Everything you need to know about this is below. Please check it out.
The second workshop is the aptly named  Photography Tour of Bhutan run by the amazing photographer and my good friend Robert van Koesveld and with wife Libby Lloyd. I am flattered to be a guest instructor on this trip. The dates for this breathtaking tour are 18 September – 2 October 2015. Learn more about it HERE.
So while you are trying to make up your mind what workshop is best for you take a moment and read, workshop participant, blogger, musician, film critic, photographer and Renaissance man Fernando Gros' blog post How To Choose And Make The Most Of A Photographic Workshop.
Kashmir, often called the playground of the kings. It was here in this isolated valley that the Mughal kings of India would spend their summers to escape the heat of the Indian plains. It was during these days that images now synonymous with story book romance arose. A Mughal princess lounging among the flowers of Shalimar garden. British Raj holidaying on a beautifully carved houseboat on Dal Lake. Nomadic shepherds wander their flock through mountain meadows to green pasture. The princess and the Raj may have gone, but the lakes are still clear and the mountains still scrape the clouds and the nomadic shepherd still wanders the mountain passes.

We are proud to announce the Kashmir Valley Photo Trek and Workshop for 2015. This has been a long time in the making and we are excited to bring this rare opportunity. Of the very few photographers that are leading workshops in this isolated region of the Himalaya, none know it like me. I lived in Kashmir for 13 year with my family. I led treks and tours in the Valley of Kashmir every summer over those years. My family has camped in the very spots we will be camping and I personally know the nomads you will be photographing.

Kashmir is a photographer's paradise with scenic images every place you turn. If you are interested in culture, it doesn't get any better than this valley with it's rare mix of Hindu, Muslim and Buddhist, and a heavy helping of Sufism.

Although Kashmir has suffered from many years of political unrest, those days are fading and better times are upon this place.

Join us for 12 days of photographic bliss. We will be staying on houseboats on the historic Dal Lake and will be treated like royalty. The houseboat will be our base of operations. From here we will spend our days exploring the city of Srinagar, the summer capital of Kashmir. We will visit and photograph the many shrines and mosques of the city. One such temple is the historic Shankaracharya Temple dating back to 200 BC! We will visit and photograph Shah Hamadan Shrine know by tourist as the "paper maché mosque" because it is painted in the same fashion as the famous paper maché crafts found in Kashmir. Speaking of crafts and artisans, we will also be photographing many of the craftsmen and artisans. From the famous cashmere wool shawls to the delicate wood carvers.

We have also scheduled 3 nights where we will be camping among the nomadic Gujjar shepherds. The nomads travel from the plains of India in the spring to the highland of Kashmir for the summer months to graze their flocks on the green grass of the high altitude meadows around the Kashmir valley.

We wanted to keep the price low and the group small, limiting the number of participants to nine. We know this will sell fast so be sure and register quickly before these spots are gone. No place on this trip is guaranteed until a deposit is made.

Dates: June 8 – 19th, 2015

Leader: Matt Brandon

Price: $3,750.00*

Payment Policy: 2 Installments
• 50% due upon registration
• Balance due by May 1, 2015

*After March 15 the price increases to $3,850.00

Early Bird discount ends in:

[ujicountdown id="The Latest" expire="2015/03/15 00:00″ hide="true" url=""]

Accommodation: Given that we are staying on houseboats and in tents while camping, this trip will be shared accommodations. Single room supplement may be available upon request.

What's included: Just about everything. We cover all your meals, your water, your first night in New Delhi (The Radisson) and all your in-country transportation, including your flight to Kashmir from New Delhi.

Moderate Trekking: This trip will entail moderate trekking. Participants need to be fit and active, walks are normally on well defined paths and at moderate altitude (8,000 ft. / 2,500 m.) There will be two days that will include some fairly demanding ascents and descents.

The places we will visit.

[table caption="2015 Kashmir Photo Trek Itinerary " width="685″ colwidth="200|200|300″ colalign="left|left|left"]
Date,Location,Description
June 8,New Delhi,Arrival to India. Meet at the Radisson Blu
June 9,New Delhi/Srinagar, Fly to Srinagar. Settle into the Houseboat
June 10,Srinagar, Photograph the Old City
June 11,Srinagar, Hike up to Shankaracharya Temple
June 12,Srinagar, Travel by Shikara (boat) to Hazratbal
June 13,Lidderwat,Drive to Village of Aru. Trek to the Gujjars Nomads. Camping
June 14,Lidderwat, Photograph and visit with the Gujjars Nomads. Camping
June 15,Lidderwat,Return to Srinagar and the Houseboat
June 16,Srinagar, Photograph the Floating Market
June 17,Sonamarg, Day trip to Sonamarg to visit Gujjars.
June 18,Srinagar, Explore the old city and more artisans.
June 19,Srinagar/New Delhi,Fly back to Delhi and catch your flight home.
[/table]
Our trip starts off in New Delhi where we will meet up only to stay the night and then fly the next morning to the wonderfully cool Vale of Kashmir. We will settle into our houseboats and then take a leisurely boat ride using the local Sikara around our new neighborhood. The next morning we visit the old city of Srinagar. Here we will photograph the many wooden mosques and shrines so prevalent in this region. One of the things that sets this trip apart from other workshops is we will be doing less travel and focusing on the many photo opportunities and stories available in Srinagar. On Friday, June 11th we will travel by boat through the back water ways of Srinagar and end up at the historic Hazrat Bal Shrine. Not just a shrine, Hazrat Bal is also a mosque and you will be offered a unique opportunity to photograph the many hundreds of devotees offering their prayers. The next day we drive to the small mountain hamlet of Aru, but along the way we will stop off at a local Hindu shrine where devotees worships fish. After that we visit a Muslim Sufi shrine in a cave. If that's not enough we are scheduled to visit a small local cheese factory that is run as a social enterprise.






Of course you can't visit Dal Lake and not stay on a classic Kashmiri houseboat. We will be staying on Houseboat Miss America (yes, that is it's real name). Harkening back to an era long past, you will feel as if you stepped off the pages of E. M. Forster's A Passage to India. The houseboats on Dal lake are know for their whimsical or sometimes romantic names. We will be staying on the Miss America and Hazardastan which translated means A Thousand Stories. The superstructure and interiors of these houseboats are carved from devdar, a local pine that stands up well in water. The furnishings are all hand made from walnut wood and carved by local craftsmen. There is nothing quite like sipping a cup of hot Kashmiri tea, or kahwah, while watching the evening sky turn behind the 2,000 year old Shankarachrya Temple.

We will spend some three nights camping. We will provide you with your tents and food and even a pony to ride if you can't make the short trek on foot. Once you register you will be given a packing list for the whole trip, which will include a section for the camping segment.

Here is what people are saying about our Photo Treks & Workshops:

"My second photography trek/workshop with Matt, Piet & Alou, and it won't be my last. Ladakh is a more challenging trip than Rajasthan, both physically and photographically, but the experience is unique and very rewarding. I never thought I would be camping in the Himalayas, but now I have! Matt & Piet are very giving of their time and their experience, and help participants come away with photographs beyond what they thought they could achieve. Alou's contributions as a translator and handling the logistics keeps things running smooth. Even when faced with unavoidable problems such as the terrible flooding in Kashmir, Matt, Piet & Alou were able to modify the plans and still deliver an extremely rewarding experience. I'm already looking forward to my next trek."
-Mike Alexander

I came hungry for images and stories, and eager to improve my photo technique and storytelling skills. I feasted for two weeks on an incredible buffet of professional excellence, visual excitement, stimulating assignments and personal coaching. This workshop takes you beyond photography: above all Matt teaches by example how to discover, respect, explore, embrace and document the culture, the people and the daily life of the host country. Piet's expertise in post-processing and off-camera lighting tips provide further value for refining our images to perfectly reflect what we saw at the moment of capture. People are at the heart of the program. This not only shows in the approach of the subject matter, but equally in the welcoming and caring support from the workshop leaders. It did not take long for us to travel as a close and joyful troop.
-René Delbar

"As a first timer on anything like this, I can only say that the bar for any future tours has been set extremely high! Matt's patience, individual attention, knowledge and teaching skills left nothing to be desired. The daily group critiques added to the experience, reinforcing learnings from the assignments, assisting with improvement and helping understand image shortfalls, all these leading to a noticeable improvement in my personal images. Finally the addition of Piet as guest Photographer / Lightroom Guru, and Alou's logistical planning, assistance with all things non photo and keen eye made this a truly unforgettable experience. I look forward to another in the future. Thank you!"
-Eric Bunn

Matt & Piet have created a culturally sensitive, learning-oriented workshop that opens up Rajasthan for photographers keen to create memorable images & hone their photographic craft.
-Fernando Gros

"I had such a wonderful time on Matt's 2013 Rajasthan Photo Trek and Workshop that I would love to go back and do it all over again. Yes, all of it! Two weeks of fun, photography, laughter, discovery, and pure enjoyment, along with excellent company and delicious food — I can't imagine a better introduction to India. Best of all, the photographic learning experience was priceless: Matt is an inspiring teacher and mentor who really cares about helping his students push their boundaries and learn how to create better images, while Piet's expert assistance with workflow and post-processing issues was a real bonus. Highly recommended!"
-Andrée Lawrey

This workshop was everything I expected and more than I hoped for! Matt and Piet did a great job of reinforcing the basics and helping me explore new areas in my photography. Rajasthan was the perfect backdrop for shooting a wide variety of pictures and wonderfully diverse cultural experience. I'm already thinking about taking another trip with them!
–George Neill

"Stunning scenery, unique photo-opportunities, authentic environment and remarkable people; meeting locals up-close-and-personal. All of this in the absence of mass-tourism. Add focus on photography in a small group and you have the recipe for this trip. Is that what you're looking for?"
-Geert Delmulle

"As a first time photo tour participant and reasonably new to photography, the tour surpassed any expectations I had. I was made to feel an important part of the tour, despite not being at the same level of photography as some of the others. That lack of experience worried me before I met you, but your method of guiding allayed any fears I had. I have come away the knowledge and ability of new techniques, not afraid to lie down in dirt to get 'that' special shot and above all learnt patience to wait for that someone or something to walk into my point of view, enabling me to tell the story I want others to see. Once again, thank you and I will be definitely joining you again on another photographic journey in the future."
-Brendan White

Don't hesitate to subscribe to this workshop! Matt and Piet are great instructors who generously share their time and knowledge with all participants (novices and seasoned photographers alike). You will be given daily assignements on this tour which are optional but help you so much if you accomplish them and listen with an open mind to all the useful feedback you are getting during the critique sessions. And they are just fun to do too.
Matt seemed at first to be a magnet who magically attracts photogenic situations but don't be mistaken: the man knows how to create photographic opportunities and how to share them with other photographers. Piet's skills are complimentary with Matt's as he is an expert in postprocessing and the use of off-camera flash. (But don't underestimate Piet as a photographer). And last but not least: these guys are warm and caring human beings just as Matt's wife Alou who takes care of all the logistics and even buys you water and soft drinks so you can concentrate on becoming a better photographer while enjoying a fascinating country.
–Dannie Goossens
FaceBook Comments
comments