New Workshop Announced: Delhi, Agra & Varanasi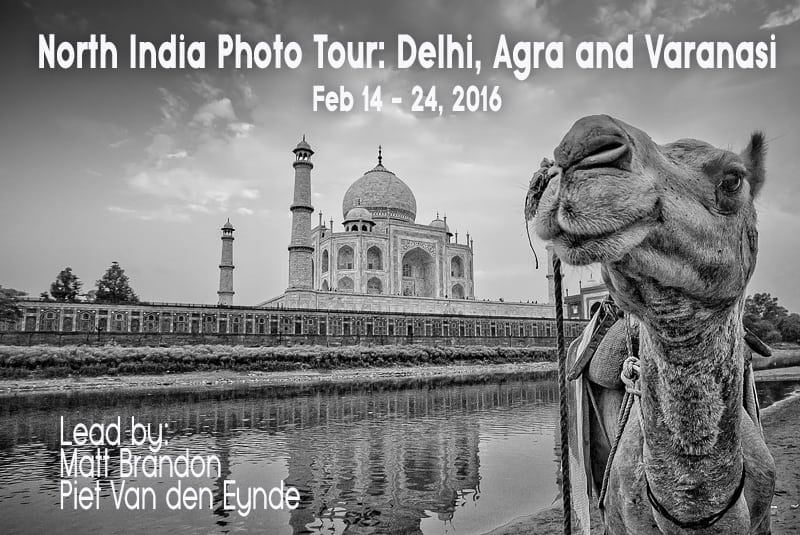 [restabs alignment="osc-tabs-center" responsive="true" icon="true" text="More" tabcolor="#2ba9e1″ tabheadcolor="#ffffff" seltabcolor="#f27a4b" seltabheadcolor="#000000″ tabhovercolor="#a27e98″]
[restab title="About" active="active"]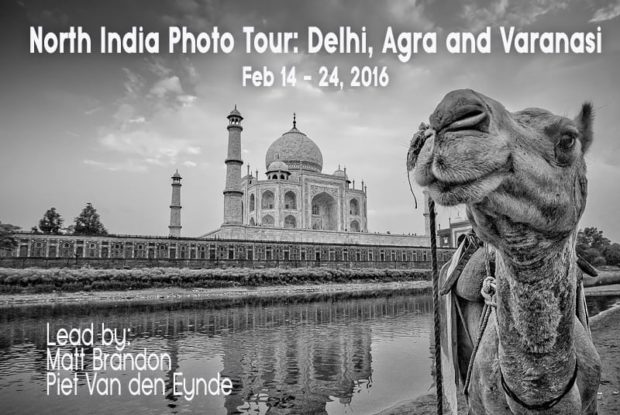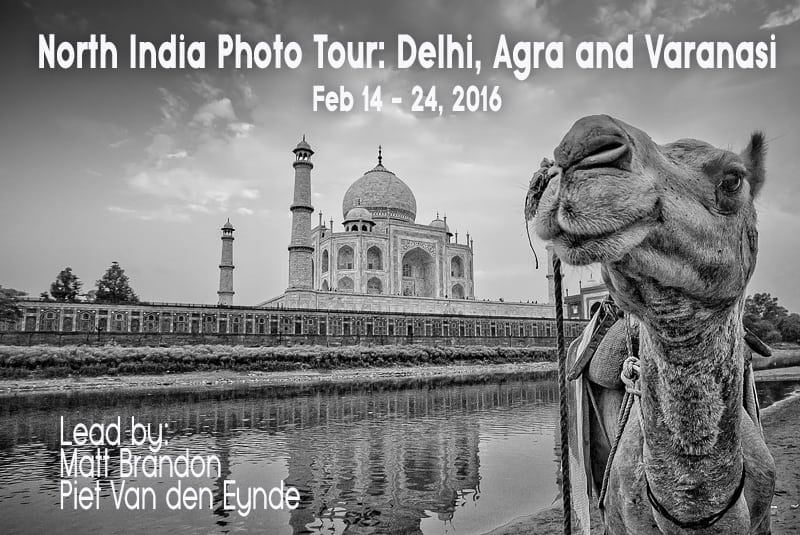 North India has always been looked on as a photographer's paradise. It feels as if a photographer can't take a bad photo while visiting its many exciting cities or streets. Of course this isn't true, but what is true is that it offers the photographer unlimited potential for amazing photos of people, ancient buildings and monuments and lest we forget colorful festivals.
Having explored and photographed these cities and streets for over 25 years, Matt Brandon will give you photo opportunities like few other photographers can deliver. Matt and Alou Brandon and Belgian photographer Piet Van den Eynde who also spent his share of time traveling through Asia in general and India in particular, are uniquely suited to give you a photo tour that you will never forget.
During this trip we will be visiting Delhi's old city and walking the streets and alleyways photographing life as it unfold before us. Old Delhi's architecture dates back to the Mughal Empire and provides a fascinating backdrop to our photography. From Delhi we drive to Agra, the home of the Taj Mahal. Know as a monument to love, the Taj is one of the most photographed and well know structures in the world today. We will help you get the photo of the Taj you want, whether it's the classic frontal shot from the reflection pool or something more creative. You're in good hands! We leave the Islamic influenced cities of Delhi and Agra and we travel by train to Varanasi, perhaps the holiest Hindu city in the world. It is believed that Varanasi began in the 11th or 12th century BC, placing it among the world's oldest continually inhabited cities. Rich with culture and symbolism and as such one of the most visually exciting places to visit in India. We will walk the bathing ghats and photograph street life and bathing rituals. Because so much in photography depends on your perspective, we will travel up and down the river to photograph the same things from a different angle.
There will be teaching sessions throughout the tour: some of those will be formal and scheduled, others will be impromptu while we're in the car or on a train. Matt's going to teach – amongst others – composition and storytelling, while Piet will focus on using off-camera flash. You can also pick Piet's brain about anything Lightroom and Photoshop related. Throughout the tour, we'll also have an English speaking 'fixer' for us who will provide invaluable in establishing contact and help you to get the shots you want. There will also be a number of evening 'image reviews'. Our past participants have found these sessions, in which we look at one shot of each participants, particularly enlightening and inspiring as they can help you to see how others approached a similar scene.
Dates: Feb 14 – 24, 2016
Leaders: Matt Brandon, Piet Van den Eynde
Price: $4,850.00
Payment Policy:
• A deposit of $1,000 due upon registration
• Balance due November 17, 2015
Accommodation:
This price is quoted offering a double room. If you would prefer a single room, that's entirely possible: the single room supplement is $1,000 and can be booked as an option on the checkout form.
This trip will see a variation of accommodations. From the Double Tree by Hilton in Agra to a heritage hotel on the Ganges.
What's included: Just about everything.
Double room on sharing basis.
Meals during the tour.
All transfers and sightseeing by air-conditioned Mini Coach as per the program.
Entrances to the monuments as per the program.
Services of English speaking local guides for sightseeing as per the program.
Train fare from Agra to Varanasi.
Bicycle Rickshaw ride in Delhi and Varanasi.
Boat rides in Varanasi as per the program.
Bottled water in the Mini Coach.
Train fare from Agra/Varanasi/Delhi.
Assistance at all the airport/hotels by our representatives.
Tuition by Matt and Piet
What's NOT included:
Any expenses of personal nature like tips, laundry, all beverages, telephone calls etc.
Any expenses caused by factors beyond our control like flight cancellation, road blocks, vehicle malfunction etc.
Any medical or evacuation insurance
Your international flight to and from Delhi
[/restab]
[restab title="Itinerary"]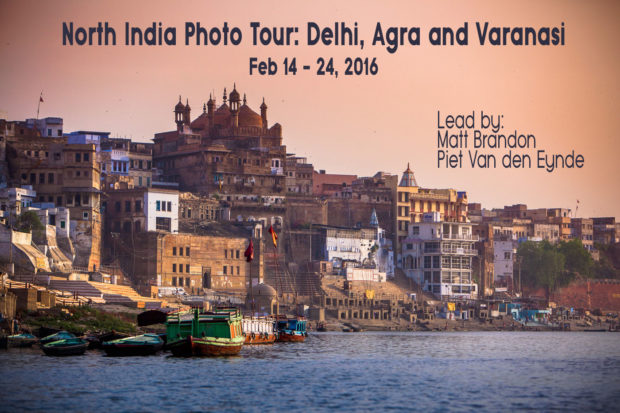 Tour itinerary:
Day 01: Arrive Delhi
Arrive in Delhi. On arrival, you will be welcomed by our representative at the International Airport and transferred to your hotel in Delhi.
Overnight in the Hotel
Day 02: Delhi
Breakfast at the hotel and an orientation meeting will be followed by a walk through Old Delhi's Chandni Chowk Market. This is as bustling as it gets! We will explore the back alleyways of this ancient city. We'll visit old mosques ranging from the laid back small Fatehpuri Masjid to the magnificent splendour of the Jamma Masjid. From the streets of Old Delhi we travel the holy shrine of Sufi saint Hazrat Nizamuddin. If we are lucky we might be able to enjoy the local faithful as they sing qawwali songs in worship of this saint. The Nizamuddin area is off the beaten tourist-track, and therefore extra rewarding for photographers.
Overnight in the Hotel
Day 03: Delhi-Agra (By minibus)
Morning train to Agra. On arrival, transfer to the hotel for check-in.
After breakfast we drive to Agra (appx 3-4 hrs). Agra is home to the world's greatest monument to love: the Taj Mahal. The Taj was built by Emperor Shah Jahan over a period of 17 years from 1632, in memory of his beloved late wife Mumtaz Mahal. It is best photographed at sunrise or sunset when the light reflects off the marble and gives it a special radiance. Needless to say, we'll have opportunities for both and we'll get you there at the right time and the right spot! Agra has other treasures worth visiting as well, such as the beautiful Itmad-ud-Daulah's tomb and the brilliantly constructed Agra Fort from which you also have terrific views over… the Taj Mahal!
Late afternoon sunset visit to Taj Mahal.
Overnight in the Hotel
Day 04: In Agra
After yesterday's sunset visit, we'll revisit the Taj Mahal at sunrise for a completely different look.
After breakfast at the hotel, we'll visit Agra Fort.
Late afternoon visit to Itmad-ud-daulah as well as a drive to the other side of the river to see the sun set on Taj Mahal from a different perspective.

Day 05: Agra/Varanasi (Train)
We want you to make the most out of your time in and around Agra so on our last day here we'll visit Fatehpur Sikri, an ancient capital of the Mughal Empire and now a Unesco World Heritage site. Then we return to Agra for our connection to Varanasi. There's nothing like catching a glimpse of Indian everyday life as catching an Indian train! We'll take the convenient night train from Agra to Varanasi.
Day 06: Arrive Varanasi (by Train)
After our transfer to the hotel (a beautiful and characterful haveli), we'll have breakfast and a mid-journey relaxing day for those who wish. Alternatively, you can already start to explore the city!
Day 07: Varanasi (boat ride)
We wake up early and experience the life of this ancient city by boat. The boat ride passes along some of the 100 ghats (bathing places), with numerous palaces built by Hindu kings. You'll be able to experience first hand the early morning rituals being performed by the Hindus.
In the afternoon, we'll drive to Sarnath, 9 km from Varanasi, one of Buddhism's major centers in India. It was here that Buddha gave his first Sermon after attaining enlightenment.
We'll conclude our first day with an evening walking tour on the ghats.
Overnight in the Hotel
Day 08-10: Varanasi
Three full days to photograph the ghats and the alleyways and colorful shops scattered throughout the old city along with morning and evening boat rides over river Ganges. We'll practice shooting for storytelling, composition and how to use flash to balance the harsh Indian sunlight.
Overnight in the Hotel
Day 11: Depart Varanasi
A last morning in this stunning city to make (or remake) the shots you didn't get.
Late afternoon transfer to the station to board the overnight train for Delhi.

Day 12: Arrive Delhi
Transfer to airport to board flight for onward destination.
[/restab]
[restab title="Leaders"]
Matt Brandon is a Malaysia based humanitarian and travel photographer, who collaborates with NGOs to tell their stories and to train their field staff to do the same. Well known as a photographer and international workshop instructor, Matt's images have been used by clients such as Partner Aid International, NeighborWorks, the BBC, Honda Motor Corporation, and Bombadier Transport Corporation, Asian Geographic, KLM Airlines and others. His photographic pursuits have taken him to the countries of Egypt, Tibet, India, Indonesia, Thailand, Maldives, Philippines, Malaysia to name a few. Matt also is known for teaching presenters how to present their message in the most effective and memorable way. This makes Matt a great teacher to any workshop or classroom. Matt is also a key member of the International Guild of Visual Peacemakers, he's on the advisory board for Focus for Humanity and on the design board for Think Tank Photo, a camera bag manufacturer.
For more information on Matt, read his complete profile at PhotoShelter.
Matt's Books:
Visit Amazon.com for Matt's book of images from Kashmir titled "Kashmir, Mystery".
Piet Van den Eynde (pronounced "Pete") is a Belgian freelance photographer specializing in travel portraiture. He has written five Dutch books on Adobe Lightroom and currently has nine English ebooks for CraftandVision.com, such as 'Making Light' and 'Making Light 2' about off-camera flash. He also has a seven hour 'Photoshop for photographers' video course and a couple of Lightroom books. Finally, he has created two sets of Lightroom preset packages, one Black and White and one for Color Grading. He contributes articles to photography magazines and gives trainings worldwide about digital photography, working with small flashes and post-processing. He's an Adobe Photoshop Lightroom Certified Expert.
In 2009, Piet threw his camera, a flash and an umbrella in his bicycle panniers and cycled 5000 miles through Turkey, Iran, India and Indonesia for a photography project called Portraits Of Asia.
Piet is a prolific author and has a whole list of e-books to his credit. Find them here at Craft & Vision. Learn more about Piet on his blog More Than Words.
Piet will be teaching off-camera lighting skills as well as some Lightroom post processing throughout the photo tour.
[/restab]
[restab title="Gallery"]
[/restab]
[restab title="Testimonials"]
Here is what people are saying about our Photo Tours & Workshops:
"My second photography trek/workshop with Matt, Piet & Alou, and it won't be my last. Ladakh is a more challenging trip than Rajasthan, both physically and photographically, but the experience is unique and very rewarding. I never thought I would be camping in the Himalayas, but now I have! Matt & Piet are very giving of their time and their experience, and help participants come away with photographs beyond what they thought they could achieve. Alou's contributions as a translator and handling the logistics keeps things running smooth. Even when faced with unavoidable problems such as the terrible flooding in Kashmir, Matt, Piet & Alou were able to modify the plans and still deliver an extremely rewarding experience. I'm already looking forward to my next trek."
-Mike Alexander
I came hungry for images and stories, and eager to improve my photo technique and storytelling skills. I feasted for two weeks on an incredible buffet of professional excellence, visual excitement, stimulating assignments and personal coaching. This workshop takes you beyond photography: above all Matt teaches by example how to discover, respect, explore, embrace and document the culture, the people and the daily life of the host country. Piet's expertise in post-processing and off-camera lighting tips provide further value for refining our images to perfectly reflect what we saw at the moment of capture. People are at the heart of the program. This not only shows in the approach of the subject matter, but equally in the welcoming and caring support from the workshop leaders. It did not take long for us to travel as a close and joyful troop.
-René Delbar
"As a first timer on anything like this, I can only say that the bar for any future tours has been set extremely high! Matt's patience, individual attention, knowledge and teaching skills left nothing to be desired. The daily group critiques added to the experience, reinforcing learnings from the assignments, assisting with improvement and helping understand image shortfalls, all these leading to a noticeable improvement in my personal images. Finally the addition of Piet as guest Photographer / Lightroom Guru, and Alou's logistical planning, assistance with all things non photo and keen eye made this a truly unforgettable experience. I look forward to another in the future. Thank you!"
-Eric Bunn
"Matt & Piet have created a culturally sensitive, learning-oriented workshop that opens up Rajasthan for photographers keen to create memorable images & hone their photographic craft."
-Fernando Gros
"I had such a wonderful time on Matt's 2013 Rajasthan Photo Trek and Workshop that I would love to go back and do it all over again. Yes, all of it! Two weeks of fun, photography, laughter, discovery, and pure enjoyment, along with excellent company and delicious food — I can't imagine a better introduction to India. Best of all, the photographic learning experience was priceless: Matt is an inspiring teacher and mentor who really cares about helping his students push their boundaries and learn how to create better images, while Piet's expert assistance with workflow and post-processing issues was a real bonus. Highly recommended!"
-Andrée Lawrey
"This workshop was everything I expected and more than I hoped for! Matt and Piet did a great job of reinforcing the basics and helping me explore new areas in my photography. Rajasthan was the perfect backdrop for shooting a wide variety of pictures and wonderfully diverse cultural experience. I'm already thinking about taking another trip with them!"
–George Neill
"Stunning scenery, unique photo-opportunities, authentic environment and remarkable people; meeting locals up-close-and-personal. All of this in the absence of mass-tourism. Add focus on photography in a small group and you have the recipe for this trip. Is that what you're looking for?"
-Geert Delmulle
"As a first time photo tour participant and reasonably new to photography, the tour surpassed any expectations I had. I was made to feel an important part of the tour, despite not being at the same level of photography as some of the others. That lack of experience worried me before I met you, but your method of guiding allayed any fears I had. I have come away the knowledge and ability of new techniques, not afraid to lie down in dirt to get 'that' special shot and above all learnt patience to wait for that someone or something to walk into my point of view, enabling me to tell the story I want others to see. Once again, thank you and I will be definitely joining you again on another photographic journey in the future."
-Brendan White
"Don't hesitate to subscribe to this workshop! Matt and Piet are great instructors who generously share their time and knowledge with all participants (novices and seasoned photographers alike). You will be given daily assignements on this tour which are optional but help you so much if you accomplish them and listen with an open mind to all the useful feedback you are getting during the critique sessions. And they are just fun to do too.
Matt seemed at first to be a magnet who magically attracts photogenic situations but don't be mistaken: the man knows how to create photographic opportunities and how to share them with other photographers. Piet's skills are complimentary with Matt's as he is an expert in postprocessing and the use of off-camera flash. (But don't underestimate Piet as a photographer). And last but not least: these guys are warm and caring human beings just as Matt's wife Alou who takes care of all the logistics and even buys you water and soft drinks so you can concentrate on becoming a better photographer while enjoying a fascinating country."
–Dannie Goossens
[/restab]
[restab title="Registration"]
[/restab]
[restab title="Terms & Conditions"]
Terms & Conditions
Throughout these pages the words "tour" and "workshop" will be used interchangeably.
"This is a photo tour, will there is any instruction?"
Yes! This of this as a photo tour with a teaching element. Most of the teaching will be done in the field or in the evening in an organic fashion. We just didn't want to give you the impression we would have scheduled classroom work. Often there will be times of review and informal teaching in the evenings to cover events from the day and prepare for the next. If you desire a portfolio review, Matt or Piet will take time to give you one as long as it's scheduled early in the trip. There will be time for everyone, those who want one-on-one time with either Matt or Piet will receive it. Those who want to simply shoot will get it. We've built the tour around flexibility, community, discussion, freedom and your ability to learn what you want from your instructors while also having the opportunity to shoot what you want, it is your trip! Just know that even though we may have a "fixer" at a location or two, there will be no flag-toting tour guide for us to follow in these cities.
Summary
We aim to provide a first-class service to all clients and we do our best to plan as much as we can in advance. However, the locations that we visit are often unpredictable in nature and we ask clients to understand that circumstances can change, transport and accommodation arrangements can vary from those advertised and we may need to adapt or amend the workshop itinerary at short notice in order to take prevailing conditions into account. You will need to provide the following:
$1,000 Deposit payment when booking your place
A copy of your passport, valid for 6 months beyond the workshop end date
A copy of a valid visa before the tour commences
Details of your Emergency Contact
Your balance payment, no later than 90 days before the workshop start date
A signed copy of the Photo Workshop Liability Release
Registration
You warrant that the information provided by you at the time of registration and in subsequent correspondence is true, accurate, current and complete in all regards.
Deposit and Payment Schedule
Your place on the photo tour will be confirmed as soon as your deposit payment has been received and cleared. A deposit is considered to be $1,000 or more of the total advertised workshop cost. Your balance payment must be paid and cleared no later than 90 days before the advertised workshop start date. Payment may be paid via PayPal (an invoice will be provided) or into our US bank account (details provided upon request). Clients should ensure that any bank transfer fees are paid at source. We reserve the right to pass bank transfer charges back to the client, where applicable. The tour cost includes all in-country transport as per the tour itinerary, accommodation, meals (as published), tuition and advice from the workshop leaders. The tour cost does not include your international air fare or return transport to the workshop start location. It does not include your personal and incidental expenses such as beverages, laundry, souvenirs, communication expenses, tips, extra-curricular entrance fees, and personal items.
Cancellation Policy
Cancellation of your workshop reservation must be made in writing to Matt Brandon. On cancellations more than 120 days prior to departure, all monies are refunded less a $275 administrative fee.
Less than 120 but at least 90 days prior, total deposit amount ($1,000) is forfeited.
Less than 90 but at least 75 days prior, 50% of trip price is forfeited.
Less than 75 days prior to departure, 100% is forfeited.
Additionally, we will pay no refunds if the client leaves the tour once it has commenced. No refunds will be made for accommodation, transport or other services not utilized. We reserve the right to cancel all or a portion of the workshop on account of terrorism, natural disasters, political instability, or any other circumstances beyond our control. In the event of such a cancellation, full or partial refunds will be given at our sole discretion.
Should the workshop be cancelled for any reason, we are not responsible for your incidental expenses including vaccinations, non-refundable flight tickets or other transport, passport, visa applications, gear purchases, etc.
Itinerary changes
Although we do our best to maintain the itinerary as published, it is sometimes necessary to be flexible and to change the workshop itinerary, when circumstances are beyond our control. We will inform you with as much notice as possible and make our best endeavors to replace any cancelled activity with a similar, substitute activity. The client acknowledges and accepts that changes to the published itinerary may be necessary and that no refunds will be made for any unused facilities or services resulting from changes made to the tour itinerary.
Passports and Visas
The client should ensure that they have a passport valid for at least 6 months beyond the published conclusion date of the photo workshop. You will be asked to provide a copy of your valid passport when making your deposit payment. It is the client's responsibility to ensure that they have a valid visa for the country or countries being visited. Please be aware that visas often commence from the date of issue, so plan accordingly. You will be asked to provide a copy of a valid visa or visas prior to the tour start date, unless you are obtaining a visa on arrival. Please check the visa conditions for the country/countries to be visited well in advance.
Travel Insurance
To allow for any unexpected contingencies, all participants are strongly urged to purchase trip cancellation and interruption insurance.
Travel insurance is highly encouraged for all participants. Your travel insurance should provide cancellation, curtailment and loss of luggage and personal effects. We also recommend that it cover protection against personal accident, medical expenses, emergency repatriation, and personal liability.
We recommend that you take out travel insurance soon after reserving your spot on the tour. Matt Brandon, Piet Van den Eynde or staff affiliated with this workshop will not be held responsible for losses you incur due to cancellation, loss of luggage, personal accident, medical expenses, emergency repatriation, and personal liability. It is for this reason we strongly urge you to purchase travel insurance.
Health
Clients should be in good physical condition. The main physical activities of this tour are walking city streets with a camera in warm/hot weather. Participants need to be fit and active. We recommend a trip to your local travel clinic or doctor to find out about any necessary vaccinations. Please contact us if you have any questions about the physical demands of the workshop or if you would like to discuss your particular health issues in detail. All conversations are held in the strictest confidence. If you have any allergies or health issues that the workshop leaders should be aware of, please make sure that you provide us with full details before the tour start date.
Diet
Due to the nature of the varied locations that we visit on photo workshops, it is not always possible for us to guarantee to meet each client's specific dietary requirements. We will eat our meals in local food outlets and sample the local cuisine. Please bear this in mind when planning to attend the workshop.
Cultural Policy
Photo workshops/tours often take place in locations where it is important to be aware of the prevailing cultural conditions. It is a condition of your participation in the photo workshop that you accept the following policies, designed to ensure that all participants respect and appreciate the culture of the locations we visit.
The laws of the country or countries we are visiting will be obeyed at all times.
Recreational drug use and excessive alcohol consumption is prohibited.
Appropriate clothing will be worn at all times. For example, we may be asked to remove shoes or cover our heads when visiting places of worship.
No photographs will be taken at locations where it is expressly forbidden or when the workshop leaders expressly request that you do not photograph.
The workshop leaders will determine how we approach the photographing of locations and of individuals at different locations. You agree to respect the prevailing cultural conditions and to abide by any decisions or requests made by the workshop leaders without question or hesitation.
Our Cultural Policy is designed to ensure that the impact of our trip is kept to a minimum and that visitors who arrive after we have departed are welcomed and treated with the respect and hospitality that we would wish to enjoy.
We expect all workshop participants to adhere to our general approach, which can be best summarized as
 "Leave nothing but footprints, take nothing but photographs".
Acceptance
Completion of an electronic registration form and/or payment of a deposit constitutes full acceptance of these terms and conditions.
[/restab][/restabs]
FaceBook Comments
comments