After the official workshop ended, as often, we offered an extension on the trip. The planned extension was to Srinagar Kashmir and the surrounding valley But as you might know the Kashmir region was faced with unprecedented flooding and there was no way we would be able to lead a workshop in such surroundings. So Piet, Alou and I had to put our heads together in a hurry and come up with an alternative for Kashmir. The obvious choice became the one we went with: the amazing Nubra Valley.
The Nubra Valley is located Northeast of Leh over the Khardung La (Khardung Pass). The Khardung La is touted as being the highest motorable road in the world at 5,602 m (18,379 ft). Frankly I doubt that. Our GPSs all came in closer to 5,334 m (17,500 ft). Nevertheless, it is high! So much so there is a sign posted in all caps that reads, "STAYING FOR MORE THAN 20-25 mins CAN BE HARMFUL TO YOUR HEALTH".
Once over the pass you drive a windy (winding?) road to a city called Diskit then on to another called Hundar. It was in Hundar we stayed the night in luxury tents. These are tents with permanent concrete flooring with carpet and a huge king size bed. Also each tent has a toilet and shower with hot water (on call). It was also in Hundar that we found the two humped bactrian camels.  In Diskit we visited the Diskit Monastery, the oldest and largest Buddhist monastery in the area.
Interested in what gear or settings I used. As always just click the photo and you will find the EXIF data.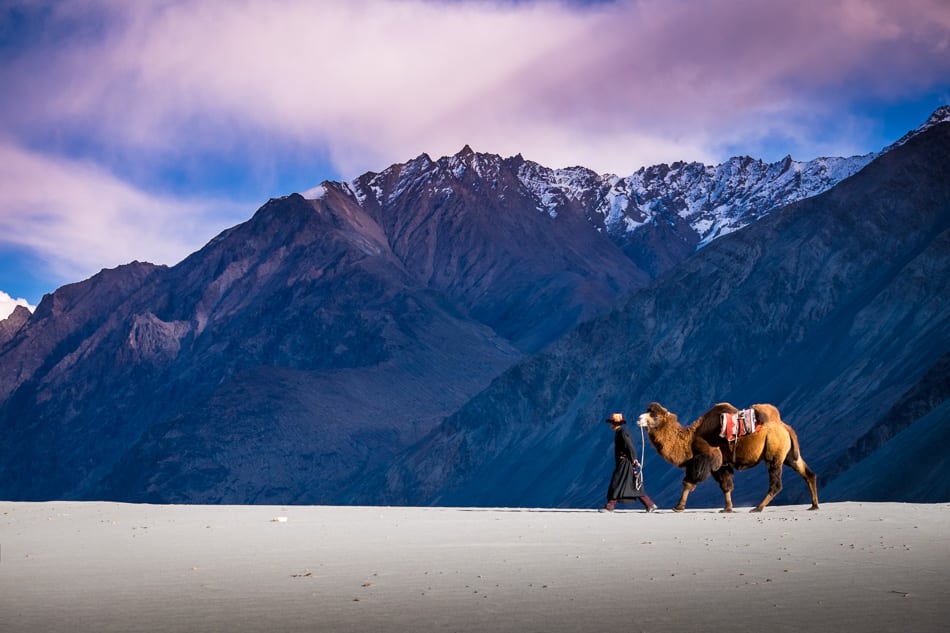 Given we only had three nights in Nubra,  there was plenty to photograph. Speaking of… this will be the last of my images of this trip. In the next post I want to post a few of the participants' images. We had a talented group and as always I want to share with you their visual take of this trip.