First Look at the X-T3 on the Streets of Penang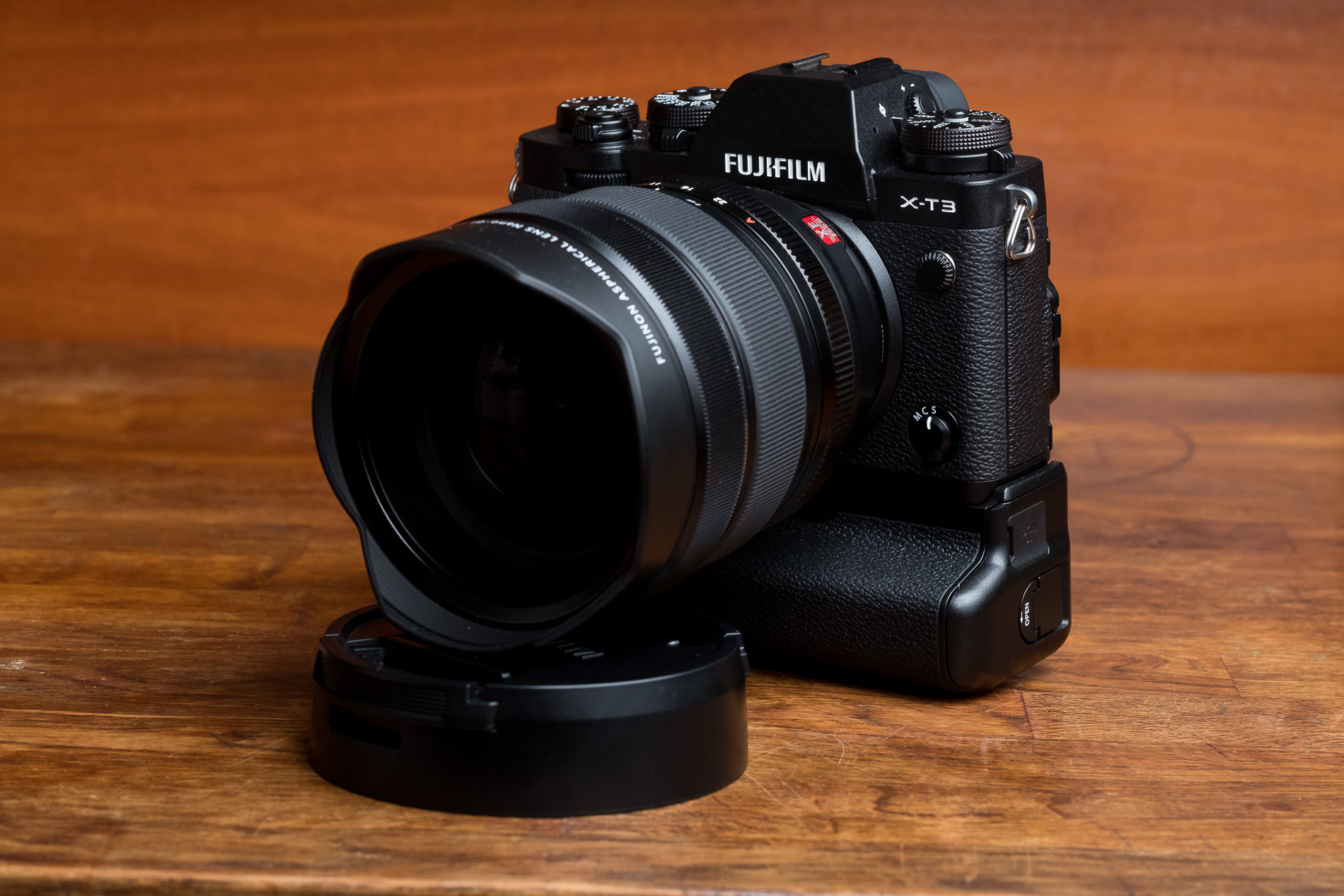 The new Fujifilm X-T3 with the new XF Fujinon 8-16 mm f/2.8 R LM WR
When I switched to the Fujifilm X Series camera from my Canon 5D MK3 it was because the new system gave me a sense of returning to my roots in photography. That sense of roots had everything to do with the analog style dials and switches, and the aperture ring on the metal lens. It also didn't hurt that it was small in overall size. Over the years I have used most of the models of the X Series cameras produced: The X100, X-PRO1, XE-2, X-PRO2, X-T1, X-T2 and of course the GFX. I still am anchored into the brand because of the functional simplicity of the analog nature of the camera, the ISO dial, the shutter speed dial, the exposure comp dial and of course the aforementioned aperture ring! But, as Fujifilm's cameras got more and more sophisticated with their technology and their abilities to perform in extreme situations I found I was more and more reliant on that technology. Now the amazing ability to track a subject's face and eyes and keep them in focus is no longer a novelty it is critical! The ability to focus track a moving subject in a zone or even better as the subject approaches the camera isn't just a feature, its a requirement! This brings us to the former flagship of Fujifilm's X Series cameras, the X-T2. This camera really shined with these new technological features.
But today, Fujifilm raised the bar yet again with the release of the X-T3! This upstart younger brother to the X-T2 has a new 26.1 megapixel BSI or Backside Illuminated Sensor. What the heck is a BSI sensor you might ask?  In the simplest of terms, a traditional front-illuminated sensor has three elements similar to a human eye. A lens like structure in the front, "wiring" in the middle and photodetectors in the back. As the traditional sensor collects light, some light still bounces off the first and second layers as the rest of the light makes its way through to the photodetectors. But a BSI sensor has flipped those layers around and puts the photodetectors in the front allowing more light to pass through to the photodetectors. Now, of course, this is a super simplified explanation. But you get the gist of it. Basically, the BSI sensor allows more light through onto the sensor and thus, quicker to expose and focus.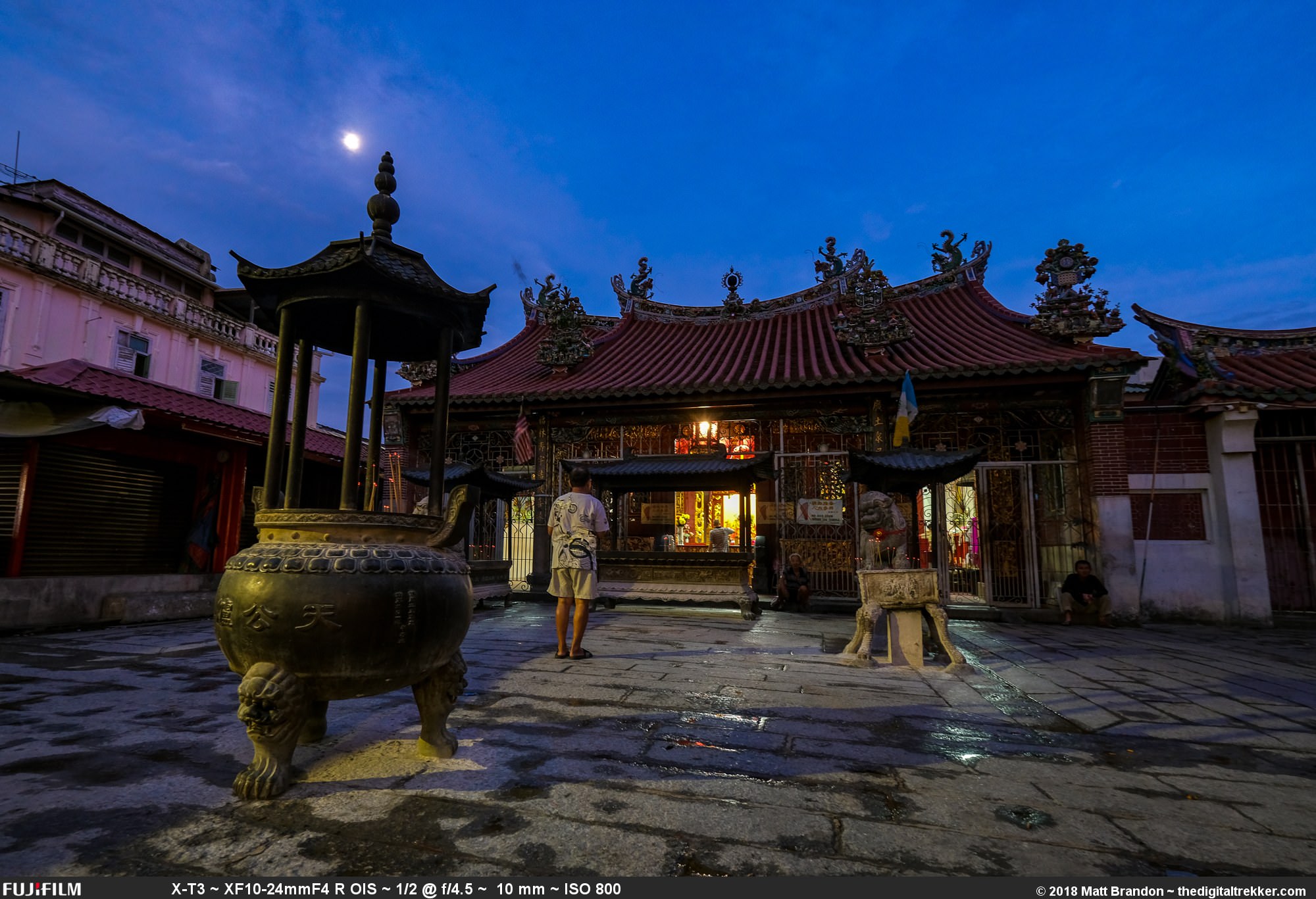 The Mercy Temple in Georgetown, Penang, Malaysia. Focusing in this early morning light was no issue.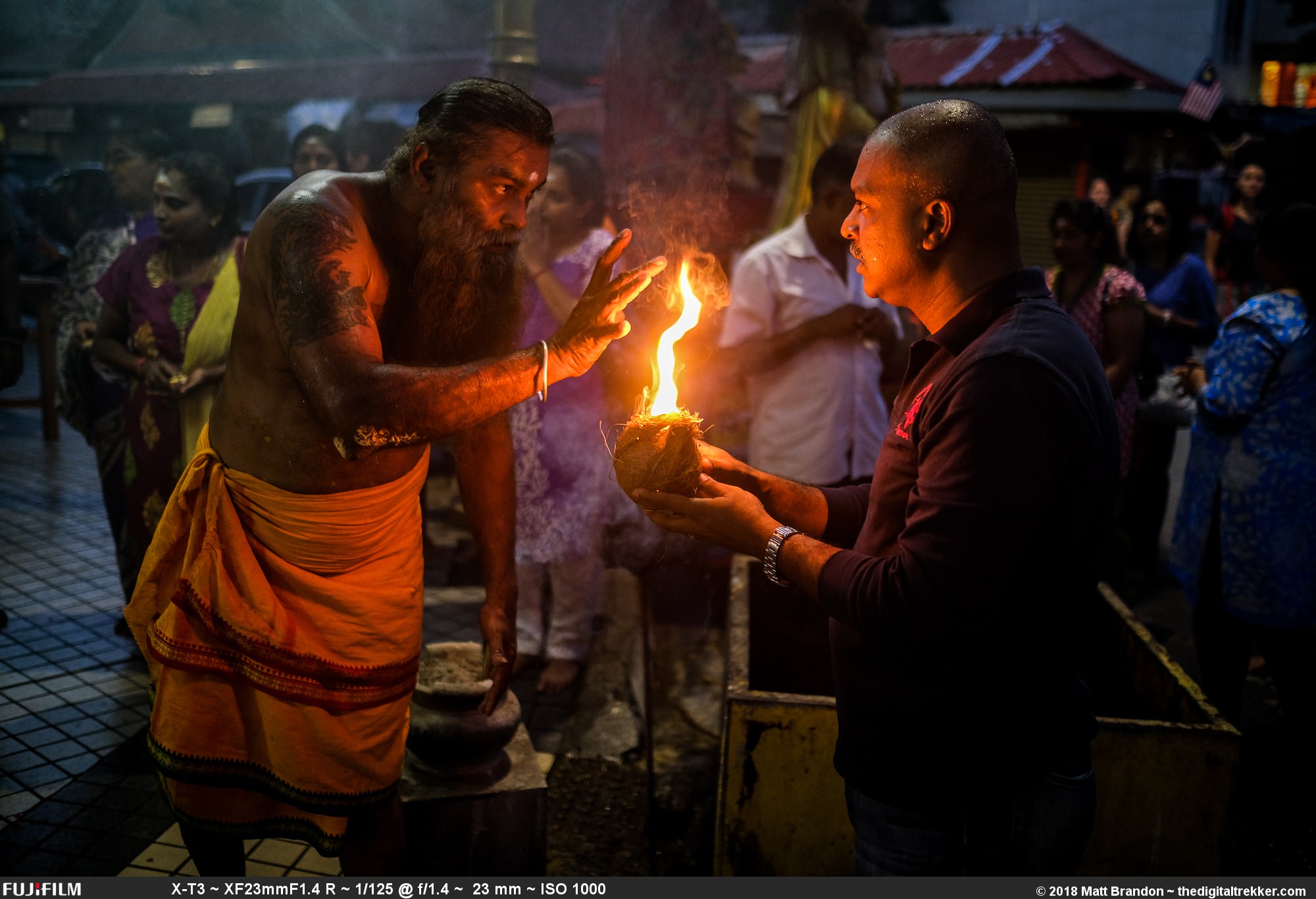 Another example of how the X-T3 shines in low light.
I had the X-T3 for about a week before today's release. In my style of shooting, I photograph a lot in low light. This can cause issues with focus lock and tracking. The X-T3 seems to have markedly improved the face and eye tracking AF in low light. For me, this feature might be one of the best little upgrades. It really was astounding how accurate it was.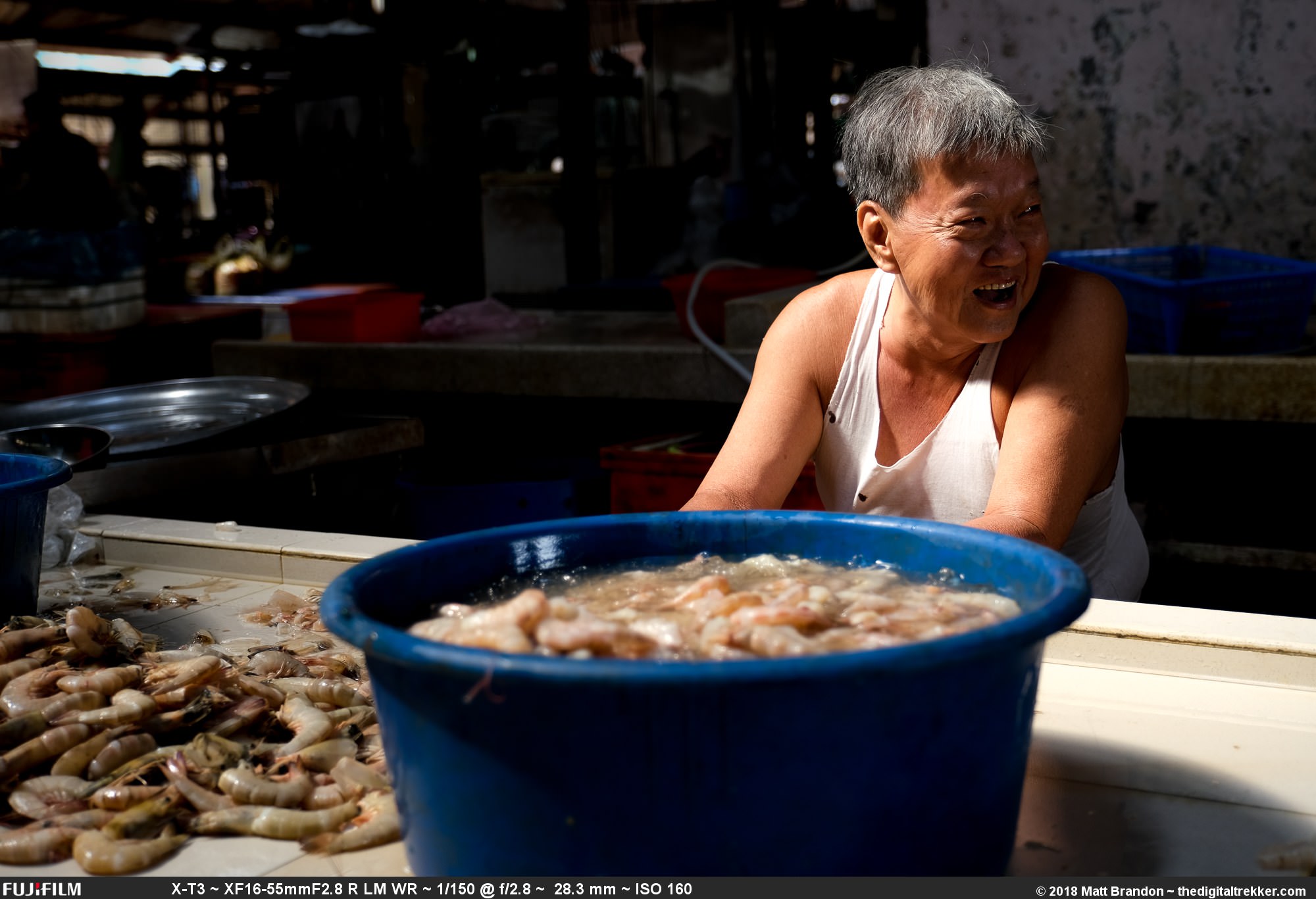 The X-T3's face and eye tracking was not bothered by the low light in this image.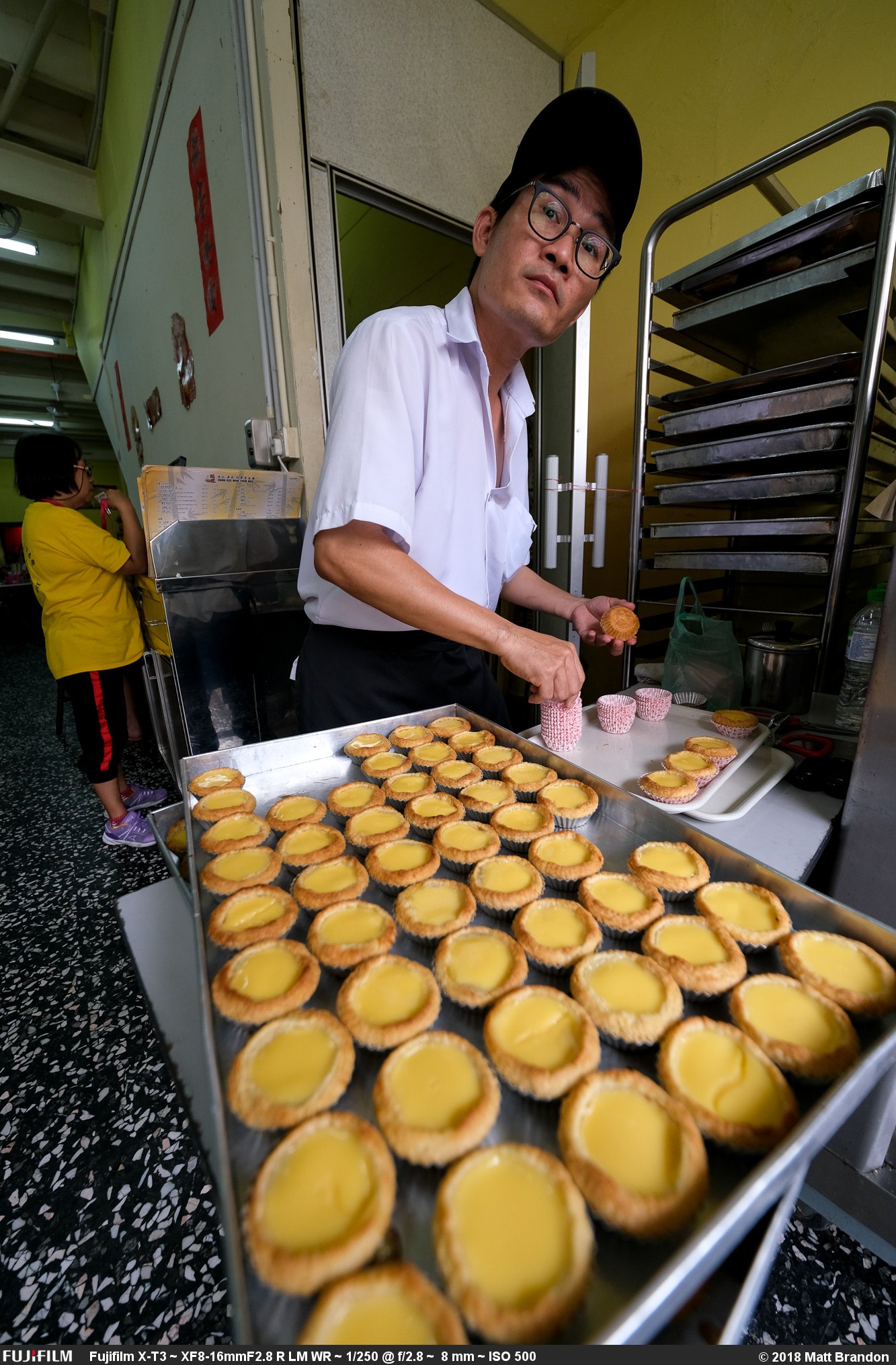 This man was looking at the egg tarts and did a very quick look up and the camera locked onto his eye and focused, and I took the image all in a split second.
I have only been shooting JPEG as Lightroom can't read the RAW file yet. But there did seem to be a slightly better dynamic range with the T-X3's JPEG image files as well. While editing the JPEGs there seems to be more data to play with while recovering the shadows in Lightroom. But we will have to wait and see what the RAW file will give us in Lightroom.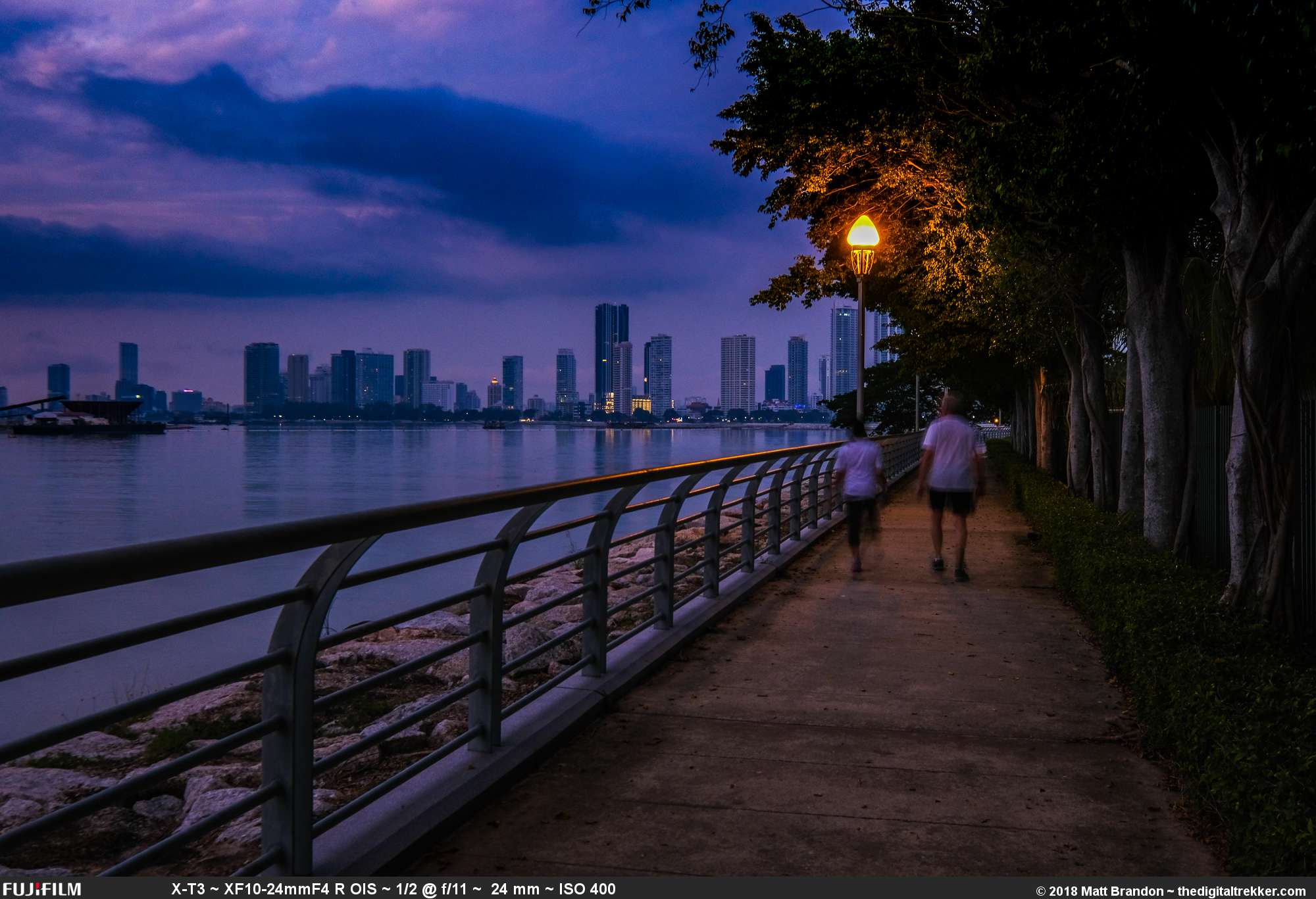 An early morning walk at Straights Quay, Tanjung Tokong, Penang, Malaysia.
Welding , Penang, Malaysia.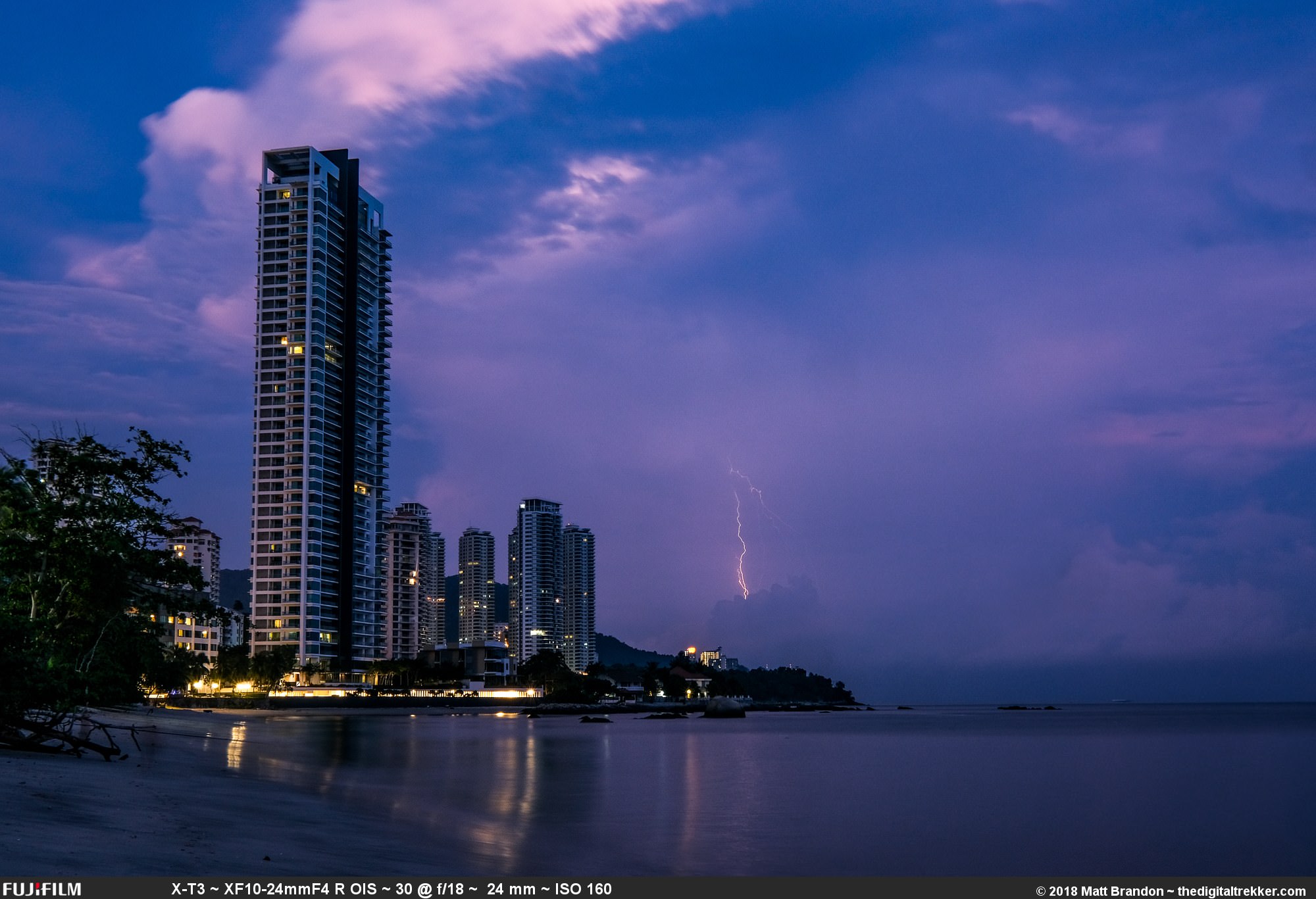 Lightning strikes. Tanjung Tokong,  Penang, Malaysia.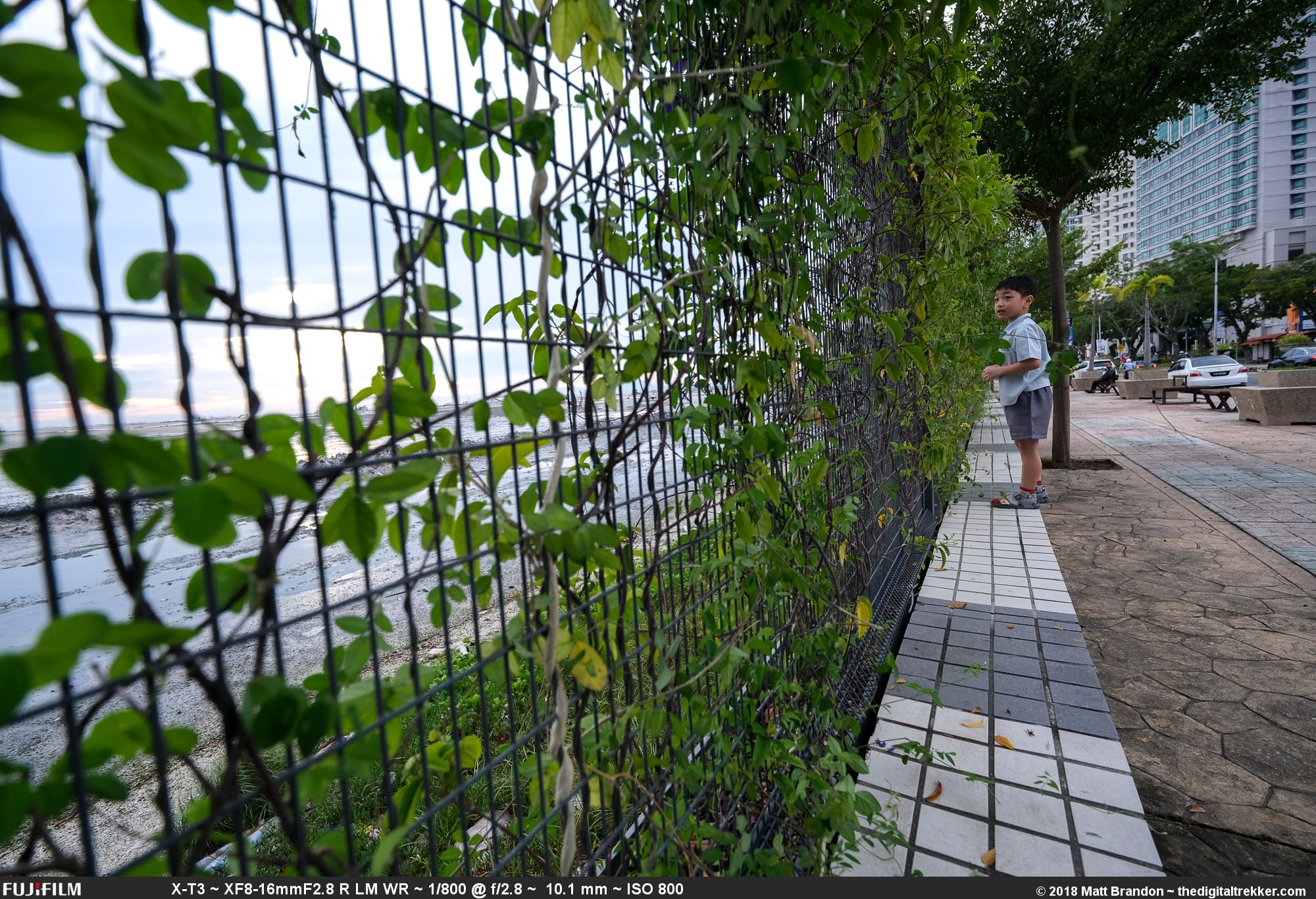 A young boy picks butterfly pea blossoms. Gurney Drive, Penang, Malaysia.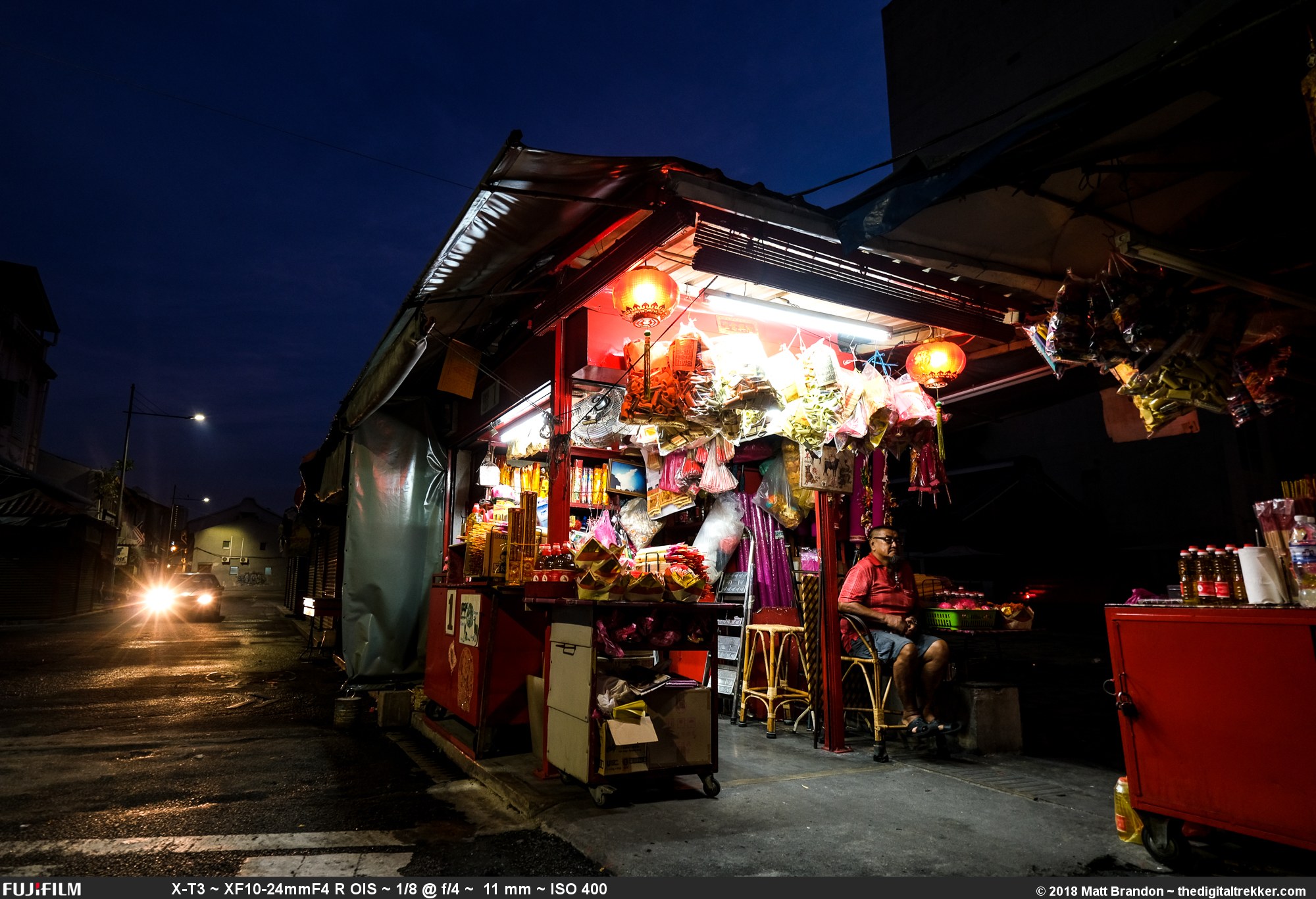 Early morning at the Kuan Yin Temple (Goddess of Mercy Temple), in Georgetown, Penang, Malaysia.
The zone and wide tracking functions seem to be more accurate. I rarely use this feature but I took the camera out on a very dull overcast morning yesterday and made this quick focus track of a school bus. There wasn't much light and frankly, wide tracking is meant to be used in daylight at a high shutter speed to keep the subject from having motion blur or what's the point? Here are a series of shots on a dull morning with very little contrast other than a yellow bus. Yet, the camera tracked the bus from one side of the frame to the other. No real focus issues, just some motion blur given the lack of light and slow-ish shutter speed. I think this is pretty impressive.
Auto focus and tracking test.
The X-T3 is, in fact, faster at focusing, focus tracking both in zone mode as well as facial and eye detection. Speaking of focus tracking, the X-T3's AF system offers 117 points in a 9x13-point formation and can be expanded to 425 points in a 17×25-point formation. And now all 425 points are Phase Detection AF! I can testify that this camera has increased effectiveness in tracking focus point both in the facial tracking as well as eye tracking.
As for the physical layout and style of the camera very little has changed. The body is virtually the same as the X-T2. There are only a few small changes. These are functional but almost unnoticeable. These changes are associated with the buttons, dials and the diopter adjustment dial. The X-T3's main control dials are now slightly slanted upward giving the dials a little more graceful look.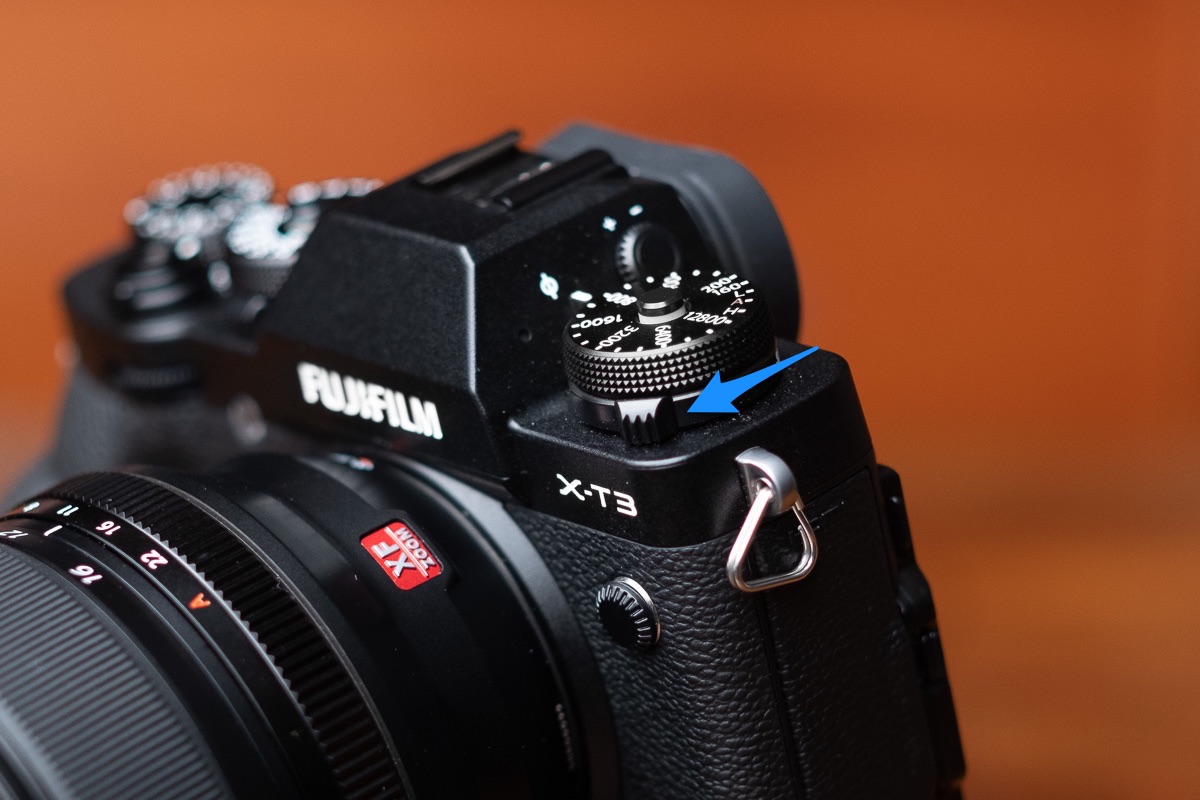 They made the tab on the drive and metering dials larger making it easier to locate by touch.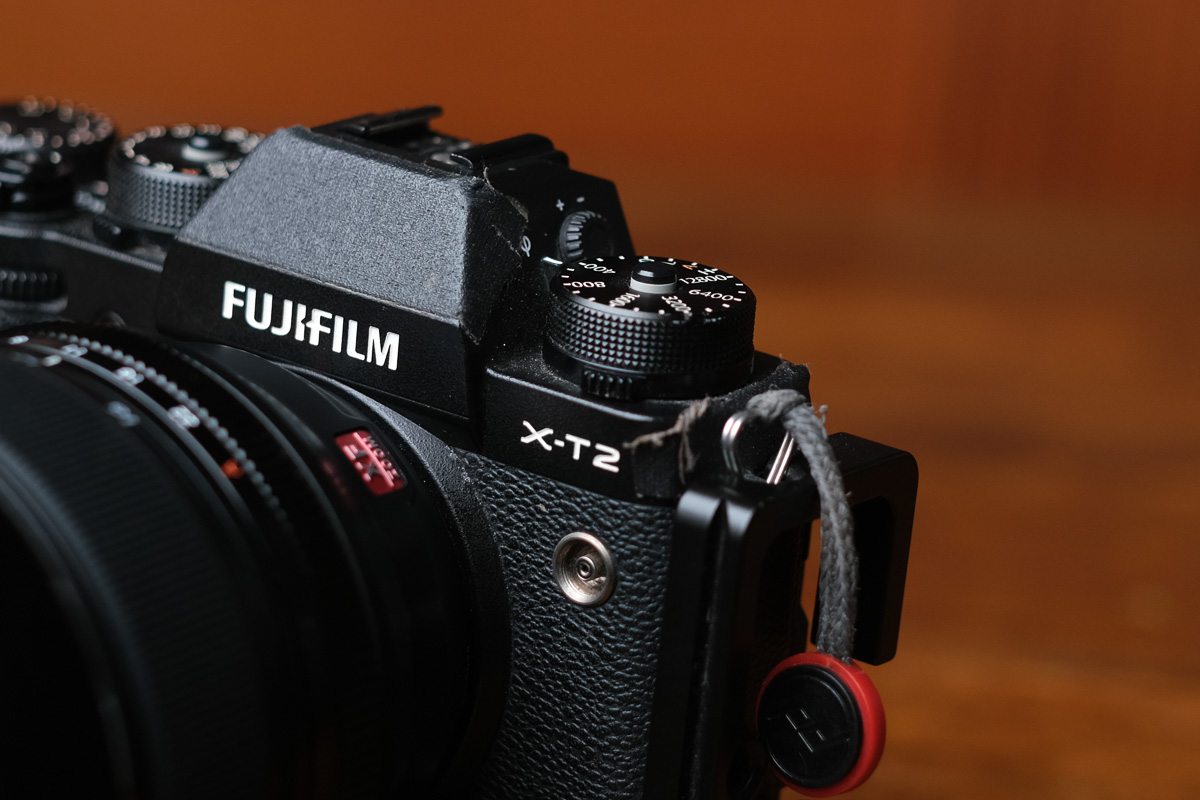 The X-T2 dials are straighter on their sides and larger.
It might prove to be easier to use. But to be honest, I hadn't noticed or felt these changes till it was pointed out in a leak on Fuji Rumors. Going back and comparing the two cameras, it is apparent that what they did was enlarge the drive dial and the metering dial. But they made the ISO and shutter speed dials thinner thus overall keeping the height of the two main selectors the same as it was on the X-T2,  just at 1 mm. They did make the tab on the drive and metering dials larger making it easier to locate by touch which I personally appreciate. Lastly, they gave the diopter adjustment control a push-pull lock. Thank you! No more frustrations with the diopter being moved and your viewfinder out of focus. The selector switches for the small FN and other buttons all have a higher profile and thus easier to find while the camera is up to your eye.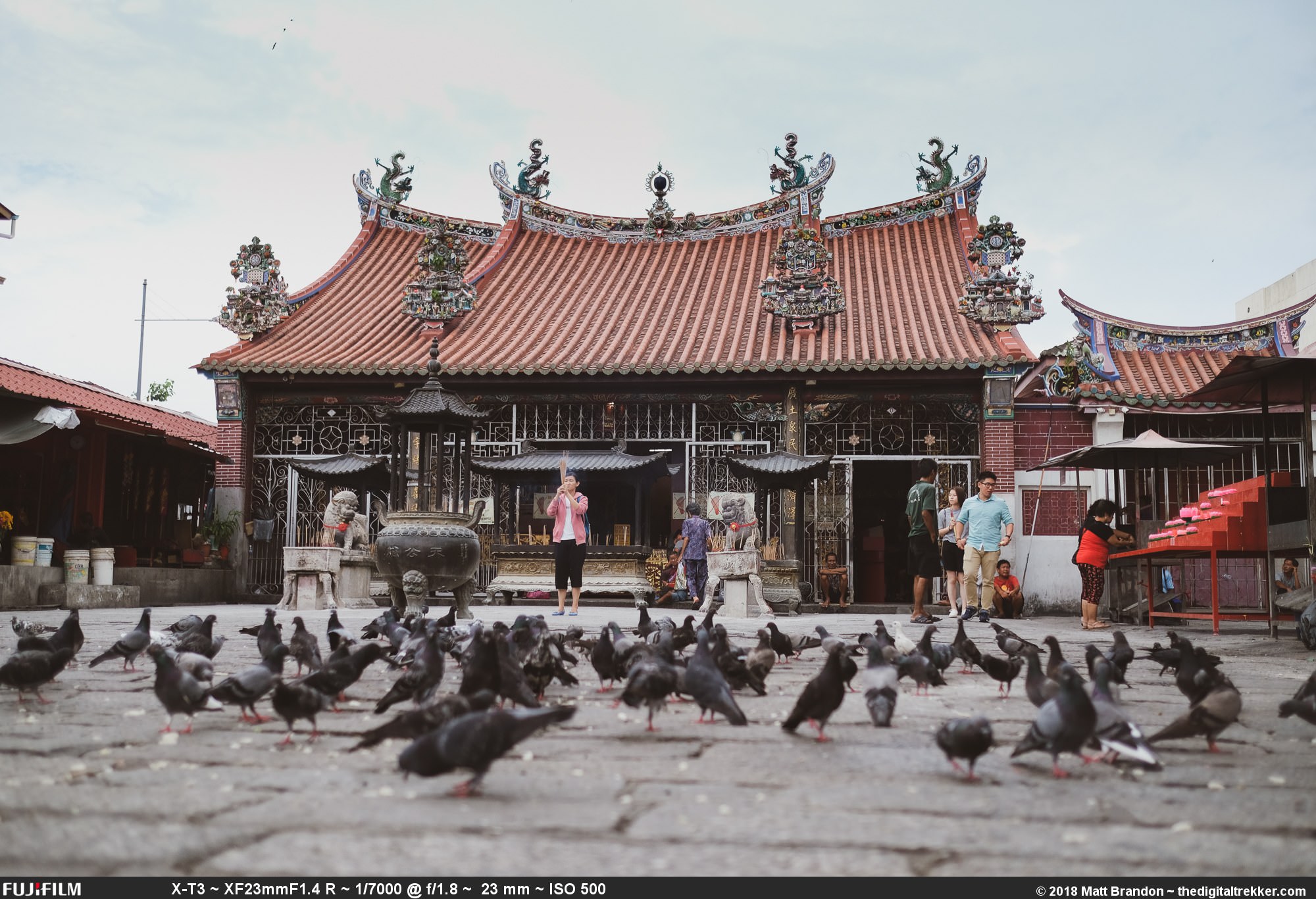 The Kuan Yin Temple (Goddess of Mercy Temple), in Georgetown, Penang, Malaysia.
Over the years Fujifilm has been pushing the boundaries of video in their mirrorless camera. After I bought the GFX, I find I have been using the X-T2 as a video camera more than a still camera. The Fujifilm X-H1 was created with video shooters in mind. Taking what they learned from the H1 they added the ability to shoot 4K video at 60 P. Yesterday I took the X-T3 "video camera" out for a stroll and shot this quick sample footage for you.
Fujifilm X-T3 Specs*
Fujifilm has kept tight lips about the specs of the X-T3. Even those of us that had the camera ahead of the release didn't really know what was in our hands spec wise. On Sept 4th someone leaked them to the public. Here is what was released.
Equipped with BSI (back-illuminated Sensor) "X-Trans CMOS 4"

26.1 million pixels

High-speed image processing engine "X-Processor 4"

By increasing the number of phase difference pixels to about 4 times the current ratio, the image plane phase difference AF area is expanded to virtually 100% of the entire screen area (see photo).

Extended the low illuminance limit of phase difference AF from conventional -1 EV to -3 EV

4K / 60P 4: 2: 0 Compatible with 10-bit SD card recording in the camera.

 

4K / 60P 4: 2: 2 Also supports 10bit HDMI output

"Sports finder mode" function is newly installed.

 

Blackout-free high-speed continuous shooting at the maximum speed of 30 frames per second is possible within a frame equivalent to 16.6 million pixels (1.25 times crop)

Newly equipped "pre-shooting" function that starts shooting from the time when the shutter button is pressed halfway and records the shot image by pressing the shutter button all the way

"Monochrome adjustment" function is newly added to "Film simulation"

"Color Chrome Effect" function is first installed as "X series"

USB Type adopts Type-C (USB 3.1 Gen 1) standard

Standard ISO: 160 to 12800 (extended ISO: 80/100/125/25600/51200)

Continuous: About 11 frames / sec (mechanical shutter), about 30 frames / sec (electronic shutter, 1.25 times crop)

EVF: 0.5 type organic EL finder Approx. 3.69 million dots 0.75 times

Rear liquid crystal: 3.0 type approximately 1.04 million dots 3-way tilt type touch panel liquid crystal

Film simulation: 16 modes (including ETERNA)

Wi-Fi · Bluetooth 4.2 installed

Battery: NP-W126S

The number of storable pictures: approx. 390 pictures (in normal mode)

Size: 132.5 × 92.8 × 58.8 mm

Weight: 539 g (including battery and SD memory card), 489 g (body only)

Colour: Black / Silver

Reservation start date: September 6, 2018

Scheduled to correspond to movie shooting with hybrid log gamma method and "Simultaneous film simulation / F-Log simultaneous output" by firmware update through 2018
In closing, you might be asking yourself, are these changes enough to push you to upgrade from the X-T2 to the X-T3? Maybe. The X-T3 is packed with a lot of new specs, but are they enough to warrant an upgrade from the X-T2? Well, that will ultimately have to be your choice. I have heard a few avid X-T2 users say they are already looking for a used market for their old X-T2. Should you upgrade from your X-T1? Probably. If you have the funds and want faster focusing and a lot more pixels then this is your camera!
By the way, Piet Van den Eynde and I have only one spot left on our Varanasi, India 2019 Location Portraiture and Lighting Master Class. I think we are holding it for you!
2019 Lighting Master Class
Subscribe to my newsletter and be among the first to hear about new workshops.