Light It Up! By Piet Van den Eynde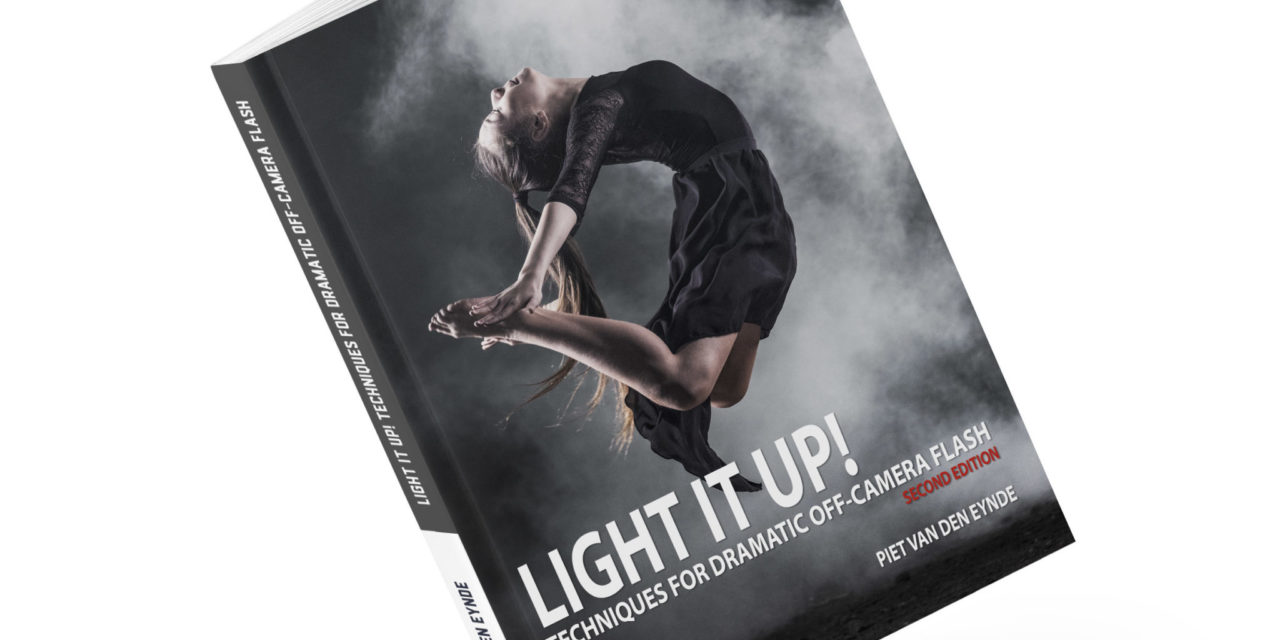 If you've been following me for any amount of time, you will know that flash has intimidated me. Off-camera flash especially so. It always feels like that anything can go wrong and that most of the time it does. You will also know if you've read my blog or emails, that over the years I have come to enjoy off-camera lighting and the number one reason why is Piet (pronounced as 'Pete') Van den Eynde. I have to know Piet for years, and I have watched his journey to becoming the lighting Guru he is today. Piet is widely sought after as an instructor and workshop leader of lighting and in particular off-camera flash.
Every year I try to get Piet to co-lead one or more of my workshops. He and I together run at least one off-camera lighting Master Class a year. This year we ran it in Kolkata and Varanasi and will be doing it again Mongolia. But you don't need to spend $4,000+ to join our Master Class because Piet has just released his comprehensive book on Off camera lighting called "Light It Up! Techniques for Dramatic Off-Camera Flash". Here is a serious book for people who want to up their lighting game.
In this 185 page PDF eBook, he introduces you to the concepts, techniques and gear that are required to create stunning photographs with flash. The eBook is the culmination of over 10 years of experience with real-life location flash in general and off-camera flash in particular.
Take a peek inside the book.
Contents and Chapter list
This tightly-packed, 185 page PDF eBook is structured in 12 chapters. It starts with some basic yet essential concepts and laws that explain how light works the way it does. It then goes on to show you what you can already achieve with minimal gear: one hotshoe flash and an umbrella or softbox. As the book progresses and with it your knowledge about off-camera flash, it explores more advanced topics such as working with more and more powerful lights and using High-Speed Sync. The many behind-the-scenes shots and lighting diagrams let you easily understand how a particular look was created. The book finishes with a unique chapter with specific post-processing tips for flash photography.
0. Introduction (p 6 –  9)
1. Fundamental Properties of Light (p 10 – 14)
2. Fundamental Laws of Flash Light (p 15 – 25)
3. Working with On-Camera Flash (p 26 – 36)
4. Basic Techniques for Using One Off-Camera Flash (37 – 66)
5. Setting up Your Camera for Wireless Off-Camera Flash (67 – 72)
6. An Infallible 10-Step Plan (73 – 77)
7. Case Studies Part I: Using a Limited Setup (78 – 96)
8. More Advanced Techniques (97 – 112)
9. More Advanced Gear (113 – 142)
10. Case Studies Part II: More Advanced Techniques and Setups (143 – 167)
11. Flash Photography and Post-processing (168 – 182)
12. Conclusion (183 –185)
What you learn in this eBook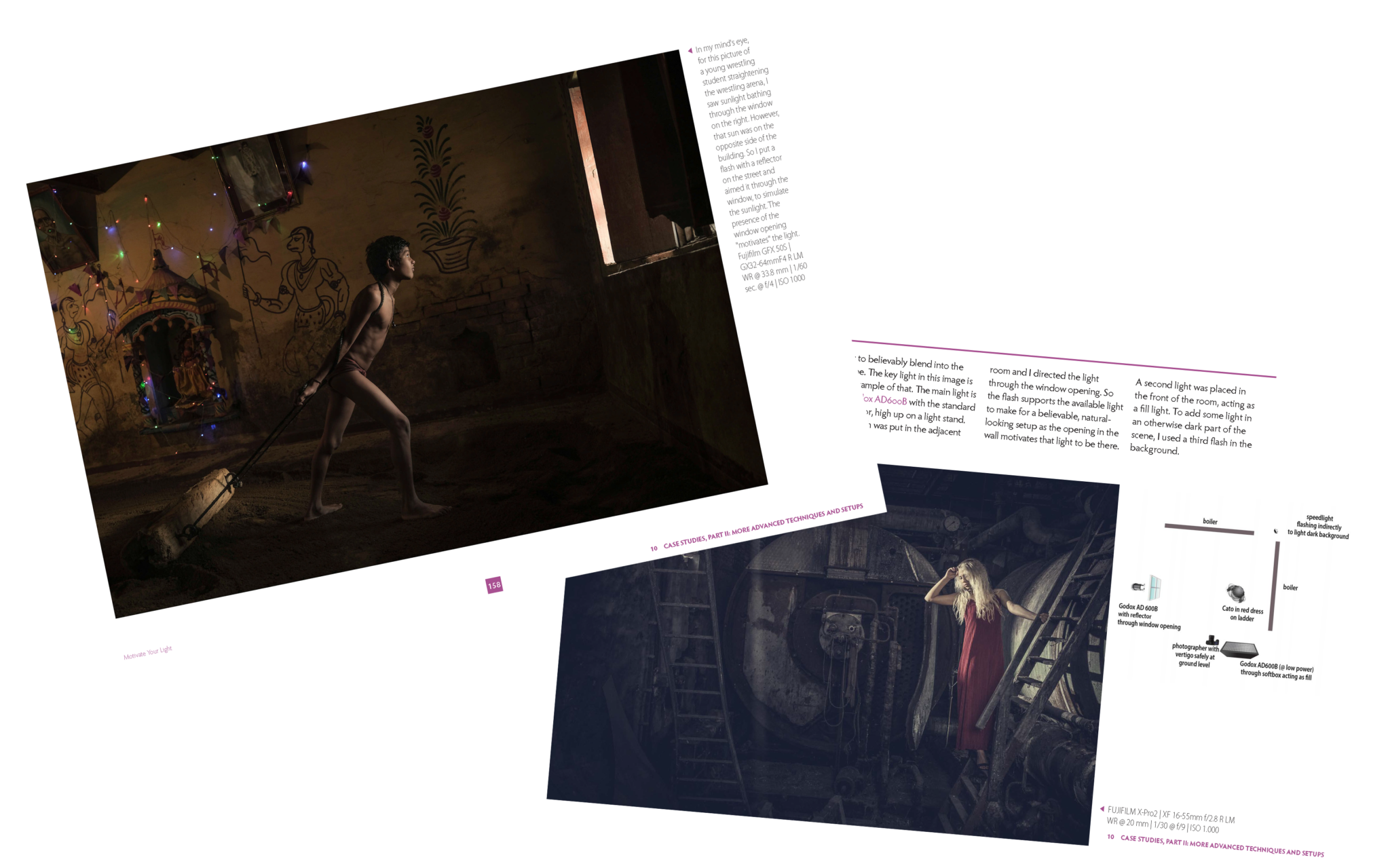 How light behaves the way it does and how you can use the physics of light to your advantage;

Why using flash is not always a matter of increasing the quantity of light but rather changing its quality;

Why the brighter the sun shines, the more you're in need of a flash;

How to save money when shopping for a flash system: the advice in this eBook will save you its purchase price many times over. You really don't need the most expensive flash or softbox. Most images in the book were made with gear that costs less than half of what the big flash brands charge;

How you can get started with off-camera flash by using the built-in flash of your camera as a commander for an external flash;

Why modifiers are more important than the actual lights you use;

Why you should plan ahead when you start buying into a flash system;

How you can create super-rich light on a budget by combining lighting techniques with some basic Photoshop skills.
What people are saying about Light It Up!
Don't just take it from me, let Piet's readers do the talking!
"Don't hesitate. Magnificent book!"
Ronald G.
"I used to use only available light. Now I see the value of adding flash. It simply makes my images stronger."
Kate V.
"Impressively exhaustive. A must on every photographer's digital bookshelf."
Philippe B.
Take
another

 look inside the book.
If you buy Light It Up before April 8th, 2018, using this LINK, you'll not only get a 20 percent discount, but you'll also lock in two valuable pieces of bonus content:
1) a set of three bonus videos totaling 45 minutes in which Piet explains even more about his flash workflow. In the first video, 'For The Birds' you see him creating an iconic image of an Indian Sadhu on the Ganges, from capture to final edit in Photoshop. In the second video, 'Layering Lights', he builds upon the concepts that he explains in the post-processing chapter of the eBook. Finally, in the last bonus video 'Creating Light', he takes you through a number of his images and explains his reasoning and lighting setup.
2) a set of 5 Lightroom presets
I rarely pitch you offers. But this is one I am personally involved with in a way. Piet uses many examples and images from the workshops we have done together to illustrate his points in this book. I feel I was behind the scenes on just about every page. This gives me a insight into the knowledge and skill that Piet brings to this book. You will learn so much if you take advantage of this offer. Especially if you purchase before April 8th and receive the bonus material.
Don't Be Shy
If I didn't answer all of your questions, feel free to drop me a line anytime.