Portraits of Mongolia Pt2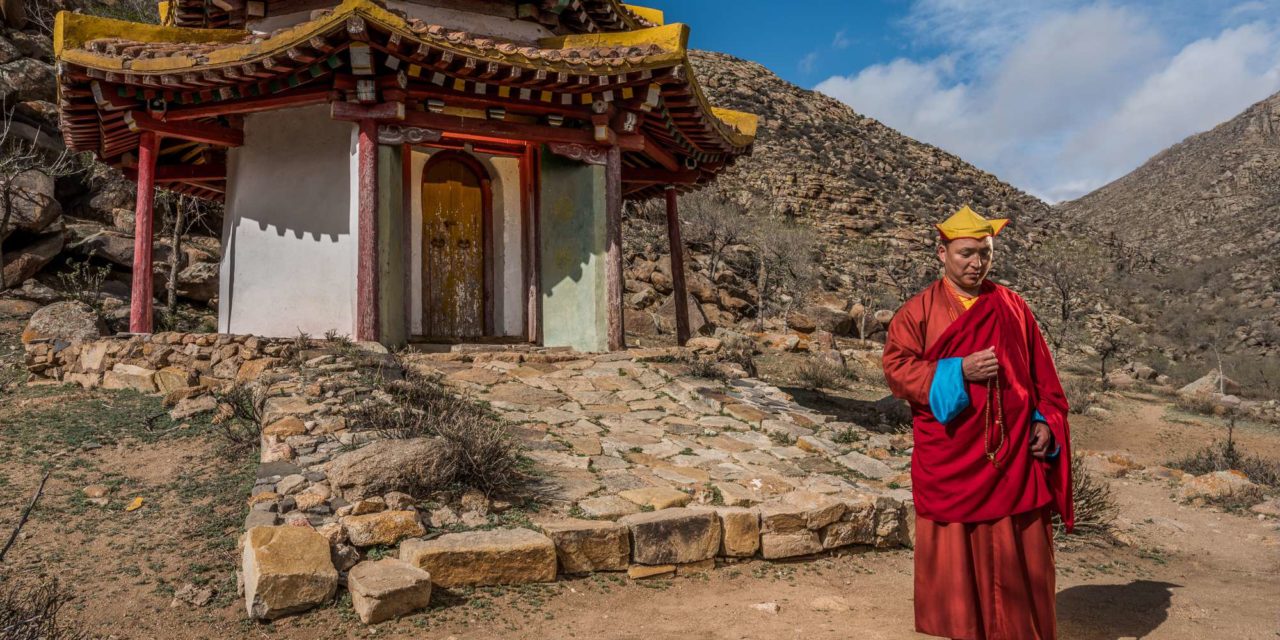 Travel and Humanitarian Photographer
Part one in this three-part series looked at the Khazak Eagle Hunters of Mongolia.  In this second part, I want to look at the last half of this two-week trip. After returning to Ulaanbaatar and to clean sheets and hot showers we had a chance to photograph two retired Mongolian Army Colonels.  These men had a very Soviet area presence about them. In fact, they did serve the Mongolian Army during the Soviet area and had the medals to prove it. We asked them to meet us at the Zaisan Memorial that honors allied Mongolian and Soviet soldiers killed in World War II. 
The whole shoot has a very 1960s vibe about it, thus I processed the images with a feel and look of a photo photographed and processed in those days. I use a Lightroom preset by Totally Rad called, Fuji Pro 160C™ Noritsu This gave me a look and feel I wanted. Frankly, I rarely use presets, I do a few minor adjustments in the Develop Module in Adobe Lightroom to get the look I want. After that, I tend to sync any photos that are shot at the same location and in the light with the processed photo and voila! I don't have a problem with presets, I have plenty, I just don't normally go for anything other than an out of camera feel. Unlike other people I know who I respect and frankly love their processing (Piet 😉 )
The next day we set off for a point West. I say a point because there really wasn't any town around us. Our fixers found this location and the nomads that live there. The countryside was beautiful. It varied from high pink granite hills with monstrous rock walls to Arabian type sand dunes. A nice surprise was the weather changed and it turned warm, almost hot, with daytime temperatures reaching 28ºC or 82ºF.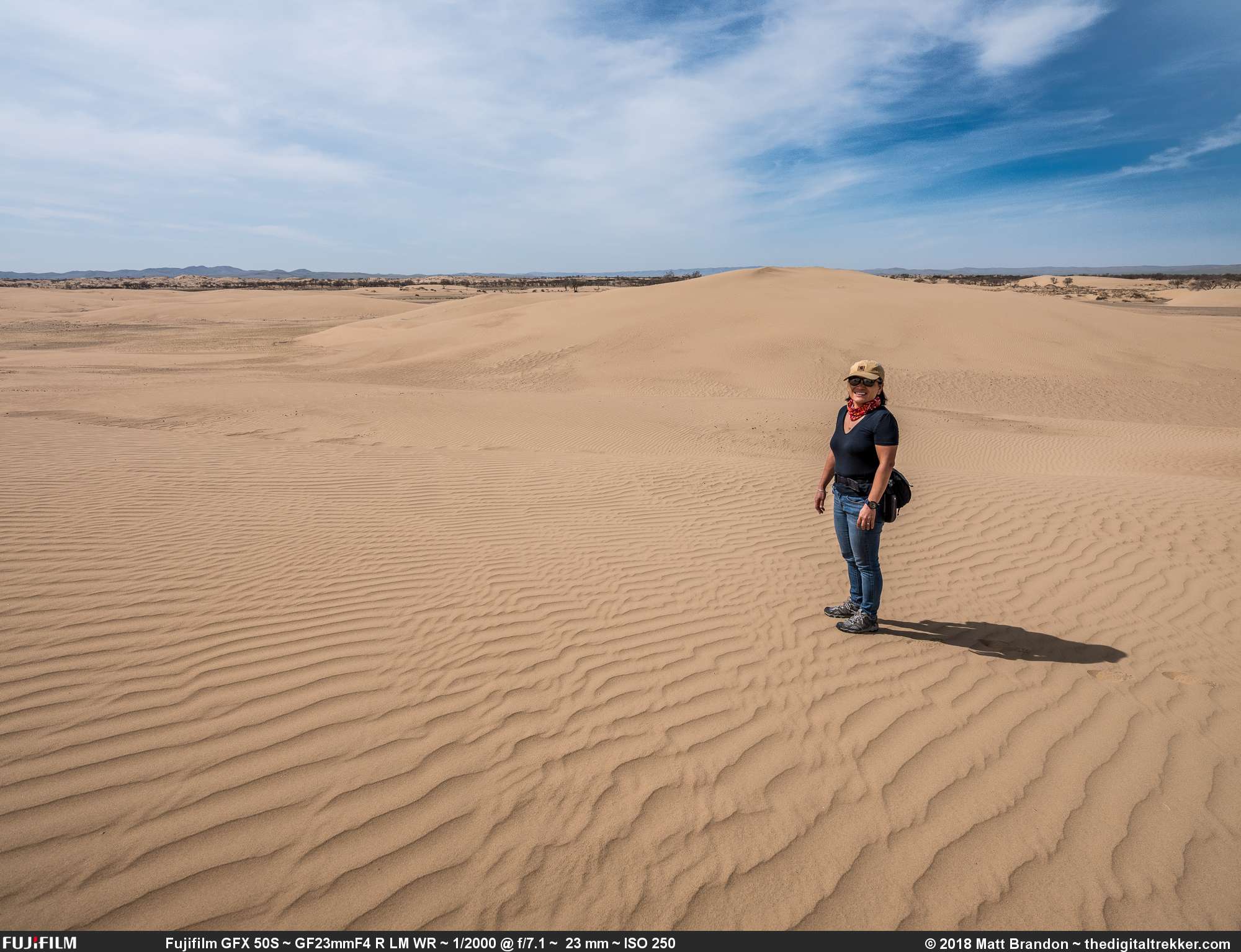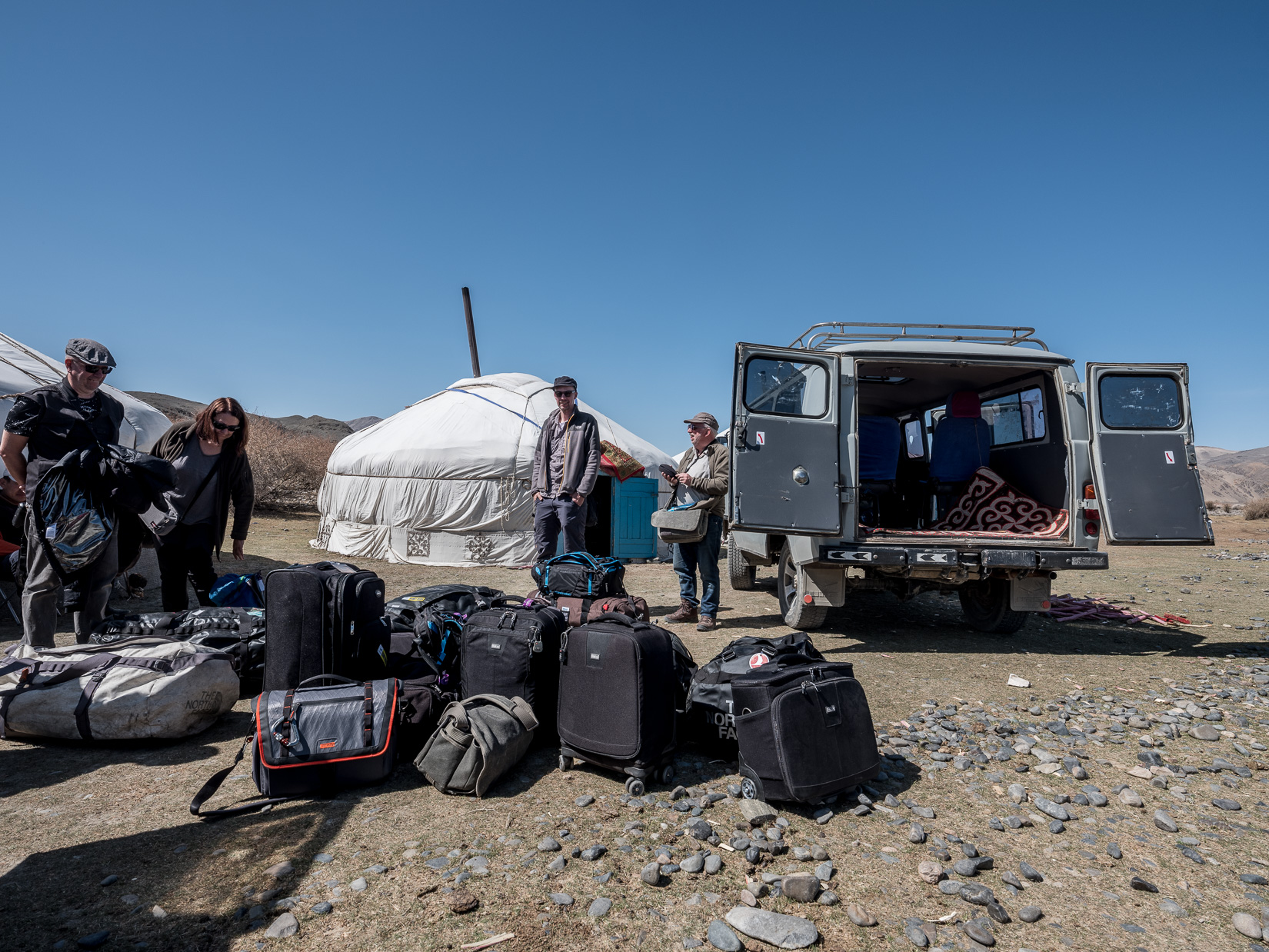 Again, we found ourselves sleeping in ghers or yurts as they are sometimes known. Our first few days were spent scouting and setting up the possible shoots for the days when "talent" arrivrd. Our fixers arraigned photo shoots with two monks and a nomadic family. Whenever you have any talent, from a famous actor to a monk, you want to be ready for them and not have them standing around waiting in the cold or heat.
So we used all other people to stand in while we played with the right lighting and locations. We had Alou, my wife, other participants, and even our drivers all stand or sit while we tried out different lighting scenarios. These times made for great teaching opportunities on how to light a subject, how to set up and choose a location etc… Every opportunity was taken advantage of for instruction and mentorship.
The day the monks arrived the weather turned bitterly cold and cloudy. But that's ok because we were able to simply bundle up make our own light! Thanks to our off-camera flash gear.
After an afternoon of photographing monks the next day, we visited our nomad friends. Here we were able to photograph them with their horses and in their gher. This is real gher life, not a campsite for tourists. We learned some interesting cultural tidbits; for instance, did you know you are supposed to travel through a gher clockwise? Every gher has two center post and it is taboo, to walk between them. There are many other fun little facts but I will save those for when you join us on our next trip.

A 21st-century nomad gher, complete with satellite TV and solar power.
The two door handles at the 16th century Erdene Zuu Monastery.
After photographing monks and nomads we found we had a day to visit the ancient capital of Mongolia, Kharhorum and the site of Mongolia's first Buddhist monastery, Erdene Zuu Monastery. Abtai Sain Khan, one of the key Mongols rulers during the 16th century ordered the construction of the Monastery in 1585 after his meeting with the 3rd Dalai Lama and his declaration of Tibetan Buddhism as the state religion of Mongolia. It was later almost destroyed by the communist during the communist revolution. But today it is both a museum and a functioning monastery.
Soon it was time to say goodbye to Mongolia and head back to Penang for Alou and I. The purpose of this trip was to work out the logistics of the 2019 Mongolia Photo Adventure. If you want more information on this trip as well as when registration will go live, please sign up below for my newsletter. One of the perks of my newsletter subscription is that you will know at least twenty-four hours in advance (if not more) of general the public when registration goes live. So sign up now!
Look for Part 3 where I show you the behind the scenes photos and videos. Learn how we made some of the amazing photographs.
Views of the Erdene Zuu Monastery.
Want to learn more about this workshop and when registration goes live? Subscribe to my newsletter and be among the first to hear about new workshops.