The Rajasthan 2015 Photo Trek
Sold Out!
[restabs responsive="true" icon="true" text="More…" tabcolor="#efefef" tabheadcolor="#262626″ seltabcolor="#5e5e5e" seltabheadcolor="#e8e8e8″ tabhovercolor="#9e9e9e"]
[restab title="Itinerary" active="active"]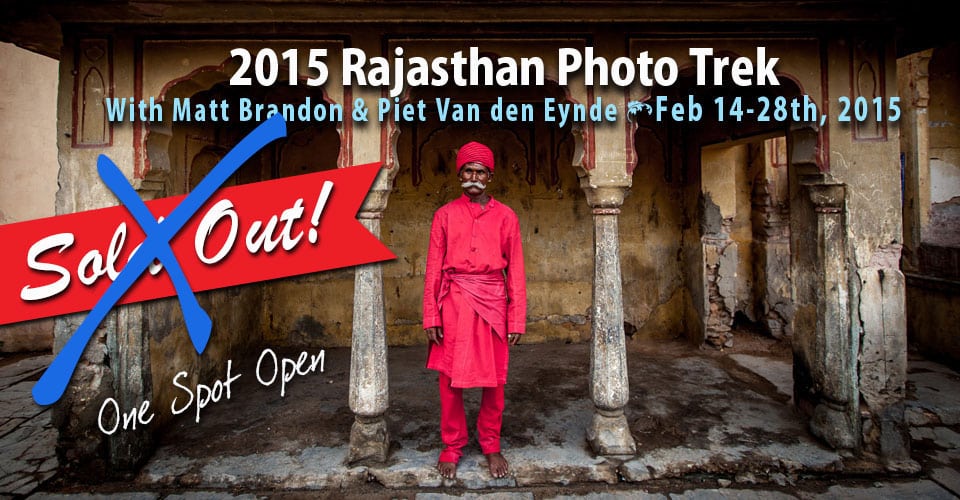 This workshop has been a run-away success. Every year we sell out soon after opening for registration. What sells this trip is the photographic opportunities, the luxurious and exotic accommodations and of course the fact that the student teacher ratio is so high.
We will be traveling through some of the most storybook locations a photographer could hope to visit. There will be an abundance of camels, castles, and color – throughout this trip. We refer to this as a "photographic trek" in that we will be traveling across Rajasthan and stopping all along the way to photograph it's amazing cultures and traditions. We will take time to visit historical locations and our local fixers" will show us things that few travelers get to see. Throughout the trip we will be staying the nights in ancient forts, castles and historic Rajasthani Havelis.
We are calling this a "Photo Trek ". But it is really much more. It is a photo tour with a strong teaching element. Most of the teaching will be done in the field or in the evening in an organic fashion. There will be some actual "classtime". Often there will be times of review and informal teaching in the evenings to cover events from the day and prepare for the next. If you desire a portfolio review, Matt or Piet will take time to give you one. But it must be scheduled early in the trip. Even though we say photo tour there will be no flag toting tour guide to follow in these cities. We've built time in for everyone, those who want one-on-one time with Matt or Piet will get it. Those who want to simply shoot will get it. We've built the tour around flexibility, community, discussion, freedom and your ability to learn what you want from Matt & Piet while also having the opportunity to shoot what you want, it is your trip!
Itinerary:
The places we will visit.
[table caption="2015 Rajasthan Photo Trek Itinerary " width="685″ colwidth="200|200|300″ colalign="left|left|left"]
Date,Location,Description
February 14,New Delhi,Arrival to India
February 15,New Delhi,Visit the Nizamuddin Dargah
February 16,New Delhi,Visit Chandi Chawk and the Jamma Masjid then leave for Jodhpur by train.
February 17,Delhi / Jodhpur,Arrive Jodhpur – Our drivers will meet us at the platform. Welcome to the Blue City of the Rajasthan. Photograph and explore Jodhpur.
February 18,Jodhpur,Walking the City of Jodhpur/ Mehrangarh Fort
February 19,Jodhpur,Visit a Bishnoi village. Lunch with Bishnoi family. Visit the Mehrangarh Fort. Dinner back at the Hotel.
February 20,Jodhpur / Pushkar,After breakfast drive 4.5 hours to Pushkar. Stopping to photograph along the way.
February 21,Pushkar,Roam – relax – sleep and process images. Evening dinner at Pushkar Inn and image critique.
February 22,Pushkar / Pachewar,Drive to Pachewar Fort. Lunch on the fort grounds then a guided tour of the city.
February 23,Pachewar / Jaipur,Drive to Jaipur the Pink CIty. The rose‑pink capital of Rajasthan is surrounded on all sides by rugged hills crowned with forts.
February 24,Jaipur,8:00am photo walk of Amber City. Afternoon at Monkey Temple (Galta Ji).
February 25,Jaipur,Jantar Mantar and walk the Chand Pole (the old city).
February 26,Jaipur / Neemrana,Drive to Neemrana Fort. Visit the Neemrana Stepwell.
February 27,Neemrana,Visit the Kali Temple and Snake Charmers village.
February 28,Neemrana / Delhi,Drive back to Delhi and catch your flight home.,
[/table]
Our trip starts off in New Delhi where we will visit some famous shrines and markets. After Delhi we will proceed by train overnight to Jodhpur, Rajasthan also called the "Blue City". Jodhpur stands on a range of sandstone hills surrounded by a strong wall. Dominating the city is a massive fortress. Very near Jodhpur are the Bishnoi settlements, the eco soldiers. Unique and highly photogenic, these shepherds and farmers live simple lives that we will be able to photograph. From Jodhpur we travel to Pushkar, a friendly town built around the edge of the small Pushkar Lake with its many bathing ghats and temples. For Hindus, Pushkar is a very important pilgrimage center where you will find plenty of sadhus. After Pushkar, we travel to the small village of Pachewar where we will photograph village life. Then on to Jaipur, the "Pink City", the capital of Rajasthan. Surrounded on all sides by rugged hills, crowned with forts. Enclosed by embattled walls, the city was built in the early eighteenth century. While staying in Jaipur we will make the excursion to city of Amber to visit it's ancient fort and the amazing Amber Step Well. After Jaipur we drive down the road 3 hours where we will stay our last two nights at a 15th century Neemrana Fort Palace.
[/restab]
[restab title="Price & Dates"]
Dates:
February 14th – February 28, 2015
Trip limited to 9 participants.
We are offering participants a special discounted rate if they pay with check, money order or bank draft. All checks or money orders must be made in US dollars.
We must receive at least a 50% deposit in order to hold your spot on the workshop. This workshop is booked on a first come, first served bases.
Payment made through Paypal:
Total Cost: 
$5,499
50% Deposit:
 $2749.50
Payment made through check, money order or bank draft:
Total Cost:
$5,399.00
(This is $100 off!)
50% Deposit:
$2699.50
What does this price include?
A heck of a lot!
14 days of personal instruction by Matt Brandon & Piet Van den Eynde
A private room in India's amazing heritage properties
Breakfast, lunch and dinner
Drinking water
All ground transportation
A local SIM card with a limited data plan
Local support staff
Models for class time
Model's fee
Local guides and fixers in some locations
 What does this price not include?
Sodas, coffee, tea alcohol ect.
Tips to, porters, models and guides
Terms and Conditions
All rates are quotes in U.S. Dollars.
All rates are subject to taxes and fees where applicable.
All rates, dates, taxes and fees are subject to change without notice.
All payments must be made in U.S. Funds. Any fees associated with wire transfers or currency exchange, are the responsibility of the customer.
Rates are quoted per person for tour/workshop activities.
[/restab]
[restab title="Accommodations"]
Accommodations:
Don't worry about roughing it on this trip to India, because you won't be. Participants in this workshop will be staying at some of the most beautiful heritage resorts and accommodations in India. From the 15th century Nemranna Fort Palace (above) to the beautiful stylized Rajput architecture of the Khandela Haveli in Jaipur. These heritage properties have been chosen specifically to give our participants the rest and relaxation that they need, all the while being immersed in the heritage and culture of Rajasthan.
[/restab]
[restab title="Your leaders"]
Matt Brandon
Matt is a Malaysia based humanitarian and travel photographer, who collaborates with NGOs to tell their stories and to train their field staff to do the same. Well known as a photographer and international workshop instructor, Matt's images have been used by clients such as Partner Aid International, NeighborWorks, the BBC, Honda Motor Corporation, and Bombadier Transport Corporation, Asian Geographic and others. His photographic pursuits have taken him to India, Indonesia, Thailand, Maldives, Philippines, Cambodia, Egypt, Africa, Malaysia and more. Matt also is known for teaching presenters how to present their message in the most effective and memorable way. This makes Matt a great teacher to any workshop or classroom. Matt is also on the advisory board for Focus for Humanity and on the design board for Think Tank, a camera bag manufacturer.
Piet Van den Eynde
Piet is a Belgian freelance travel and documentary photographer. In 2009, he put his camera, a flash and a couple of lenses in his bicycle panniers and set off for a one year trip through Turkey, Iran, India and Indonesia. When he's not photographing, Piet is writing books and eBooks on practical photography and post processing: he's also an Adobe Lightroom Certified Expert and he has written a number of eBooks for David duChemin's Craft & Vision label
[/restab]
[restab title="Participant's Work"]
[/restab]
[restab title="Testimonials"]
"Just a few words to tell you how much I enjoyed the Rajasthan Photo Trek. I am coming back with a bunch of images that I do not believe I would have been capable to take had I not been on the workshop. I genuinely appreciated your hands-on approach, the tips and tricks that you provided spontaneously and your availability at all times to spend one-on-one time, not to mention your eye for photogenic detail and your generosity in drawing the participants' attention to photographic opportunities that they were overlooking. On this latter point, the fact that you almost did not shoot yourself, preferring to focus on the efforts and improvement of the skills of your students, proved invaluable. One thing that I also particularly found useful were the assignments that you gave us every day and the critique that the entire group and yourself then made of everyone's images : this helped understanding where the room for improvement was or, alternatively, what it was that made our images good images. Finally, Piet's presence as a guest instructor was a huge bonus : his willingness and his enthusiasm for helping us out on post processing matters were equally invaluable.
Lastly, your immense sense of humor and your ability to take your job (as well as jokes!) seriously but not yourself significantly contributed to making incredibly cohesive a group composed of a variety of ages, skill levels and geographic origin – and that was not the least success of this trip with you."
-Vincent Dirckx
I came hungry for images and stories, and eager to improve my photo technique and storytelling skills. I feasted for two weeks on an incredible buffet of professional excellence, visual excitement, stimulating assignments and personal coaching. This workshop takes you beyond photography: above all Matt teaches by example how to discover, respect, explore, embrace and document the culture, the people and the daily life of the host country. Piet's expertise in post-processing and off-camera lighting tips provide further value for refining our images to perfectly reflect what we saw at the moment of capture. People are at the heart of the program. This not only shows in the approach of the subject matter, but equally in the welcoming and caring support from the workshop leaders. It did not take long for us to travel as a close and joyful troop.
-René Delbar
"As a first timer on anything like this, I can only say that the bar for any future tours has been set extremely high! Matt's patience, individual attention, knowledge and teaching skills left nothing to be desired. The daily group critiques added to the experience, reinforcing learnings from the assignments, assisting with improvement and helping understand image shortfalls, all these leading to a noticeable improvement in my personal images. Finally the addition of Piet as guest Photographer / Lightroom Guru, and Alou's logistical planning, assistance with all things non photo and keen eye made this a truly unforgettable experience. I look forward to another in the future. Thank you!"
-Eric Bunn
Matt & Piet have created a culturally sensitive, learning-oriented workshop that opens up Rajasthan for photographers keen to create memorable images & hone their photographic craft.
-Fernando Gros
"I had such a wonderful time on Matt's 2013 Rajasthan Photo Trek and Workshop that I would love to go back and do it all over again. Yes, all of it! Two weeks of fun, photography, laughter, discovery, and pure enjoyment, along with excellent company and delicious food — I can't imagine a better introduction to India. Best of all, the photographic learning experience was priceless: Matt is an inspiring teacher and mentor who really cares about helping his students push their boundaries and learn how to create better images, while Piet's expert assistance with workflow and post-processing issues was a real bonus. Highly recommended!"
-Andrée Lawrey
This workshop was everything I expected and more than I hoped for! Matt and Piet did a great job of reinforcing the basics and helping me explore new areas in my photography. Rajasthan was the perfect backdrop for shooting a wide variety of pictures and wonderfully diverse cultural experience. I'm already thinking about taking another trip with them!
–George Neill
"This workshop was a great mix of education and fun. It's been great to laugh and learn at the same time. You and Pete went beyond just teaching us techniques and photo skills. You shared with us your passion about travel photography. You taught us what to look for, where to look for it and how to make it happen. You pushed us out of our comfort zones by trying out new things and becoming better photographers.
I have come away with priceless memories, great shots and having met some wonderful people from all around the world with whom I'd sign up again for another workshop."
-Melinda Blanchot
"As a first time photo tour participant and reasonably new to photography, the tour surpassed any expectations I had. I was made to feel an important part of the tour, despite not being at the same level of photography as some of the others. That lack of experience worried me before I met you, but your method of guiding allayed any fears I had. I have come away the knowledge and ability of new techniques, not afraid to lie down in dirt to get 'that' special shot and above all learnt patience to wait for that someone or something to walk into my point of view, enabling me to tell the story I want others to see. Once again, thank you and I will be definitely joining you again on another photographic journey in the future."
-Brendan White
Don't hesitate to subscribe to this workshop! Matt and Piet are great instructors who generously share their time and knowledge with all participants (novices and seasoned photographers alike). You will be given daily assignements on this tour which are optional but help you so much if you accomplish them and listen with an open mind to all the useful feedback you are getting during the critique sessions. And they are just fun to do too.
Matt seemed at first to be a magnet who magically attracts photogenic situations but don't be mistaken: the man knows how to create photographic opportunities and how to share them with other photographers. Piet's skills are complimentary with Matt's as he is an expert in postprocessing and the use of off-camera flash. (But don't underestimate Piet as a photographer). And last but not least: these guys are warm and caring human beings just as Matt's wife Alou who takes care of all the logistics and even buys you water and soft drinks so you can concentrate on becoming a better photographer while enjoying a fascinating country.
–Dannie Goossens
[/restab][/restabs]