In The News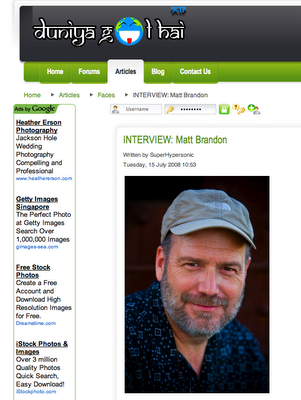 I am sorry it has been so long in posting. I have been up to my gills in setting up house, getting insurance and finding transportation. I should have a phone line with in 7 days with significant internet speed, or so they tell me. It had better be for price I am paying. I am looking forward to meeting with Grungeman with week. We are going out for some Teh Tarek and shoot some photos together.
I am in the news this week so I thought I would do a little honking of my own horn today. Check out an interview done with me by a new website on India and travel called duniyagolhai.com (the world is round). Here is a short excerpt:
2. How in your opinion traveling influences the art of photography?

MB:I think traveling has had a significant influence in photography over the past 10 to 15 years. The fact that people can travel more, longer and further is a huge factor. People are going places today that were once thought only accessible by National Geographic Photographers or highly funded adventurists. It used to be that a unique image was good enough, now very little is unique so an image has to be exceptional. It needs to tell a story, communicate the vision of the photographer.There are a lot fewer barriers today for a traveling photographer than 15 years ago.Almost everyone has a digital camera and a photo lab in their computer. All these things have had a huge impact on photography today….

3. Your documentation of Kashmir is unique in capturing the soul of the place rather than the oft-reported violence. What motivated you to present the humane side of the place?

MB:There are so many photographers covering the conflict in Kashmir and doing a much better job than I could. I look at the work of Ami Vitale and am moved to tears. Her work is amazing, so why should I cover what is already being done so exceptionally well? I have always felt I wanted to show a compassionate side of the Kashmiri and Gujjar people. I am from the US and over the past few years since 911, many people in the West have developed a negative view of Muslims…..
Visit the link HERE to read the whole of the interview.
I received word that the fine people at the Indian Himalayan Club published a book review on my book "Kashmir, the Mystery". Below is an excerpt from the review.
Kãshmir: The Mystery, published by Tara Press, New Delhi, with photographs by Matt Brandon and text by Marryam H. Reshii, is a fabulous and insightful collection of photographs that brings out the beauty and ethos of Kashmir in its entirety.

The photographer's intimate connection with the land and its inhabitants, both human and animal, is very obvious from the type and quality of photographs, and Marryam Reshii's authoritative text complements the photographs and provides a window into Kashmiriyat—the Kashmiri culture and society. Concentrating on the Kashmir Valley only, making it unique, this splendid book fills a big lacuna in the set of existing books on Kashmir.
For the full review go HERE and look for the Himalayan Club e-letter, vol. 13, July 2008.
FaceBook Comments
comments