FAQ: How do you photograph people? How do you approach them?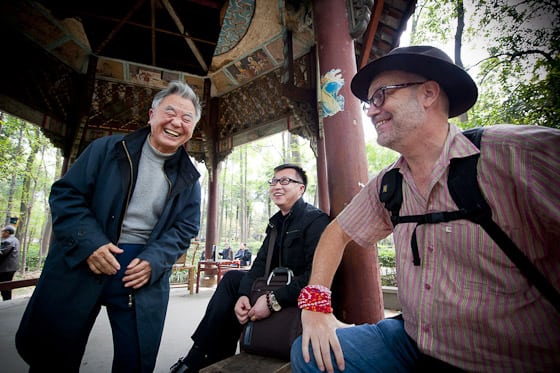 Today I thought I would do something a little different and answer a readers question online. The reason is his question is probably the most common question I get asked by other photographers; "How do you photograph people? How do you approach them?" I get this from newbie and veteran professionals alike.  Here is the question as posed by James:
Hi Matt,
I recently came across your website and am really impressed with the environmental portraits you're creating. As a college student in the States, I'm planning a trip in the next six months to Egypt and will be photographing anything and everything in sight while I'm there. I'm hoping that this will include some of the memorable people I come across. I have a fair amount of confidence in my technical ability, but psychologically I feel like I have some sort of block when it comes to taking pictures of strangers. Do you ever have any issues with this? How do you generally approach people to take their pictures without upsetting them or freaking them out? Also, I read that you speak three languages so this probably isn't as much of an issue with you, but have you ever traveled to a country whose language you don't speak and photographed people? If so, do you have any tips for crossing the language barrier? Any advice at all would be greatly appreciated. I'm not sure what makes me so nervous about doing this, but it just seems people are inherently distrustful of a guy with a camera in his hands.

Best,
James
Dear James,
Thanks for dropping by my site. I wish I had a complex technique to tell you to do like, take two steps forward and then one step back turn and shoot. But I just don't. That is not to say there are not things you can do to improve your image whilst shooting. But in general, the short and sweet answer is boiled down to simply be bolder and take risks, be polite and be ready for the moment.
The most difficult of this list is the first one. Most of us have fears of approaching people and asking them if we can take their photograph. I am not sure why that is. Maybe it is the insecure inner self that fears rejection. Psychobabble aside! Whatever the reason, we need to get over it if we want to take a good picture. What is the worst that can happen? The subject will say, "no." I have news for you; if you are shooting in Asia the chances are they will smile and nod their head with a yes, and you are good to go. One easy way to approach people is to first start a quick conversation. I don't mean looking them in the eyes and try to have an intimate conversation for 30 minute. What I mean is simply connect with them. Try observing their environment and comment on it. "So how long have you been making this …" or "I bet this takes a lot of talent to stitch this…" The idea is to engage them. Treat them as people not like a tourist attraction. So what happens if I don't know the language? Then communicate the same kind of interest but with a smile, a nod and gestures. Believe, you will be surprised how easy it works. I shoot in Thailand a lot, yet my Thai (isn't that a drink?) is limited to hello and thank you. But I always seem to come back with a few decent images.
Be polite. out of a full day of shooting I think over half of the people I photograph I will have had some sort of interaction and that leads to me asking them either verbally or with a point to my camera if I can shoot their image. It is good to clarify here that I don't ask everyone. If there is a man running a printing press or digging a ditch, I want that action. But, if I stop his work to engage him and get his permission, I have stopped the action and changed the scene and thus lost the shot. In this situation I shoot first then smile and if they seem to smile back I might hover about and shoot some more and explore the angles and the light. But if I get a disapproving look or an outright no, be it verbally or with a gesture I respect that and move on.  I believe strongly that I am the guest and I must respect the subject in every way I can.
The last thing (and I am sure there other points I just cant think of them at this moment) is be ready for the moment. You have to be something of a sociologist and observe human behavior and patterns. When I look at a scene I can guess where someone is going to walk and be ready for them. I can watch someone talking and know their might be a gesture on the way and be ready for it. I know if I squat down with my 5D with a 70-200 white monster on it I am going to change the moment and it will be lost quickly, so I want to have my settings ready. My aperture, my AF point predetermined and my composition already figured out in my head. Then I move in. I take the shot and smile. You have to know your camera and how it works. It is that whole Zen thing that Michael Freeman writes about in The Photographer's Eye. ((Freeman, Michael The Photographer's Eye: Composition and Design for Better Digital Photos Focal Press, 2007: 164)) You need to know your gear and then forget all you know and make it second nature. Have your gear ready and anticipate the gesture.
So this is about all there is. It is not rocket science. It is 70% guts, 20% knowing people and anticipating the gesture and 10% knowing your gear and being ready. Do these simple things and you will be amazed at the quality of images you will capture.
I hope this helps you James, and have a great trip.
Matt
FaceBook Comments
comments