Halabja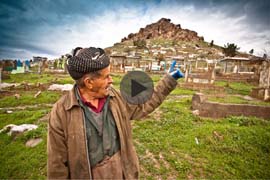 I have made it back home. Back to my wife and my child and my bed. I am going to take a few days to try to reconnect and get my health better. I had rough case of bronchitis the whole time I was gone. Physically this was one of the hardest I have ever been on.
A few quick points. In the next few days I will be posting two of the essays my students made. I know you will enjoy them.
The last day my students; the folks from Millennium and the Preemptive Love Coalition took us to Halabja. My guess is you have never even heard of it. You probably know it, just not by name. Halabja was the Kudish village that Saddam Hussein bombed with mustard gas. Actually three tyes of gas. You probably didn't know that he gave the gas was fruit scented so that the kids would breathe it in deeply. Experts think that Saddam Hussein's 281 chemical attacks and experiments on the Kurds of northern Iraq contribute to the high rate of life-threatening heart disease among children in the region today. Enter the Preemptive Love Coalition. Jeremy & Jessica Courtney along with Ruth Simpson and others work to bring life saving surgery for these kids. Jessica made a touching essay that I will be posting in the next day or two  Until then here are some quick snaps from my day at Halabja. By the way, Chemical Ali, Saddam's master mind behind the attacks, was executed just two days before I arrived.
FaceBook Comments
comments