Depth of Field: Gary & Vivian Chapman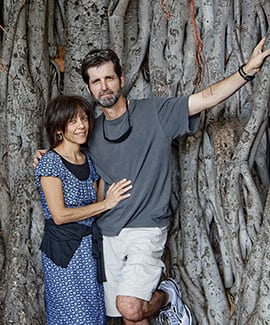 Gary S Chapman and wife Vivian Chapman's  goal is to help non-government organizations communicate with the public through stunning images. This is particularly important for NGOs working with disasters, or in areas of development. They are very good at it! Gary, originally a journalist for top rags like Louisville Courier Journal, brings a real photojournalist bent to his images. His images are dynamic and full of emotion, and bring the viewer to a sense of compassion. His client list is long, with names like GEO, Time, Life, National Geographic Traveler, and others. His stock work is represented through Getty.
This is the first time I've had a chance to interview a husband and wife team. Vivian, whose wonderful laugh permeates this interview, is described by Gary as the "brains of the outfit". By having them both at the microphone you get a balanced sense of what it takes to run a business that takes you around the world.
Please visit Gary's website HERE and his blog HERE.
[audio:http://traffic.libsyn.com/depthoffield/Gary_Chapman_DoF.mp3|titles=Depth of Field|artists=Matt Brandon and Gary & Vivian Chapman]
FaceBook Comments
comments