March Wallpaper: Give Peace a Shot with IGVP!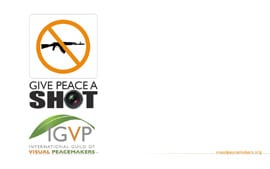 This month's wallpaper is courtesy of the International Guild of Visual Peacemakers. I am a member of several guilds and organizations, but there is none that I feel more proud to be a part of than the IGVP. Not only because I share membership with noted photographers like Ami Vitale, David duChemin, Gavin Gough and others, but because of what it stands for. To quote from the IGVP about page:
IGVP is a membership-based network of visual communicators and staff united around one purpose: Visual Peacemaking. We are an international community composed of multiple ethnic and religious backgrounds. IGVP visual communicators use their craft to breakdown stereotypes of the "other," to display the dignity of cultures, and to show the common humanity amongst peoples of the world.
This month is the run up for the official start to the guild in all it's glory. On April 15st membership will begin for community members and the new, very cool, website will be release around the same time. Download this month's "Give Peace a Shot" desktop wallpaper and join me and other of the IGVP community as we Shoot for Peace.
FaceBook Comments
comments