What's all this talk about vision?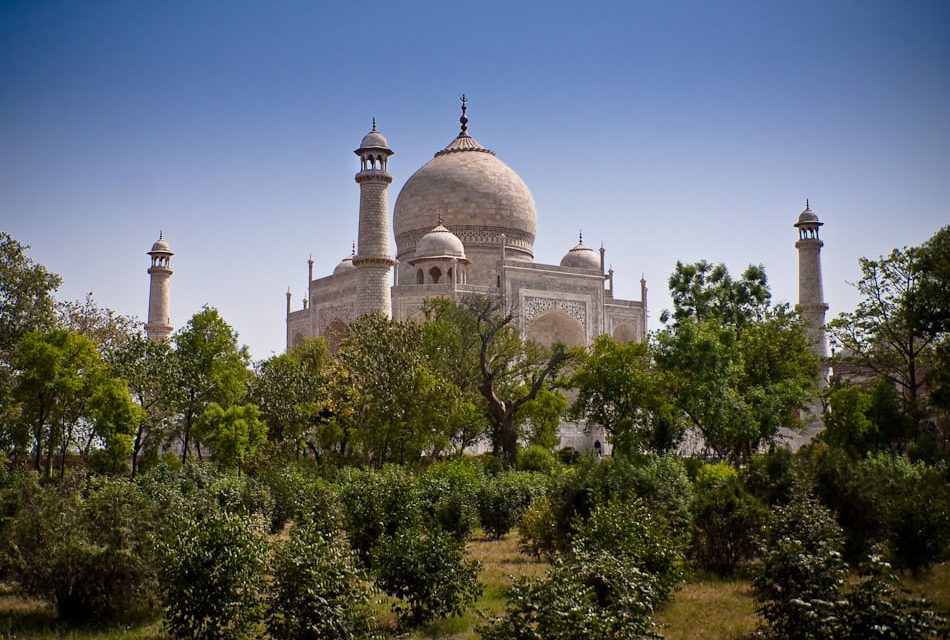 What's all this talk about vision?
The Taj Mahal from the forest.
Photograph by Matt Brandon
I don't even know where this post is going. Partly, I'm posting out of discipline. Partly, I'm posting because I know there's something in my brain that needs to be said; I just can't put my finger on it.
Vision, vision, vision, all this talk about vision. Very few people actually define what they mean when they speak of vision and when they do, it's often so esoteric you walk away not knowing if you just heard an artist or politician. So let me give you my take on what vision is. I'm sure I'm going to get all kinds of folks chiming in to tell me I'm either wrong or I'm limiting things. And maybe that I just don't get it.
The way I see it, we use the word vision because it has to do with what we see. As photographers what we see is everything. Simply put, vision is the way we view our subject. Ay, there's the rub!1The phrase is Shakespeare's. It comes from Hamlet's famous "To be or not to be" soliloquy., as Shakespeare would say:  two people can stand side-by-side viewing the same subject and see something completely different. I could stand next to someone while looking at the Taj Mahal and we could see two different things. Really. Oh sure, we both will see a big domed white marble building, but what is it communicating? I might see it as a beautiful monument to love. And the person next to me sees it as a cruel king's enslavement of the masses. Maybe someone else might see it as architecturally edgy for the time, paving a new direction in design. So what is it that you see when you walk the streets of Old Delhi? Do you see people struggling to make a living? Masses of poor people? Do you see ancient architecture rich with history? Maybe you see the underbelly of industry in India. It's like this whether you're in India or walking the streets of Dallas, Texas. What you see is unique to you.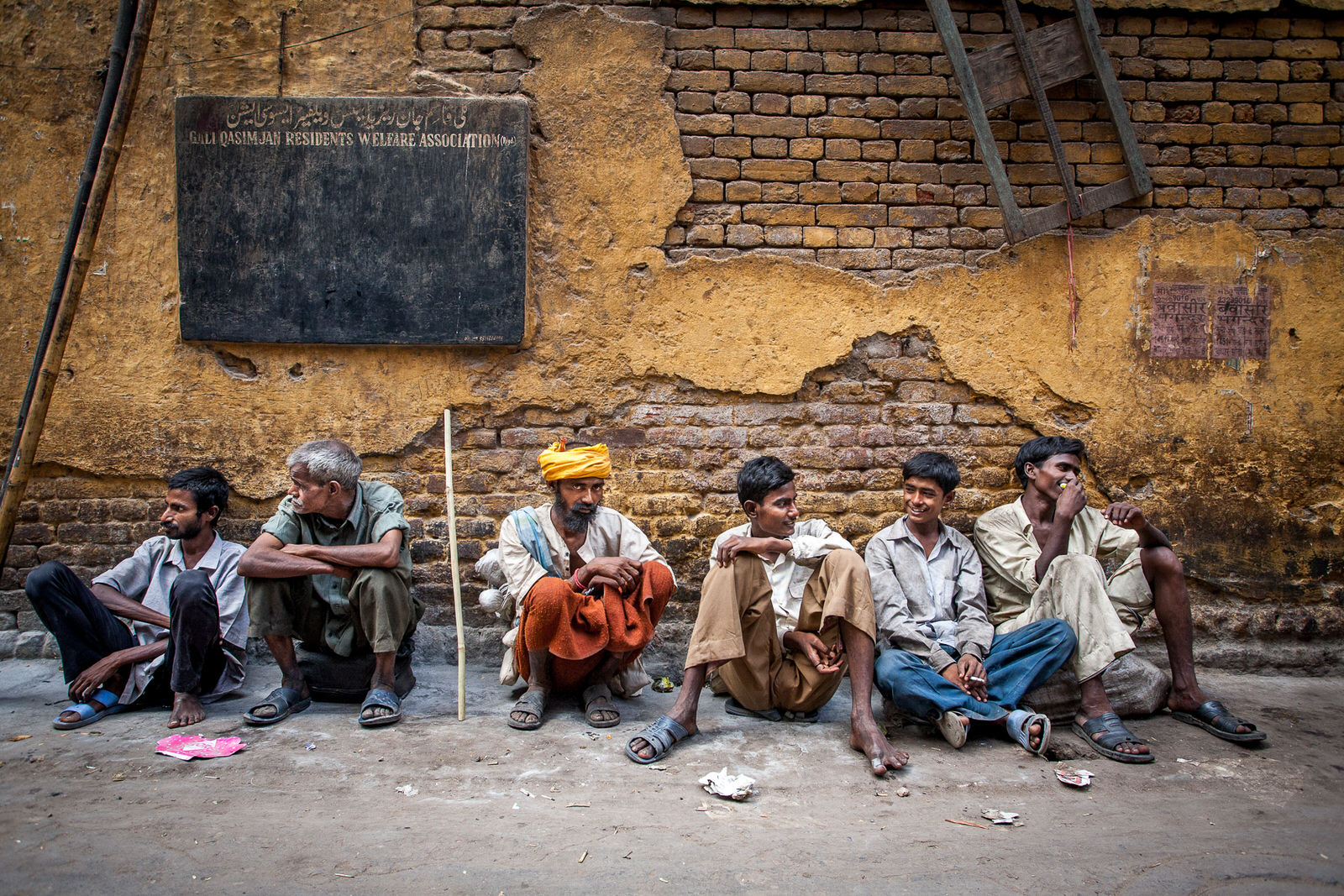 Day laybours in Old Delhi waitng for work.
Photograph by Matt Brandon
So you have to find a way to communicate what you see through the images you take. What makes this hard, and I'll confess that I'm right here with you, is oftentimes we aren't in touch with what we are seeing. When I go to a new place to photograph, I find it very difficult the first few days to capture any images that say anything about the way I feel about the place. Mainly because I know very little about the place and my vision is not developed. Oh sure, I've done my research (hopefully). Research can inform your vision, influence it, but it shouldn't dictate your vision. You need to get out and smell, touch, look (best done without a camera IMHO) and most importantly talk to people. What are the stories they are living? What are their dreams? What's important to them? This is very hard to do. And quite frankly, not done very often.
What happens is, we do our research and we come predisposed with ideas and opinions. We listened to people that maybe have only a fraction more experience in the environment that were photographing than we do and we let them help form our vision. This is unfair, both to the people, the place we are shooting and to ourselves.
"
We can only be as unbiased and fair as our information will allow us to be. Our vision will then have to be flawed, but it will be ours."
Here's another added wrinkle to finding your vision:  your vision is almost always influenced by your worldview. If your worldview at the core is selfish and suspicious, then you will view the world through those eyes and your photographic vision will reflect it. I'll make this even harder. Your vision will be influenced even by something as small as the amount of sleep you've gotten the night before. Really. There have been several times, that I have not had a good night's rest and woke up frustrated and grumpy. I walk the streets of the place I'm photographing with the heart of a curmudgeon. Later, I look at my images and I wonder why I shot what I shot. My worldview and my general attitude influence the way I view the people around me and that defines my photographic vision. Why would I see the Taj Mahal as a monument to love if I was feeling unloved or didn't feel there was love in the world? Humbug! Of course, it works the other way as well, if my general attitude is that of rainbows and daisies, this will also influence the way that I see things.
I remember when I first moved to Kashmir and met the shepherd people called the Gujjars. I thought they were amazing, incredibly romantic with their long flowing shalwar kameez and beautifully wrapped turbans walking the trails of the Himalaya. They could do no wrong. How could they, they were the stuff of fairytales and adventures. Then many years later, after living with them and among them, I saw them for who they were:  people, just people—but with really cool clothes. People made up of good and bad. Indeed, they could do wrong, I found that out after one young Gujjar boy stole a backpack from my camp. My point here is not that Gujjars are good or bad people. It's that I viewed them as something they were not and it took years for me to understand that. We cannot hope to think that our vision will be unbiased and just. I don't care whether you're a Pulitzer Prize-winning journalist, you are influenced by your surroundings, by what you know (and what you don't know) and by who told you those things, where you got that information. We can only be as unbiased and fair as our information will allow us to be. Our vision will then have to be flawed, but it will be ours.
I'm going to end this here because I fear I'm starting to ramble. Think about what you're shooting; take time to ask why you're even raising your camera at a certain subject. What is the subject saying to you and are you comfortable with what you're hearing? Then, if your images communicate this, your vision may have just found you
Download my eBook
"Twenty-Five Tips, Trick and Gear Suggestions for the Traveling Photographer."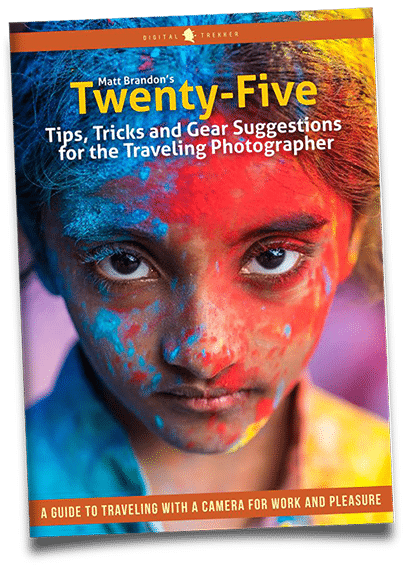 FaceBook Comments
comments