Multimedia: The Prophet gave us a way.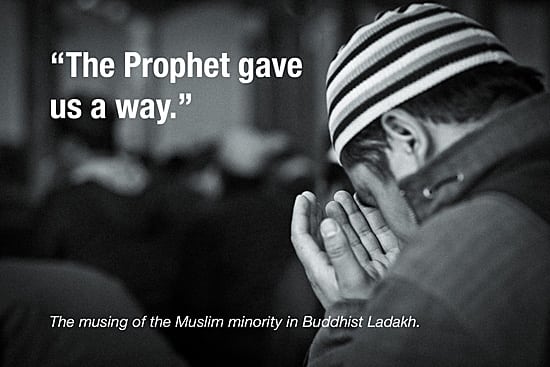 My intent in this post is to foster peace and understanding. This post today expresses the views of one man, who is in the minority in his town. He is a Muslim man named Faisal, and he is a minority in Buddhist Ladakh.
Many of my readers know that I am a member of a professional guild that is all about about peace. It's called, the International Guild of Visual Peacemakers. It exists to help combat the misinformation, prejudice and ethnocentrism that exists in the world today, with the goal of bringing cultures closer together with a better understanding of each other.
This short, three-minute photographic essay developed into what is here almost without my control. I went into the mosque at Leh, Ladakh actually not knowing what I would be taking a photo of. In fact, I wasn't even sure I would be allowed to take pictures within the mosque. In seconds of arriving Faisal, the young man who is featured in this photo essay approaches me and started to befriend me. He was eager to tell me about his faith and his people. I wanted to focus more on the actual mosque itself, but Faisal had my attention. He was a energetic young man that felt his faith was being misunderstood by most of us in the West.
This is not the most important photo essay I've ever done. It's not one of the more dramatic ones. It's just one that just seemed to developed, and if it helps to humanize and de-vilify my Muslim friends to the Western world, then great.
If you are a Muslim and you view this and you find it in error or misleading I apologize. As I said, it just sort of evolved over time and I'm not projecting myself to be an expert on Islam. These are simply the words from my new friend Faisal.
On a more technical note. I opted to show the captions, but some are quite long for the speed slide show. You can always go back and read them by clicking the gallery view button (the four small squares) on the control bar. You can also view each photo individually by clicking the left or right arrow buttons also on the control bar.
I hope you enjoy it.
FaceBook Comments
comments